Black Friday has officially ended, but a host of excellent Black Friday TV deals are still available. From small screens and 85-inch televisions to budget offerings and premium OLED/QLED choices, you'll find plenty of offers on models from LG, Samsung, Sony, and more on websites including Amazon, Currys, and John Lewis.
So, what are the best deals that are still doing the rounds right now? The best TV you can buy – the LG C2 OLED – is still on sale, starting from just £799 (opens in new tab). Meanwhile, Samsung's The Frame is still on offer for just £449 at Amazon (opens in new tab), representing a sizable 34% price drop on its 32-inch version.
If you're in the market for some spectacular sound to go with your new TV purchase, our Black Friday soundbar deals page is a great place to look for some remaining soundbar deals. But for now, let's get into the last remaining TV deals.
Black Friday TV sales: quick links
60-85 inch Black Friday TV deals
50-59 inch Black Friday TV deals
24-49 inch Black Friday TV deals
3 best TVs to watch out for
After years of rubbishing OLED, here's Samsung with an OLED TV. But it's no ordinary OLED. It's a quantum dot OLED with an incredible specification. As we said in our review, "we're looking a TV that has had the kitchen sink thrown at it, with Samsung's latest AI-inspired picture processor, a massively comprehensive and re-designed Tizen-based smart system, the latest gaming features, and even, despite the ultra-slim design, a clever object tracking sound audio system".
The QD-OLED panel delivers exceptionally bright and colorful images and comes with Samsung's Neural Quantum Processor, which draws on multiple neural networks to constantly optimise what you see on screen. It's great for upscaling HD content to 4K, and it means class-leading HDR performance too.
Samsung released its first OLED TV at a price that undercut Sony's version which uses the same QD-OLED panel, and its cost has since dropped at times by over $1,000 from list. We wouldn't expect to see much deeper discounts than what's already been made available, but that prospect is certainly worth tracking during Black Friday.
Read more: Samsung S95B review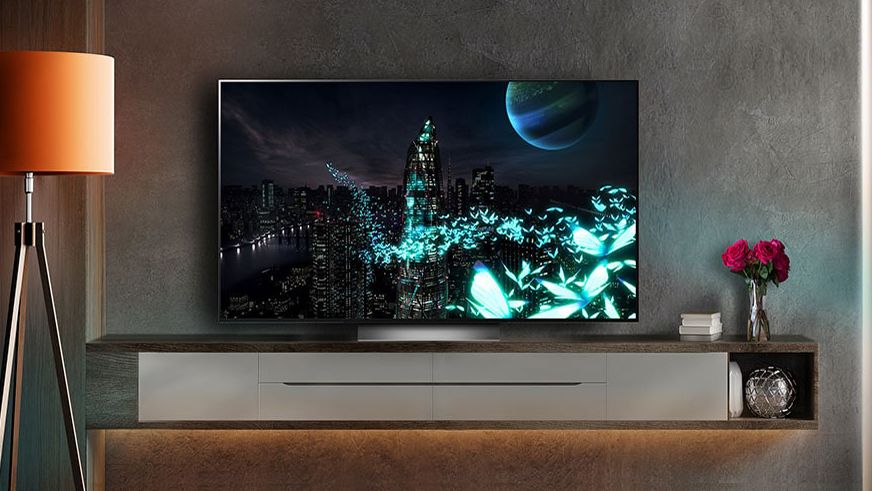 The LG C2 OLED holds the top spot on our list of the best TVs in 2022. That's due to a number of improvements LG has made to this year's model compared to the LG C1 OLED.
Improvements for 2022 include the new Alpha a9 Gen 5 processor, which is designed to offer better object enhancement and dynamic tone mapping than its predecessor. In addition to those improvements, the C2 OLED carries forward the four separate HDMI 2.1 ports that it inherited from the C1 OLED, meaning it's the perfect companion for the PS5, Xbox Series X and Xbox Series S.
The C2 has already seen some steep discounts from its initial list price at all screen sizes over the course of 2022. We expect to witness the best deals yet happen during Black Friday, so this TV should be at the top of your watch list.
Read the full LG C2 OLED review
The Samsung BU8500 really impressed us with how poised and capable it is for 4K images for the price, despite lacking flashy technology such as QLED or mini-LED. It's great with 4K detail, and contrast is good thanks to Samsung's smart Dual LED backlight.
Samsung's Tizen smart TV software is packed with useful streaming and catch-up services, so it's easy to find what you want to watch. The overall spec is all hard to argue with for the price, from the number of HDMI ports to the HDR10 support.
It comes in a big range of sizes too, and it's a super-cheap way get a bigger screen that still looks good when it's massive. If you do that, we'd recommend getting a soundbar though – the audio struggles to hit the same scale as the pictures.
Read the full Samsung BU8500 review
3 pro tips for buying a TV on Black Friday
1. Last year's TVs saw big discounts in 2022
While it was possible to get a great deal on new TV during Black Friday proper, the displays that saw the deepest discounts are models that are left over from last year. Many of these sets have features equivalent to 2022 models and, in some cases, similar performance, so we wouldn't hesitate to scoop up such deals if they're still floating around.
The main issue with buying an older model TV on Black Friday is that the inventory is typically much more limited, so you may want to consider making a purchase in as soon as you can to nab the specific set you want.
2. Look at sites other than Amazon
Amazon has managed to make itself the main portal for Black Friday TV deals, but the truth is that Currys, John Lewis, and other sites can offer equivalent or even better bargains. You may want to start your search on Amazon to get the lay of the land deal-wise, and then pop over to the other sites listed above in our Today's best TV sales section to see if they beat it.
Black Friday deal-making is a dynamic process that unfolds over a number of days, so it will pay to track several sites during the course of the week leading up to Cyber Monday and the days after when deals are still around.
3. Check to see if the TV is refurbished
If you spot a post Black Friday TV deal that looks too good to be true, chances are it's a refurbished or open-box unit. While it's entirely possible to get a perfectly good, fully functional open-box TV, there's also a higher chance there will be a problem than with a direct-from-the-factory unit. Returning TVs, especially at bigger screen size, like 65 inches and up, is a major hassle, so you'll want to consider if that great deal is worth the risk.
Black Friday TV deals 2022: our predictions
When will the best Black Friday TV deals start in 2022?
Black Friday is over for another year and many deals have been and gone, but there are still lots of deals available - we're rounding them up on our best TV deals page.
Original answer: It's harder to predict this year. Overall, we're still expecting most of the best Black Friday TV deals to arrive in the week leading up to Black Friday on November 26, and for those offers to last through to Cyber Monday, unless stock runs out.
However, there are record-low prices already on some of the best TVs in the world. And the risk of waiting until the end of November is that you miss out: the best Black Friday TV deals can sell out in minutes, and once the sets are gone, they're gone. So if you're tempted by any of the early offers here, know that you're getting excellent value for money.
Where will the best TV Black Friday deals be?
If you're looking for some last-minute deals, then Amazon is a great source for TVs, consistently holding a wide range of stock covering everything from cheap 4K TVs to stunning 75-inch OLED sets, and if you have Amazon Prime you can often get next-day delivery. John Lewis is also one of our top go-to destinations for the lowest TV prices. Here are our top recommendations:
Amazon: TVs starting under £139 (opens in new tab)
AO.com: 4K TVs from £249 (opens in new tab)
Argos: TVs from just £89 (opens in new tab)
Currys: huge range of deals live now (opens in new tab)
John Lewis: TV plus soundbar bundles (opens in new tab)
Very: Black Friday sale on the big brands (opens in new tab)
What can we learn from last year?
Last year TV prices fall gradually in October and November, with the biggest discounts arriving in the days before Black Friday. That's a pattern data analyst Adobe recorded in its Holiday Shopping Report (opens in new tab), too, and broadly speaking we expect to see a similar trend happening again in 2022, with more TVs at lower prices at the end of November than at the start. As the graph shows, TV prices actually dropped a little further again once the Cyber Monday TV deals started, and it's possible this may happen again.
(opens in new tab)
But this year has already been a good one for TV deals. Discounts started earlier than usual in 2022, thanks to LG getting new OLED TV competition from Samsung, plus an oversupply of LCD panels as TV makers pulled back on production following market forecasts. Plus, retailers are likely to need to work even harder this year to encourage people to spend while inflation is high, which may mean even better deals are on the way.
So what's the verdict? If you plan on buying on price alone - as opposed to seeking out a specific brand or model - then there's good reason to wait for the Black Friday TV sales to start. That's when you'll see the best deals of the year starting on more mainstream, lower-priced sets. If you have a specific set in mind, though, we'd highly recommend grabbing it when you see a price you're happy with - because that price might not return.
What Black Friday TV deals will there be in 2022?
We tracked Back Friday TV discounts of up to $1,000 off higher-end sets from brands like Samsung and Sony last year. There's no reason why this year should be any different, and we expect to see new low prices for top OLED models from LG and Samsung, with smart TVs starting from $89 at the budget end.
There shoud be plenty of opportunities to save a few hundred dollars or so on more premium and bigger-screen models. Higher-end OLED TVs from brands like LG, Sony, and Samsung have all seen significant price drops over the past few months – Samsung's 65-inch S95B QD-OLED model, for instance, has been reduced in price by over $1,000. In some cases, those prices bounced back up, but many have dropped again and we expect to see them at least match record lows for Black Friday.
In mid-September, Samsung ran a "Discover Samsung" promotion, offering discounts of up to $1,700 off its 2022 Neo QLED models. This presumably was an effort to steal some Black Friday thunder preemptively, but it also signals that Samsung's flagship mini-LED TVs will be heavily discounted over Black Friday and the general holiday season.
Mainstream QLED and regular LCD TVs from makers like TCL, Vizio, and Hisense, all traditionally see strong discounts on Black Friday, and we expect that trend to continue in 2022. And many of the best Black Friday TV deals will be for mainstream sets made by budget brands - such as Best Buy house brand Insignia and Amazon's own Fire TVs, which lack some of the features found in higher-performance sets but offer great value for money.

You can find more bargains on bigger sets in our Black Friday 70-inch TV deals and Black Friday 85-inch TV deals guide. You can also find more premium displays with our Black Friday OLED TV deals roundup.