The best memory foam mattress is likely to be the top choice for many people when shopping for a new bed. Memory foam is celebrated for the contouring body-hug feel that it provides, as well as its pressure relieving properties that help people with sore joints sleep better and for longer, and you'll find it in most of the best mattresses on the market today.
Memory foam has a bit of a reputation for heat retention, and while this isn't entirely undeserved, if you have a tendency to sleep hot there's no need to shy away from memory foam mattresses. Modern memory foam is much better at temperature regulation, and most mattress brands design their beds with an assortment of technologies to enhance breathability, dissipate heat and wick away moisture, enabling all but maybe the hottest sleepers to snooze comfortably. (If you're worried about overheating, however, hybrid mattresses with a mixture of foam and springs might be a better bet.)
It pays to think about your sleep style when you're shopping for the best memory foam mattress; that is, whether you tend to sleep on your front, your back or your side, or if you're a combination sleeper who changes position a lot during the night. Most memory foam mattresses are versatile enough for some sleeping styles, while some are better suited to specific positions, which we'll alert you to below.
Unlike traditional sprung mattresses, most memory foam mattresses are delivered vacuum-packed and rolled up in box for convenient delivery. This means that once delivered they'll need to be unpacked, and can take some time to inflate to full size – anything from a few hours to a day or more, which you should bear in mind if you need a bed in a hurry. Also take note that you might notice a chemical smell – known as off-gassing – as your mattress inflates. This is harmless but not always pleasant, and while it should soon fade, expect to have to keep a window open for a day or two after your mattress is unpacked.
While that off-gassing smell can be off-putting, the benefits of owning the best memory foam mattress by far outweigh such drawbacks. The big advantage is price; memory foam is incredibly affordable, and most brands run regular mattress sales. This means that our top pick, the Emma Original, can generally be yours in a double size for under £400, and as with the majority of memory foam mattresses it comes with a long trial period and guarantee, plus free delivery.
There's more general info about memory foam mattresses further down the page, but for now let's get on with our expert selection of the best options available to buy now.
The best memory foam mattresses in 2023, as chosen by experts
Why you can trust TechRadar We spend hours testing every product or service we review, so you can be sure you're buying the best. Find out more about how we test.
The Emma Original is our top pick for the best memory foam mattress, simply because it ticks nearly all the boxes: it's an affordable bed-in-a-box that provides plenty of comfort and pressure relief for all sleeping positions, while its strong motion isolation means that it's a great choice for anyone sharing a bed with a restless partner.
In our Emma Original review we were generally impressed, although we noted that some might find it just a little on the soft side compared with other memory foam mattresses; you'll sink into it, but it's not so squishy that you'll feel you're being swallowed whole. And while some of our testers found that it slept just a little warm, on the whole it's good at temperature regulation, thanks to its sweat-wicking UltraDry cover and a Point Elastic Airgocell layer.
One disappointment is its weak edge support, and in terms of firmness we'd suggest that lighter sleepers could find it to be too firm, while it could prove to be too soft to be supportive for heavier bodies. However for most people it's likely to be perfectly comfortable and supportive, as well as being great value for money; ignore Emma's RRP as you can usually buy this one for 50% off.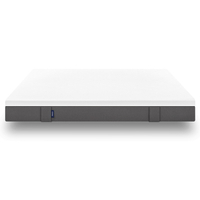 (opens in new tab)
Emma Original Mattress: was £499 now from £249.50 at Emma (opens in new tab)
The Emma Original is a multi-award-winning mattress that delivers plenty of comfort, support and breathability for most sleepers, at an impressively affordable price. Emma knocks 50% off the RRP as standard, which means you can get the Original in a double size for just £379.50, down from £759, with a 200-night trial, 10-year guarantee and free delivery.
Simba made its name with a range of quality hybrid mattresses including the Simba Hybrid Pro mattress, but in 2022 it branched out with a pair of cheaper all-foam options: the budget Simbatex Essential Foam Mattress and this, the more luxurious SImbatex Foam Mattress.
It's made with Simba's proprietary Simbatex foam, which is infused with heat-filtering graphite particles and features an open-cell structure that, according to Simba, provides 30 times more airflow than standard memory foam. And in our Simbatex Foam Mattress review we found it to be an impressively cool sleep experience.
We also found it to be surprisingly firm for a memory foam mattress; in fact our more lightweight tester found it to be too firm overall and felt that they were lying on top of it rather than being supported. Side sleepers will probably find it too firm as well, with a lack of pressure relief for shoulders and hips.
However, back and stomach sleepers should find it just right, as should heavier sleepers who want to feel supported without sinking too deeply into the foam. Combined with its cooling features, this should make the Simbatex a solid choice for many, and bear in mind that Simba provides a 200-night risk-free trial, giving you plenty of time to decide whether it's right for you.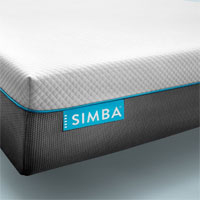 (opens in new tab)
Simbatex Foam Mattress: was £679 now from £407 at Simba (opens in new tab)
Simba's premium all-foam mattress has great cooling properties and a surprisingly firm feel, making it an excellent choice for back and stomach sleepers. It's currently available with 40% off, bringing the price of a double down to £479, with a 200-night trial and 10-year guarantee.
Tempur was the first company to take the original memory foam developed by NASA in the 1970s, and use it to make mattresses and pillows, with its first mattress launching back in 1991. Its Tempur Material, it says, is the original memory foam, but no other memory foam is Tempur Material. It's been refining and improving its secret formula since it started, and if you try a Tempur Original mattress you'll find that its feel is quite different to most of the best memory foam mattresses.
So much so that it can be quite a divisive pick; customers seem to either love it or hate it. The Tempur material feels quite firm at first but quickly softens around your body and adapts almost instantly to your position; this means that it delivers amazing motion isolation, but if you tend to change position a lot in the night it makes it trickier to move around (on the plus side, this can mean more restful sleep as you're likely to stay in one position).
The Tempur Original delivers great pressure relief, especially for side sleepers, but if you suffer from back or neck problems you might find that there's not quite enough support (and indeed a small proportion of customers have found that while it was initially comfortable, over time they began developing pains). Heavier sleepers, too, may find that they sink too far into it.
In all, though, with three depth options and a unique feel, the Tempur Original should be available in an option for most sleepers, and while it's the most premium-priced option in this round-up, many will find it to be well worth the financial outlay, and its 100-night trial's long enough to decide whether it's right for you. Butf it's too pricy, however, Tempur also makes some of the best mattress toppers that can give your existing bed some of that Tempur feel; our review of the US-only Tempur-Pedic TEMPUR-Adapt Mattress Topper will give you a good idea of what to expect.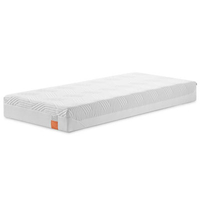 (opens in new tab)
Tempur Original mattress: was £1,499 now from £1,309 at Tempur-Pedic (opens in new tab)
The Tempur Original offers a unique feel that won't be to everyone's tastes, but this premium memory foam mattress is definitely one that many will love. It comes in three depth options and is slightly on the softer side of medium. Tempur's Winter Sale is about to come to an end, but if you're quick you can get a Tempur Original in Supreme (21cm) depth for £1,749, down from £1,999
If you're in the market for the best memory foam mattress at the cheaper end of the market, more often than not it'll come down to two main choices: the Emma Original and the Nectar Memory Foam Mattress. And while the Emma sits comfortably at the top of this guide and, for now, comes in cheaper, there's not an awful lot to choose between the two options.
In our Nectar Memory Foam Mattress review we described this option as a good-all-rounder for enjoying better sleep for less, and indeed it's a mattress that should suit most sleepers. It's 25cm deep with three layers of CertiPUR-certified foam, including a 7-zone base layer for targeted support, and we found that it delivers a cradling sensation without too much of a sinking feeling. It's nicely firm and we feel it's best suited to anyone of average to slightly heavier body weight, who appreciates a mattress with a little push-back and contouring. Lighter bodies and anyone who prefers a softer mattress would probably get on better with the Emma Original.
There's also minimal motion transfer, which is good news for couples, and while the Nectar isn't specifically a cooling mattress it nevertheless provides decent temperature regulation thanks to a cooling cover and gel memory foam. The only real disappointments were its strong off-gassing smell that took a few days to clear completely, and poor edge support that could be problematic if you're sharing a bed.
For the price, though, the Nectar Memory Foam Mattress is still a strong option, and customer reviews are largely on the positive side. There's a 365-night trial period, plus free delivery and a lifetime guarantee, so there's really little to lose with this one.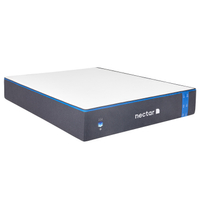 (opens in new tab)
Nectar Memory Foam mattress: was £749 now from £375 at Nectar (opens in new tab)
The Nectar Memory Foam mattress is an excellent choice for anyone after a new bed on a budget, and it'll particularly appeal to anyone who prefers a firmer sleep surface. It's almost impossible to accidentally buy it at full price; right now Nectar is offering 50% off, which means that you can get it in a double for £485.
When it's on sale - which, unlike with a lot of mattress companies, isn't all the time - the Eve Original represents incredible value, especially if you're looking for a firm feel from the best memory foam mattress. It's the mid-range model in the Eve line-up, with the Eve Lighter mattress being the cheaper (and thinner option), and the Eve Premium, with four foam layers, occupying the more expensive end of the selection.
We reckon that the Original hits the sweet spot, however. It's one of the firmest memory foam mattresses around, with three layers of breathable foam complete with contour zones for support and pressure relief where it's needed. The Original's moisture-wicking top cover helps keep things cool, and it's removable and washable, too.
The Eve Original's firmness level could be a bit too much for some, and for lighter side sleepers in particular we'd suggest looking elsewhere for something to keep the pressure off your shoulders at night. However for back and stomach sleepers the Original's a near-perfect fit with firm support could help with back and neck pain, and as a bonus it serves up some impressive motion isolation; heavier sleepers may find it gets a little warm at night, however.
The only other issue is the off-gassing smell, something that may online reviewers have noted; while it's not over-powering, it can take a bit longer than other mattresses to dissipate, which could mean that you might not want to sleep on the Eve Original the first night you have it. These aren't serious issues, though, and for many the Eve Original is a top choice, especially if you can get it at the right price and take advantage of its one-year trial. As mentioned, Eve is selective with its sales, so the Original isn't always discounted. At the time of writing it's available at 40% off, which puts it at the perfect price for our liking; if you see it at full price we'd advise hanging on for the next sale.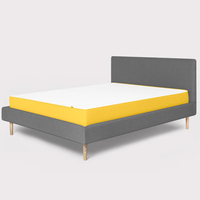 (opens in new tab)
Eve Original mattress: was £449 now from £269 at Eve Sleep (opens in new tab)
If you want a firm memory foam mattress at a reasonable price then the Eve Original's a good option, just as long as you buy it when it's on sale. This might mean waiting, as Eve's offers tend to concentrate on one or two mattresses at a time rather than the entire range, but right now there's a discount available that'll get you the Eve original in a double size for £389, down from £649; definitely worth grabbing!
Need a cheap memory foam mattress in a hurry? The Zinus Green Tea Memory Foam Mattress will do the job. Let's be frank: this mattress simply doesn't compare with the rest of the mattresses in this guide in terms of materials and features, and we'd hesitate to have it as our main bed. But if you're fitting out a spare room, need a mattress for occasional guest use and you don't want to spend very much money on it, this one ticks all the boxes.
It comes in two height options (we'd recommend the 25cm model), it's made with green tea-infused memory foam that's CERTIPUR-US certified, and features purified charcoal particles that keep odours and mould at bay. To be fair it's very good at motion isolation, as well as delivering surprisingly good edge support. What you won't find, however, is much (if anything) in the way of cooling technology, and some customer reviews note that it gets warm after a few hours of use, so this is one to avoid if you tend to sleep hot.
We also have doubts about how long this mattress will last in comparison to more expensive options, but ultimately if price is your number one priority and all you need is a basic mattress, you could do a lot worse than the Zinus. Unsurprisingly there's no trial period, but there's a 10-year guarantee and, assuming you order from Amazon, a 30-day return policy.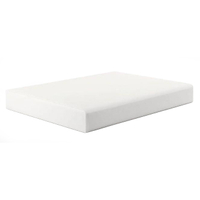 (opens in new tab)
Zinus Green Tea Memory Foam Mattress: from £160.88 at Amazon (opens in new tab)
There's nothing remarkable about the Zinus Green Tea mattress besides its low price, but if all you need is a cheap mattress for a spare room, it'll do nicely. There are two depth choices and we'd recommend spending a bit extra on the 25.5cm option, which will net you a perfectly serviceable double for £299.99, with free next-day delivery available.
Is a memory foam mattress the best choice for you?
There's a lot to be said for memory foam mattresses, and most sleepers will get on perfectly well with them. Certainly if you're used to traditional sprung mattresses, the gently enveloping hug of memory foam can feel a little disconcerting at first, but it's worth getting used to; you'll get much better pressure relief and body contouring, and if you suffer from sore joints or other aches and pains you should soon feel the benefits.
Another great advantage of memory foam is its motion isolating qualities; anyone who shares a bed with a restless sleeper will appreciate how memory foam dampens movement, meaning that you're a lot less likely to be disturbed by a partner who's constantly tossing and turning in the night.
If you've looked into the best memory foam mattresses before, you may have learned that they have a bit of a reputation for retaining body heat, and it's not entirely undeserved. Older and cheaper memory foam is the most likely to get hot as you sleep, however most modern memory foam mattresses use a variety of tricks to help you stay cool at night, including cooling covers, cuts in the foam to promote airflow, and foam that's infused with temperature-regulating gel, copper or graphite. That said, if you do tend to sleep hot, you may get on better with a specific cooling mattress, or a hybrid mattress with spring layers that allow air to flow through.
Beyond the heat issue, there are other reasons why memory foam might not be the right choice for everyone. If you sleep on your stomach, many memory foam mattresses won't give you enough support, while if you're a combination sleeper who changes position a lot in the night, you may find that memory foam hug to be just a little too restrictive. And if you're of heavier weight, you could find that you sink too deeply into the foam and end up with too much pressure on your joints.
The final potential problem with memory foam mattresses is that you may experience a strong chemical smell after you unpack your new mattress and it inflates to full size. This is known as mattress off-gassing, and while it's harmless it can be quite overpowering, and it can take a day or more to dissipate fully.
If you do decide on a memory foam mattress, be sure to give it all the help it needs by investing in the best mattress protector to go with it. And if you feel it could use a little comfort boost (or if you'd simply like a cost-effective way to extend the lifespan of your current mattress), a good mattress topper can make a world of difference. And finally, there's no point in upgrading your bed but sticking with the same old pillows; our guide to the best pillows can help maximise your bedtime comfort levels.
When's the best time to buy a memory foam mattress?
One thing you need to know about the memory foam mattress business is that sales tend to happen all year round; with a few exceptions it's near-impossible to buy a new mattress at the RRP. However some times of year are better than others for buying a new mattress; the Black Friday mattress sales generally represent the best opportunity to find the mattress of your dreams at the lowest price.
If you miss Black Friday you can usually find the same prices carried forward to the Cyber Monday mattress deals, and occasionally some brands will run even bigger sales on that day, so it can sometimes pay to wait. More often than not, mattress brands will keep their prices lower throughout December and into January, the traditional winter sale periods.
Unlike in the USA, where Presidents' Day, Labor Day and Memorial Day tend to see big mattress discounts, there aren't many similar sales events in the UK. Easter and bank holidays may trigger larger discounts from mattress brands, but in general if you want to save on your new mattress, your best bet is to keep an eye on our guide to the latest mattress sales.
How long does a memory foam mattress last?
In general a good quality memory foam mattress should last for about eight years and quite possibly longer than that in the case of premium mattresses. Most memory foam mattresses come with a 10-year guarantee, which is a strong indicator of just how long the manufacturers expect them to last.
Of course there are various factors that can influence how long a mattress lasts. The big deciding factor will be the quality of the foam, not to mention the materials used in its cover; cheaper mattresses are likely to use lower-quality materials and so won't last as long. But other factors that can make a difference include how often you sleep on it (a mattress in the spare room is likely to outlast the one on your own bed), how many sleep on it (and how much they weigh), and how well you look after your mattress.
Our top recommendation for helping your mattress least longer would be to invest in one of the best mattress protectors, which should keep it safe from spills, stains and dust mites. Also. by flipping or rotating your mattress regularly (according to manufacturer's advice) you can extend your mattress's lifespan, and knowing how to clean a mattress can make a difference as well.