Why you can trust TechRadar We spend hours testing every product or service we review, so you can be sure you're buying the best. Find out more about how we test.
The OnePlus 6T is a good-looking and powerful smartphone that can compete with handsets from the larger and more established brands on the market.
And at a time when phones from the leading brands are coming with increasingly eye-watering price tags, it feels like good value – OnePlus has increased the price of this handset over the OnePlus 6, but it feels like a worthwhile upgrade considering it's still under £500 / $550.
We'll talk more about who we think this phone is made for below, but in short this is a handset that will appeal to anyone looking for a powerful Android handset that is a lot more affordable than the rest of the competition.
Who's this for?
First and foremost, the OnePlus 6T is for fans of OnePlus phones. Many of them will be turned off by the lack of a 3.5mm headphone jack if the reaction on social media is anything to go by, but this is still an accomplished OnePlus phone, and anyone who wants a clean - albeit not stock - and easy to use version of Android will be happy with this.
OnePlus phones aren't as cheap as they used to be, but this is still an affordable price for a smartphone when you consider that the iPhone XR – the cheapest of the three new iPhones – starts at $749 / £749 / AU$1,229, and the Huawei Mate 20 Pro is £899, AU$1,599 (about $1,150). If you're after a phone with flagship specs this is still one of the most affordable options.
Should you buy it?
Yes, if you're looking for a more affordable flagship phone than most of the other manufacturers are offering.
That lower price looks particularly attractive this time around, and it means that, although it only has a Full HD+ resolution display and lacks a few features like wireless charging, the OnePlus 6T is a compelling alternative to a lot of other top-end phones.
It's difficult to find any real fault with this phone. If you want solid battery life, terrific power and cutting-edge features like the in-screen fingerprint scanner, the OnePlus 6T is made for you.
The only real problem is that the OnePlus 7 is about to launch, and that's sure to better it. However, it might well also cost more, so if you're sold on the OnePlus 6T it's potentially still worth buying.
First reviewed: October 2018
Competition
Don't think the OnePlus 6T is built for you? Here are some of the alternatives handsets we think may suit you.
OnePlus 6
Now that the OnePlus 6T has launched it'll be harder to find the OnePlus 6 on sale, but if you aren't fussed about having the 6T's in-screen fingerprint scanner and extended battery life you may be perfectly happy with the older and cheaper phone.
The premium design and large display are still there on the OnePlus 6, so if saving money is the most important thing for you then the slight downgrade in terms of features may not be a problem.
Read our OnePlus 6 review
Samsung Galaxy S9 Plus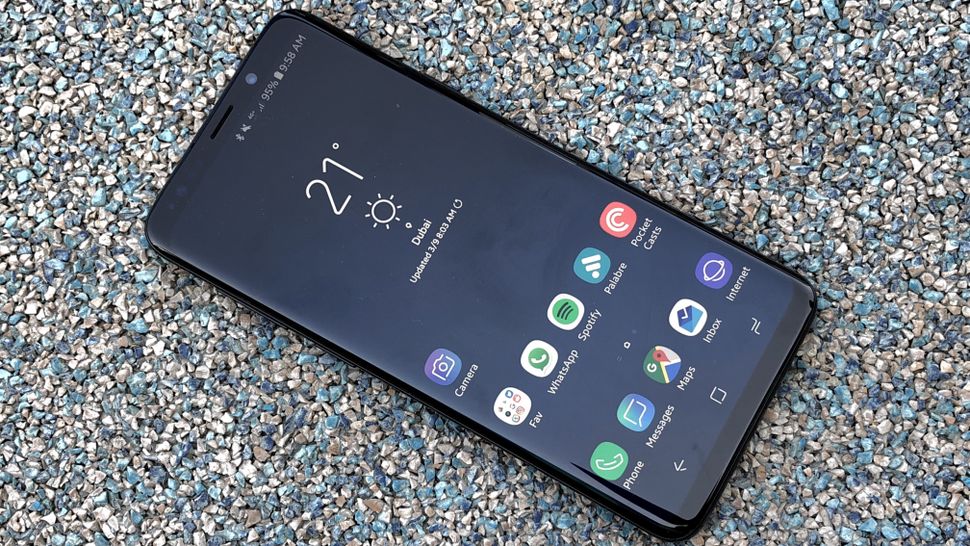 Samsung's top-end device for 2018 may not feature an in-screen fingerprint scanner, but it's an all-round powerful device that set the standard for Android phones you could buy in 2018.
It has a powerful processor and a beautiful QHD screen that's a touch better than the display on the OnePlus 6T, plus now that it's been out for a while the price will be not much more than the 6T. Of course, there's the Samsung Galaxy S10 Plus now, but that's so much more expensive that it's not really a competitor.
Read our Samsung Galaxy S9 Plus review
Google Pixel 3
Google's latest flagship phone isn't a big change to the Pixel mix, but it comes with a few extra features you don't get on the OnePlus 6T, including wireless charging and Android the way Google intended it to be.
The camera is a touch better on the Pixel 3 too, so opt for the Google device if you're looking for one of the best point-and-shoot camera phones on the market today – and if you don't mind paying more for it.
You could also take a look at the new Google Pixel 3a - it's arguably slightly lower end than the OnePlus 6T, but it's attractively priced.
Read our Google Pixel 3 review
James is Managing Editor for Android Police. Previously, he was Senior Phones Editor for TechRadar, and he has covered smartphones and the mobile space for the best part of a decade bringing you news on all the big announcements from top manufacturers making mobile phones and other portable gadgets. James is often testing out and reviewing the latest and greatest mobile phones, smartwatches, tablets, virtual reality headsets, fitness trackers and more. He once fell over.