Verdict
The Fossil Sport isn't going to blow your mind, but if you're looking for an affordable fitness watch that won't keep you waiting with slow performance, you can't do better.
With its high-end internals and lightweight design, it's a gym companion that you won't be able to put down.
However, it is at the high-end of the mid-range market, which might turn some budget-minded consumers off. But the Fossil Sport knows what it's good at, and it focuses on that, and that's enough to get a recommendation out of us.
Who's this for?
The Fossil Sport is best suited to users who prioritize health and fitness over style. It's not an ugly watch, by any means, but this watch is especially good at accompanying you on various workouts. Plus, that lightweight design makes it feel like less of a luxury timepiece, and more like a piece of gym kit.
Should you buy it?
Again, the Fossil Sport is for fitness junkies. If you find yourself going to the gym all the time, and you need a smartwatch that can keep up with your sweatiest days, the Fossil Sport is going to be for you.
However, if you're just looking for a stylish watch that just happens to be smart, too, you should look elsewhere. There are more feature-packed and stylish watches out there at the same price – they just aren't as adept at fitness.
It is a bit expensive at $275 / £219 / AU$469, but you should soon be able to find it for a bit cheaper than that, especially when seasonal sales start picking up again.
Also, if you're an iPhone user and you want more robust fitness tools, you may be better served by an Apple Watch – even a previous generation model. The Fossil Sport is compatible with iOS, but because Apple is Apple, the Apple Watch will always be the better option.
First reviewed: March 2019
Looking for other options? Consider these:
Misfit Vapor 2
If you're just looking for a general use smartwatch, the Misfit Vapor 2 is a bit cheaper at $249.99 / £215 / AU$349.95. It's not packing the same pedigree of hardware, but the larger and brighter AMOLED display is more colorful and easier to read in the sun.
It's bigger, and some would say uglier, but it's cheaper and better for everyday users.
Apple Watch 3
Of course, it's impossible to talk about smartwatches in 2019 without mentioning the Apple Watch. While we would generally recommend the Apple Watch 4, the Series 3 is more approachable at $279 / £279 / AU$399.
In fact, because it's just 10 bucks more expensive than the Fossil Sport in the US, the Apple Watch 3 is a no-brainer for iOS users.
Obviously this won't apply if you're using an Android device, but the wider breadth of fitness apps available to Fossil Watch users on Android more than make up for it.
Fitbit Ionic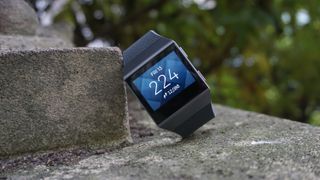 Likewise, it's hard to talk about fitness watches without bringing up Fitbit, and the Fitbit Ionic is the manufacturer's stab into the mid-range market. It launched at a higher price, asking for £299.95 / $299.95 / AU$449.95, but you should be able to find it much cheaper these days.
This watch really is a fitness device at its core, and that's where it shines, much like the Fossil Sport.
But you're going to have to get past the design. It's big, it's boxy and it's ugly. The Fitbit Ionic is a powerful fitness watch, but the aesthetics may be a little hard for many to swallow.