The Cleer Audio Scene manages to undercut its close rival from JBL, but still brings useful features such as a built-in microphone and 3.5mm port. These are balanced out with some small downsides though, as the Scene has a chunky – dare we say clunky – design, and bass fans might malign the speaker's tuning too. But we're really impressed with the audio quality for the price overall.
Pros
+

Price competitors

+

Built-in microphone

+

Simple functionality
Cons
-

Divisive design

-

Bizarre pairing sound

-

Not very bass-heavy
Why you can trust TechRadar We spend hours testing every product or service we review, so you can be sure you're buying the best. Find out more about how we test.
Cleer Audio Scene review: One-minute review
Despite 'Cleer Audio Scene' sounding like three words you'd hear yelped in a coffee-induced haze after too long on a stressful film set, it's actually the name of a refined mid-range Bluetooth speaker which is looking to upset some premium rivals.
We can't get beyond the second paragraph of this Cleer Audio Scene review without mentioning the JBL Flip 6, a 2022 speaker which received 4.5 stars in our review and currently sits on our list of the best Bluetooth speakers, as the Scene seems designed to rival it – this new speaker has a slightly lower price tag, a similar design, and a few extra features to sweeten the deal.
In large part, the Cleer Audio Scene does a good job of distinguishing itself – the fact it has a lower price speaks for itself, but the addition of a microphone for calling, useful extra ports for aux-in and top-notch audio clarity makes for a strong device.
Still, as the imperfect score shows, the Cleer Audio Scene does have a few rough edges that might mean it's not the best choice for you.
The Scene is bigger and heavier than the JBL Flip, so it's a little less convenient to carry in a bag or pocket; in fact, the only area where it's not heavy is its bass, with the focus on definition resulting in a less bass-heavy experience than on rival devices. And if those points sound minor, you're going to hate our final gripe: the turn-on and Bluetooth-pairing jingles are plain annoying.
Sure, those are petty points, but there's only so many times we could roll our eyes at this speaker.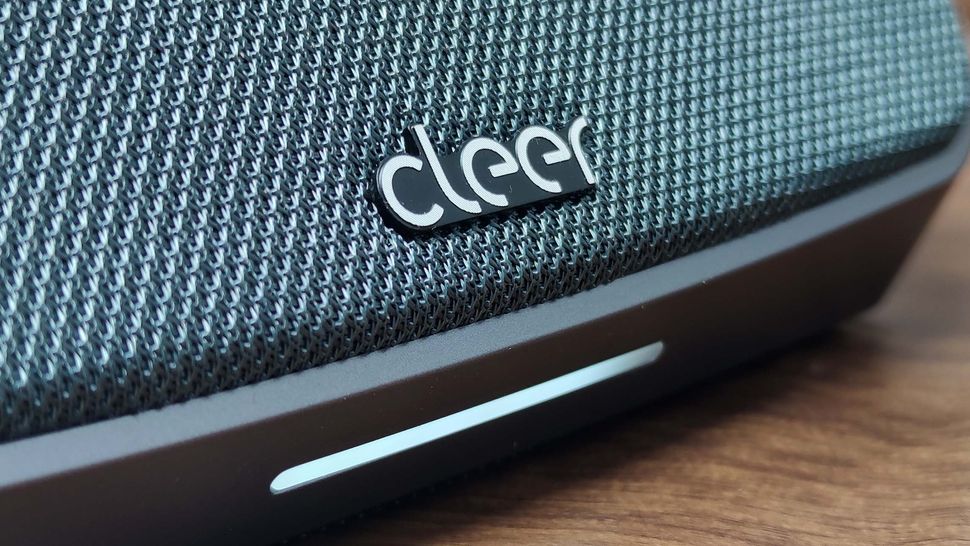 Cleer Audio Scene review: Price & release date
Released in December 2022
Officially priced at $79.99 / £99.99
The Cleer Audio Scene went on sale in most areas at the beginning of December 2022, just in time to hit the Christmas playlist rotation, though it took a little while to hit store shelves in some regions.
The speaker officially costs $79.99 / £99.99 (about AU$170 – it's listed on Cleer's Australian website, but without an official price at the time of writing), and the fact it sits below the triple-digit barrier may well turn heads for people looking for an inexpensive speaker.
That price roughly puts this as a mid-range speaker, with more affordable options like the Tribit Stormbox Micro 2 or pricey rivals like the B&O Beosound A1 offering fewer or greater features depending on how much you're willing to spend on your Bluetooth music machine.
As we said, Cleer Audio's speaker is most comparable to the JBL Flip 6, but undercuts the $129.95 / £129.99 price of that comfortably.
Cleer Audio Scene review: Specs
Swipe to scroll horizontally
| | |
| --- | --- |
| Row 0 - Cell 0 | Row 0 - Cell 1 |
| Weight: | 1.5 lbs / 742g |
| Dimensions: | 220 x 74 x 90 mm |
| Battery life (quoted): | 12 hours |
| Connectivity: | Bluetooth 5.0 |
| Drivers: | Dual 48mm, dual passive radiators |
| Aux-in: | Yes |
| Charger port: | USB-C |
| Microphone: | Yes |
| Waterproof rating: | IPX7 |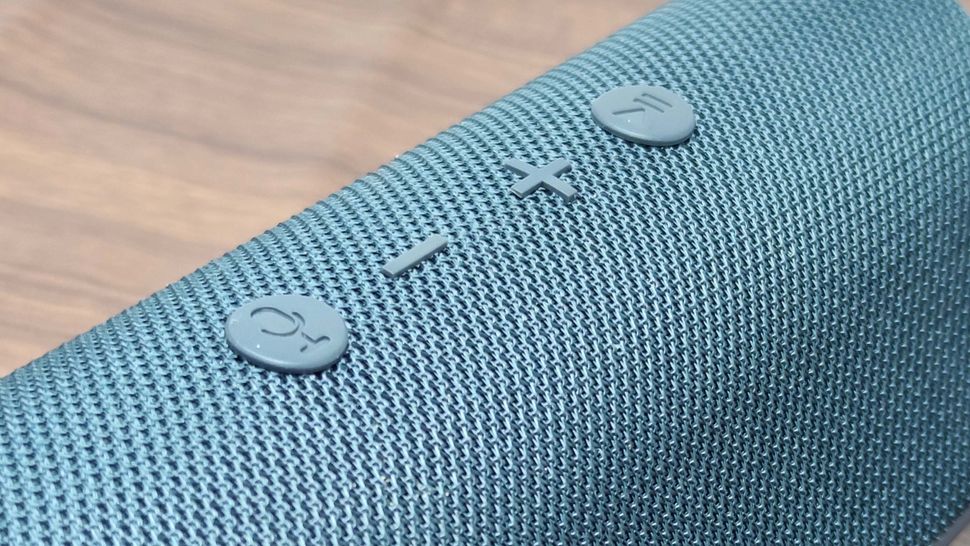 Cleer Audio Scene review: Features
Battery life lives up to expectations
Easy pairing and good connection quality
Microphone quality is clear
The Cleer Audio Scene is a Bluetooth speaker, using Bluetooth 5.0 – that's a slightly older standard of wireless connectivity, so you might get weaker connection over long distances compared to some new products released, but from our testing we never had issues.
You'll find the basic selection of ports here – a 3.5mm jack for aux in, as well as a USB-C port for charging – and there's also a power, Bluetooth, volume up and volume down button.
The speaker delivers up to 12 hours of battery life, which is roughly par for the course for a portable speaker. The JBL Flip 6 has that same figure, and from our testing, both hit it. (The B&O A1 v2 delivers 18 hours without being larger, if you want more.)
Pairing a device to the Scene is incredibly easy, because you're not required to download complicated apps or perform an impromptu tech ritual to connect your phone or tablet. It took us seconds to pair our iPad to the speaker, both for initial pairing and for subsequent sessions.
One minor gripe we had is that the power-on and power-off jingles were quite annoying – both sound surprisingly like an odd knock-off of Berlin's Take my Breath Away, something you don't necessarily want to hear every time you're putting on some tunes. A deal-breaker this is not, but we prefer the simplistic noises of other brands' devices.
A nice feature in the Scene is the presence of a microphone, so you can conduct calls using it. From our testing, our voice was clear on video and voice calls, but using a loudspeaker as a mic was such a bizarre concept that we didn't choose to use it outside of our tests.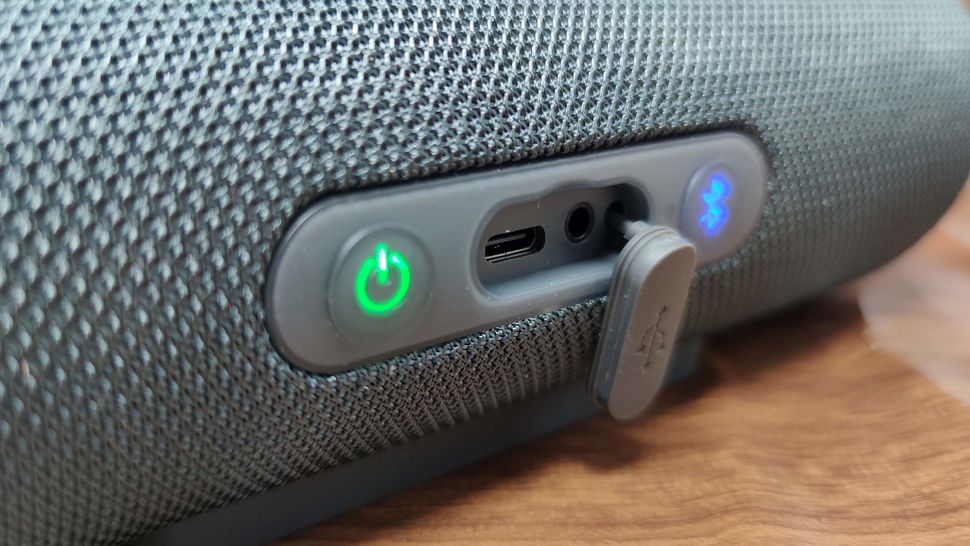 Cleer Audio Scene review: Design
Wave-like design
IPX7 waterproofing
Bigger than JBL Flip 6
The design of the Cleer Audio certainly seems to evoke its JBL rival, because its build waves to the cylindrical look of the Flip 6, but with a few changes. 'Waves' is the key word there, as the Scene has one pinched side, which makes the speaker look like a crashing wave. You can almost imagine a surfer in the middle there.
Despite the Scene aiming to have a more refined design than the utilitarian Flip, this design change has some unfortunate consequences: the speaker is harder to easily slip into packed bags or cluttered shelves. You also have to lie the device horizontally, while the Flip is a little more versatile with fitting into little spaces.
The Scene is also bigger and heavier than the Flip, again making it less portable, and when packing for a picnic, we'd rather save our bag space for more hummus.
There's a mesh covering over most parts of the speaker, it comes in red or black, and it's IPX7 rated. That means it's protected against splashes of water, but won't fare so well from fine particles like dust and sand.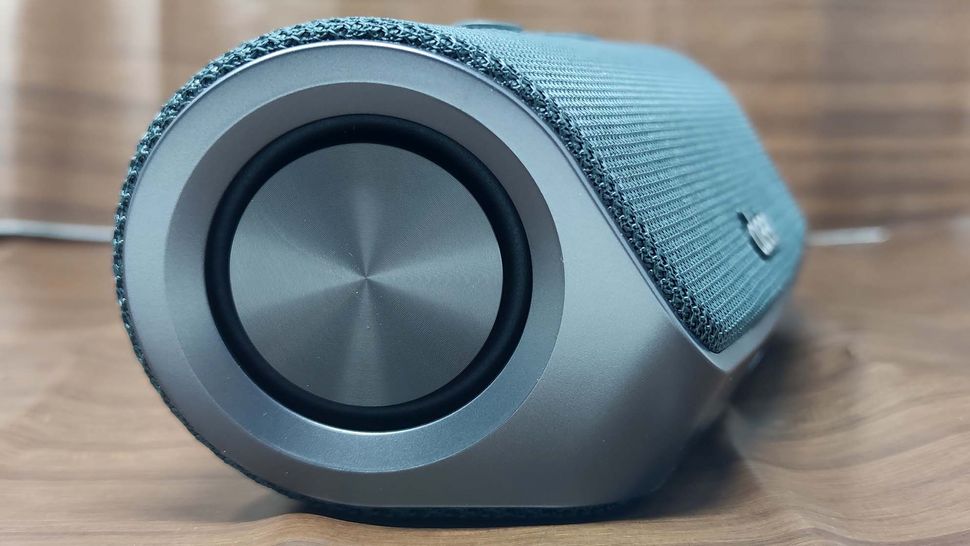 Cleer Audio Scene review: Sound quality
While we may have been critical of elements of the Cleer Audio Scene's design, its sound quality will redeem it… for most people.
The Scene has dual 48mm drivers and passive radiators, which will be enough to tell you it's serious about audio quality before you've even started the tunes. But when you press that 'play' icon you'll be really impressed with the speaker – the brand's name is no lie, it really is clear audio.
The speaker puts out music with great clarity, with the treble and bass waltzing hand-in-hand over different genres of music.
This refined audio was a particular blessing as we like to flit between genres of music – while some speakers specialize in bass-filled rock music, and others fare better in treble-focused instrumentals, the Scene fared equally well when we indulged all the whims of Shuffle Mode.
So why did we say it'll only impress 'most people'? That's because, while many portable Bluetooth speakers emphasize heavy bass, the Scene focuses more on even definition in all areas, which means the bass is tighter – possibly too tight and refined for some.
Sure, that fits the Cleer Audio mantra of detailed sound, but if you prefer your Lil Nas X to your Liszt, a balanced bass won't quite give Old Town Road its edge. If you like your bass-booming parties, this speaker might not be right for you – and it's worth noting that bass is easily lost when listening outdoors and there's wind noise around you, so more is often better. There's a reason other portable speakers often go heavy on it.
But if you a speaker more for using flexibly around the home, the Cleer's audio is great, and well-balanced.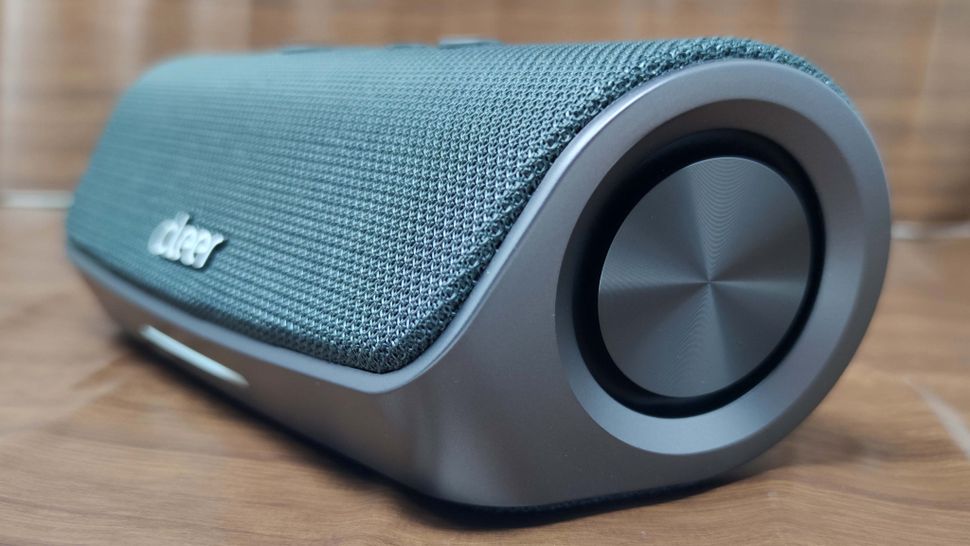 Cleer Audio Scene review: Value
If you prefer balanced audio to a bass experience, the Cleer Audio Scene will be a great-value option for you – it performs very well for its price, and is a preferable option for people who don't want to slam out party tunes.
If you're looking for an all-around cheap speaker and don't need top-notch audio definition, there are definitely more affordable options – but we think it's worth stretching to the extra clarity here.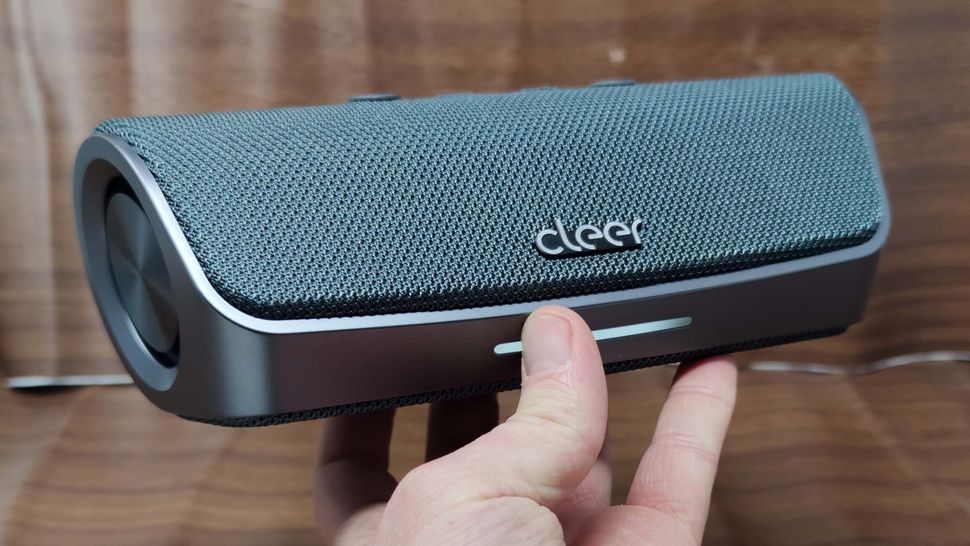 Should I buy the Cleer Audio Scene?
Swipe to scroll horizontally
Cleer Audio Scene

| Attributes | Notes | Rating |
| --- | --- | --- |
| Features | Some useful features, and easy setup. | 4/5 |
| Design | Bigger and heavier than the competition, but nice-looking. | 3.5/5 |
| Sound quality | Very clear and well-balanced, but some may want more bass. | 4.5/5 |
| Value | Very nice sound for the price. | 4/5 |
Buy it if…
You'll use it primarily indoors
Because of the Scene's awkward-to-transport design, the speaker will fare a lot better if you leave it on a shelf of your house, rather than carting it around to picnics and field parties.
You're an aux fan
Not all Bluetooth speakers offer aux connectivity too, despite this being a useful feature for certain non-Bluetooth devices (and for people who like to stand aux guard at parties). The Scene does though.
You want a conference-call speaker
Does the idea of a microphone in your Bluetooth speaker sound great? While some might find it a curious addition, it could make your conference calls a lot easier.
Don't buy it if…
You want that punchy bass
Some people want bass to weave into songs in a nuanced way – others want it to knock you clean out. If you're in the latter group, the Clear Audio's clear audio might not shake your body enough.
You're a frequent beachgoer
The Scene's IPX7 rating means it's at risk to fine particles, like sand. You know where you find a lot of sand? At the beach. The kind of place you might really want to bring a portable speaker…
Cleer Audio Scene review: Also consider
Swipe to scroll horizontally
Cleer Audio Scene comparison

| | Cleer Audio Scene | JBL Flip 6 | Sonos Roam |
| --- | --- | --- | --- |
| Weight: | 1.5 lbs / 742g | 1.21 lbs / 550g | 0.95 lbs / 430g |
| Dimensions: | 8.7 x 2.9 x 3.5 mm | 7 x 2.6 x 2.8 inches / 178 x 68 x 72 mm | 6.6 x 2.4 x 2.4 inches / 168 x 62 x 60 mm |
| Battery life (quoted): | 12 hours | 12 hours | 10 hours |
| Connectivity: | Bluetooth 5.0 | Bluetooth 5.1 | Bluetooth 5.0, Wi-Fi |
| Drivers: | Dual 48mm, dual passive radiators | Tweeter and racetrack woofer | Tweeter and midwoofer |
| Aux-in: | Yes | No | No |
| Charger port: | USB-C | USB-C | USB-C |
| Microphone: | Yes | No | Yes |
| Waterproof rating: | IPX7 | IP67 | IP67 |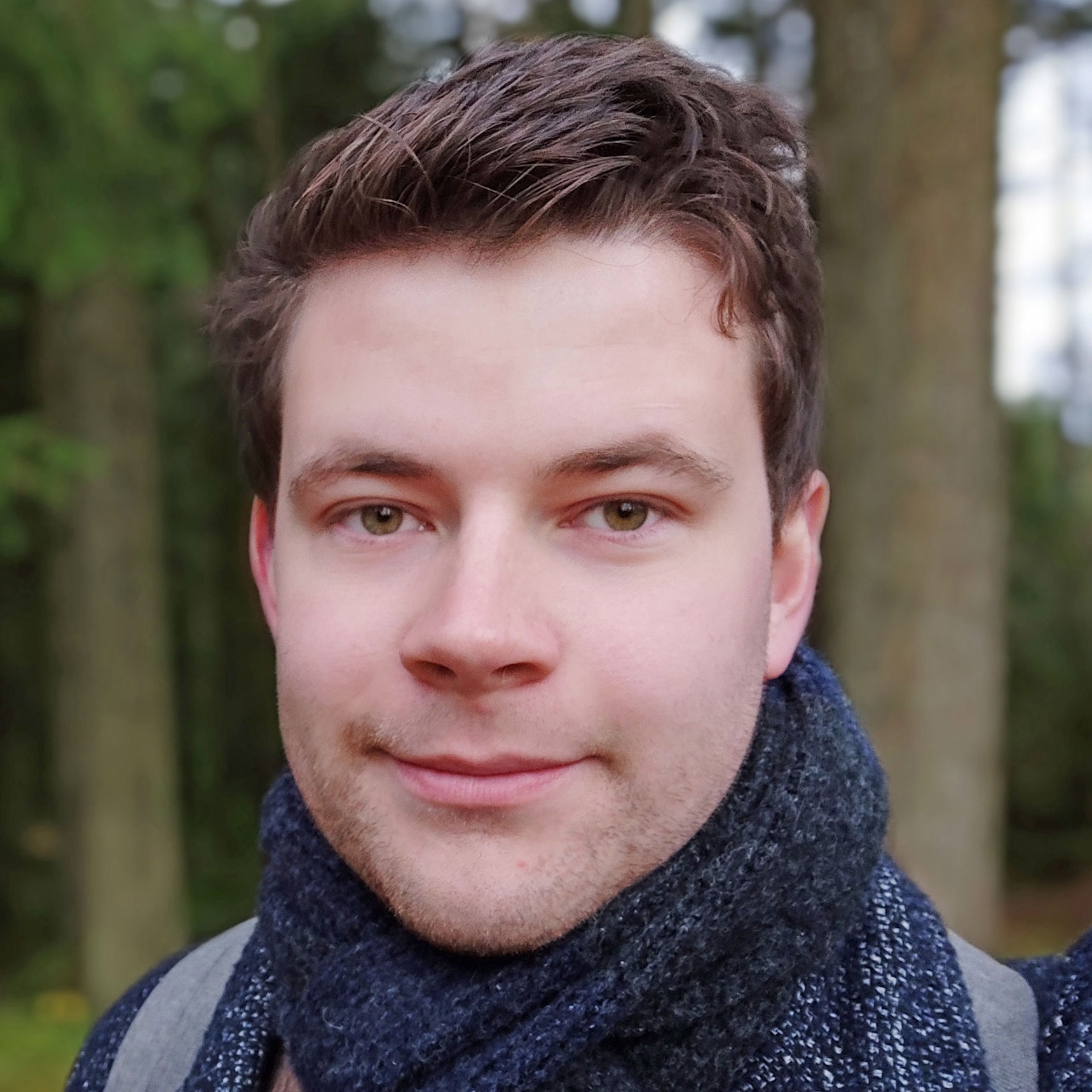 Tom Bedford was deputy phones editor on TechRadar until late 2022, having worked his way up from staff writer. Though he specialized in phones and tablets, he also took on other tech like electric scooters, smartwatches, fitness, mobile gaming and more. He is based in London, UK and now works for the entertainment site What To Watch.
He graduated in American Literature and Creative Writing from the University of East Anglia. Prior to working on TechRadar, he freelanced in tech, gaming and entertainment, and also spent many years working as a mixologist. He also currently works in film as a screenwriter, director and producer.