Qualcomm's Snapdragon 7 Gen 3 chip will make mid-range phones a lot smarter
Onboard smartphone AI is at the heart of the Qualcomm's Snapdragon 7 Gen 3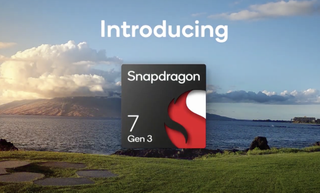 (Image credit: Qualcomm)
Qualcomm has taken the covers off its new Snapdragon 7 Gen 3 chipset, which looks to bring more artificial intelligence-powered smarts to mid-range smartphones.
The chip follows on from the Snapdragon 7 Gen 2, and the focus with this generation is on powering more on-device AI features – think things like the Magic Editor on the Google Pixel 8 and Pixel 8 Pro – as well as boosting image signal processing for better phone photography, and overall performance.
To that end the Snapdragon 7 Gen 3 now has an AI Engine that's 60% better than its forefather, the Snapdragon 7 Gen 1, in terms of performance per watt, with access to the Qualcomm Hexagon NPU for improved AI network performance. So that should translate to faster smart services, from intelligently predicting what apps you might want to use next and ensuring they open fast, to powering multi-language translation and transcription tools.
But with AI now being baked in at the silicon level for a lot of the models you'll find on our best phones list, the Snapdragon 7 Gen 3 also has to bring plenty of standard power to the table. So the Kryo CPU on the new Snapdragon system-on-a-chip (SoC) can reach 2.63GHz, which is around a 15% uptick in performance over the Snapdragon 7 Gen 1. And graphics power gets a boost, with the Adreno GPU delivering 50% faster graphics rendering for HDR games. Plus the Adreno Frame Motion Engine can double frame rates in games to effectively upscale the content, with Qualcomm noting that the chip will ensure power consumption doesn't jump through the roof when upscaling.
Of course, all this will need to be harnessed by device makers and app builders if the new silicon is to be taken advantage of. Qualcomm noted that we'll see the Snapdragon 7 Gen 3 arrive in phones from the likes of Honor and Vivo as November comes to a close. Again, expect these to be mid-range phones rather than flagship models, which tend to tap into the Snapdragon 8-series chips – the recently revealed Snapdragon 9 Gen 3 will surely feature in the flagship modes of the best Android phones of 2024.
Affordable AI power
While new Qualcomm chips pop up every year, from flagship variants to ones designed for more affordable phones, the emphasis on AI power is what's interesting with the Snapdragon 7 Gen 3.
As generative AIs like ChatGPT steal headlines in tech news, the scope to use AI-powered tech to make life easier is only increasing. While there are caveats to AI tools, such as serving up poor answers or being used to try and replace human jobs, on smartphones the tools that AI models power tend to be more of a force for good; AI battery monitoring can eke out more battery life, while smart editing tools let you get a great photo without needing Photoshop skills.
So with the arrival of the Snapdragon 7 Gen 3 we could see more of these AI features trickle down into mid-range smartphones, delivering services that are more useful than ever before.
But if you can't wait for a new phone, go check out our round-up of the Black Friday phone deals in the US and Black Friday phone deals in the UK.
Follow TechRadar on TikTok for news, reviews, unboxings, and hot Black Friday deals!
You might also like
Get daily insight, inspiration and deals in your inbox
Get the hottest deals available in your inbox plus news, reviews, opinion, analysis and more from the TechRadar team.
Managing Editor, Mobile Computing
Roland Moore-Colyer a Managing Editor at TechRadar with a focus on phones and tablets, but a general interest in all things tech, especially things with a good story behind them. He can also be found writing about games, computers, and cars when the occasion arrives. And he also supports with the day-to-day running of TechRadar. When not at his desk Roland can be found wandering around London, often with a look of curiosity on his face and a nose for food markets.