My Android told me a mysterious AirTag was following me, but that's not what has me worried
Did you know this feature is working? It's not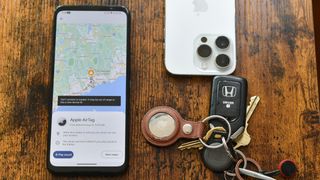 (Image credit: Future / Philip Berne)
I used to carry an iPhone 14 Pro, and I still use it, but it stopped being my cell phone when I got a Galaxy S23 Ultra. Blame the eSIM for not being able to swap back and forth easily. I keep it around for testing and writing about iOS and because I really like it. I also have a lot of iPhone accessories like Moment phone lenses, a ton of cool cases, and even a couple of AirTags. I've ruined the end of my story, because the AirTag following me was my own, but bear with me. It gets interesting, if you didn't know that Android phones could do all of this.
My girlfriend gave me a couple of her AirTags to use when we both had iPhones. I'm sadly now a green bubble on her iPhone 13 Pro display, but I still use those tags: one in my big suitcase, and one on a leather keychain attached to my keys. I misplace my car keys in my house all the time; the AirTag is still invaluable, so long as I keep my iPhone charged and ready to look.
Now, my Galaxy phone can look as well, kind of. Google hasn't quite rolled out its upcoming, robust Android Find My Device network. It has plans to create a mesh network of Bluetooth devices that will link and talk to each other and communicate the location of one device across the network, in case you are looking for it.
Apple already does this with its AirTag and other iCloud-enabled devices. It works like a dream. Unfortunately, Apple being Apple, it works like a dream for Apple owners, only. Google is looking to expand that, by connecting a wide range of devices from a variety of manufacturers. That probably won't include Apple, at least not yet.
Apple is proposing its own industry standard for device tracking, but it will enable its phones to recognize a Google Find My Device tracker, in case there is one nearby. That's so nobody can secretly plant a tracking device on you without your knowledge. In fact, Google says its network is being delayed until Apple makes this available, because it is worried about protecting users of this future network.
On the flip side, Google's Android devices can now tell you if there is an Apple AirTag nearby that hasn't seen its owner in a while. This is what happened to me. I got an alert that there was an unknown tracker around, but that's not all. Google claims it can actually give you quite a bit of power over an AirTag interloper.
Android can now help you seek and destroy AirTags
My Android phone, an Asus ROG Phone 7 Ultimate I was reviewing, told me the device was an Apple AirTag, and it had first been detected that day. The AirTag is attached to my keychain, so I'm not sure why it wasn't detected earlier, but perhaps there was a software update to make this happen.
When you tap on the alert for the unknown tracker, you get a map that shows you the location of the AirTag, and every spot where the phone picked up its signal. That should help determine if this AirTag is really following you, but there's no need to go searching. Your Android phone can also make the AirTag play a sound.
Even better, the AirTag won't alert its owner that you have discovered it and are forcing it to squeal. You can tap the AirTag against your Android phone and it may give up some juicy tidbits. When I tapped my own AirTag, it opened an Apple web site: found.apple.com. That site gave me the AirTag serial number and the last four digits of my phone number, as the AirTag's owner.
It also offered instructions on how to disable the AirTag. The instructions are – remove the battery. That's it. It tells you how to twist off the cover. Removing the battery makes the location invisible to its owner. You could also step on it with a boot, or toss it off of a boat. Your choice.
I can tell you how to enable this setting on your Android phone, but there's no need. Once your phone is updated with the latest security software, the unknown tracker detection is enabled by default. I did nothing on my Android phones and I still got the alert about my AirTag. Android phones dating back to Android 6.0 are eligible for this security update.
This would be great, if it actually worked
I still have concerns about this feature, since it doesn't seem to work consistently or perfectly. If it is going to be effective, it absolutely must work 100% of the time, and every feature needs to work properly. This hasn't been my experience, not with the AirTag that I own and control.
Why didn't I get the alert sooner, and why don't I get this alert more frequently? I carry my AirTag with me along with my smartphone every time I leave the house. My AirTag hasn't connected to my iPhone in days, and I needed to charge my phone for this story today. I should get an alert about this AirTag every day, until I do something about it.
I hadn't gotten an alert about this unknown tracker in more than 24 hours, so I opened the Settings: Safety and Emergency controls. There I found the Unknown tracker alerts, toggled to active. It tells me a tracker was detected yesterday, and gives me a history of every time trackers have been detected.
I tap on the tracker and it shows me a map. It offers to Play sound, but when I try, it fails to connect. The phone says it "Can't connect to tracker. It may be out of range or has a new device ID." Um, no, it's the same tracker as yesterday, and the day before that.
Even a manual scan for the AirTag failed
Google says that you don't have to wait for Android to find an unknown AirTag, you can also perform a manual scan. I tried this option from the Unknown tracker alerts menu. The phone claimed to be scanning for an AirTag, but it couldn't find the tag sitting right in front of me.
I tried manually searching with my Asus ROG Phone 7 Ultimate and my Samsung Galaxy S23 Ultra. Neither phone could find the tracker manually. Both phones kept a record of seeing this tracker, but neither phone could make it play a sound.
Just to make sure the AirTag was still working, I charged up my iPhone and looked for it. The phone found the AirTag immediately and was able to make it beep.
This is very bad, because offering a safety feature so important gives people a false sense of security if it fails to work properly. I felt good when my Android found my AirTag, before I even knew this feature had rolled out to my phone. Even though I knew right away it was mine. It was cool to see the feature working.
Now that I know that it doesn't actually work, not reliably or consistently, I'm more worried than ever. Google needs to put this feature on hold again until the accuracy and consistency improves. Our safety can't be a beta feature or a casualty of the company's rivalry with Apple.
Get daily insight, inspiration and deals in your inbox
Get the hottest deals available in your inbox plus news, reviews, opinion, analysis and more from the TechRadar team.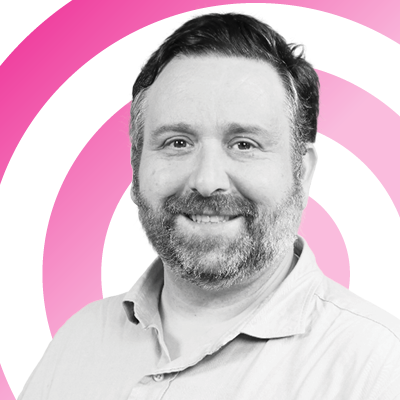 Phil Berne is a preeminent voice in consumer electronics reviews, having reviewed his first device (the Sony D-EJ01 Discman) more than 20 years ago for eTown.com. He has been writing about phones and mobile technology, since before the iPhone, for a variety of sites including PCMag, infoSync, PhoneScoop, and Slashgear. He holds an M.A. in Cultural Theory from Carnegie Mellon University.
Phil was the internal reviewer for Samsung Mobile, writing opinions and review predictions about top secret new devices months before launch. He left in 2017. He worked at an Apple Store near Boston, MA, at the height of iPod popularity. He has been a High School English teacher at Title I schools, and is a certified Lifeguard. His passion is smartphones and wearables, and he is sure that the next big thing will be phones we wear on our faces.