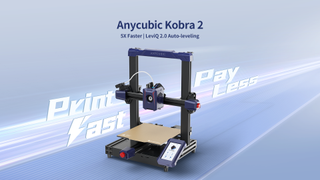 (Image credit: Anycubic)
Affordable desktop 3D printers have been taking over the creative space for quite some time now, but the move away from the clunky and expensive machines of yesteryear has not always been a guarantee that 3D printing could be an accessible hobby. Even in their smaller form factors, 3D printers could still be cost prohibitive. Of those units that were affordable there was often a concern of the printed products being low quality. Technology has continued improving and today's desktop 3D printers —like the Kobra 2 by Anycubic—aim to provide beginners and professionals alike high speed, professional quality prints at an affordable price point.
5X the speed
Not only is the Kobra 2 quick to set up, but it is also quick to get into your first print, as well. Thanks to its default print speed of 150mm/s and maximum print speed of 250mm/s, the Kobra 2 is capable of completing a Benchy model with 0.28mm layer height in just 30 minutes.. To achieve this the printer utilizes a dual-gear direct drive extruder with a 4:1 gear ratio, which helps prevent slippage of the filament to the hot end, allowing for precise extrusion and flow control even when the printer is moving quickly. The Kobra 2's 60W high-power hot end is capable of providing enough heat to melt the filament at higher rates, increasing the speed at which the printer is capable of printing while also improving the flow to prevent clogs and other print ruining issues even at higher speeds.
Faster print speeds and a 60W hot end means you need better cooling on board. The Kobra 2's upgraded cooling fan helps to cool down the filament once it has been extruded from the nozzle with an optimized dissipation design and a spin speed of 700 RPM. The fan cools down the prints quickly, enabling the next layer to be applied with greater precision. To provide better print accuracy the Kobra 2 features double metal spindles and SG15 bearings structure on the X and Y axes. With reduced friction between the moving parts the Kobra 2 is able to print with smoother, faster movements while being more wear-resistant than the regular D shape wheel structure seen in similar printers. The double screw motion mechanism on the Z-axis is another special feature, improving the speed of movement along the Z-axis while reducing lifting resistance during the printing process. This keeps the X-axis level to minimize layer lines so that you achieve better print results even at high speeds.
Beginner friendly
For those just diving into the world of 3D printing, a filament printer is a safe bet for starting out but the learning curve can still be sharp especially for the print bed leveling before starting any print. An uneven bed often leads to print quality issues, such as messy first layers, warping, or details not printing correctly which wastes filament and time. Kobra 2 is equipped with the Anycubic LeviQ 2.0 auto-leveling system, featuring a smart z-axis offset modular that enables accurate Z offset automatically. This makes the leveling process effortless for beginners. Secondly, affordable 3D printers often require a lot of assembly, which can be overwhelming especially if you're unfamiliar with soldering machinery. Anycubic's Kobra 2 FDM printer eliminates the need for any soldering and ships in a semi-assembled state so that it can be set up in as little as 10 minutes making it a user-friendly choice right out of the box.
The Kobra 2 also features an easy to navigate 4.3 inch color LCD on the right side of the machine that is backlit with a matte finish for a professional look. Touchscreen functionality ups the ease of use for getting your first print underway. Once your print is completed, the textured magnetic spring steel build plate helps to make it easy to remove even the largest creations and sticky PETG prints.
Should something happen to go wrong, such as running out of filament mid-print or an unexpected power outage, the Anycubic Kobra 2 is prepared for that, as well. To prevent print errors due to a filament shortage, the Kobra 2 uses a filament sensor that can warn the user of a filament shortage. In the event that the printer runs out of filament anyway, the sensor will stop the print so that more filament can be added and the project can resume where it was rather than being scrapped. Similarly, the Power-Loss Recovery feature allows the printer to resume printing where it left off in the event of a power outage, saving you time and material.
Regardless of your 3D printing needs, Anycubic's Kobra 2 can deliver fast prints while maintaining high-quality results, enabling you to have more time to focus on their ideas rather than the production process. The Kobra 2 3D printer will go on sale at 9:00 am EDT May 20th, 2023, in the US from $269, and will be available in Europe at 9: 00 am CEST June 1st, 2023 from €299. Users can subscribe for updates on this page and buy from the official Anycubic store, Amazon, eBay, Walmart, and AliExpress from May 20th.
Sign up to receive daily breaking news, reviews, opinion, analysis, deals and more from the world of tech.