Video del Samsung Galaxy Z Fold 3 con el nuevo S Pen rediseñado
Filtran un video oficial del Samsung Galaxy Z Fold 3 y Z Flip 3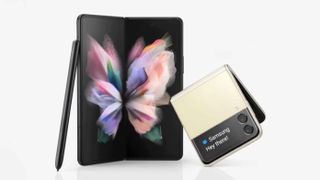 (Image credit: Samsung)
Mañana 11 de agosto habrá evento Samsung Unpacked en el que veremos el Galaxy Z Fold 3 y el Galaxy Z Flip 3. Pero no hay que esperar porque hoy tenemos un vídeo filtrado por el propio fabricante de teléfonos. El vídeo muestra los teléfonos y el rediseñado S Pen , del que ya se rumoreaba desde hace tiempo que iba a llegar al Z Fold 3.
La cuenta de YouTube de Samsung Malasia subió el vídeo por "accidente" y lo retiró rápidamente. Pero no lo suficientemente rápido para que, supuestamente, fuera capturado y publicado en el subreddit r/GalaxyFold.
El vídeo tiene todas las características de los vídeos promocionales de Samsung, por lo parece que es auténtico (siempre es posible que un astuto creador se haya tomado la molestia de imitar el estilo de Samsung en 3D).
El clip se ha extendido rápidamente por otros lugares, incluso en Twitter:
عن طريق الخطا سامسونغ ماليزيا ينشرون مقطع اعلاني عن جهاز Galaxy Z fold & flip 3 pic.twitter.com/kz5Vt5EXbTAugust 9, 2021
El clip muestra ambos plegables en acción durante unos segundos.
Por una parte enseña una ruleta de aplicaciones en la pantalla exterior del Z Flip 3 (que es mucho más grande que la pantalla exterior de sus predecesores).
Por otra, hay más de 30 segundos dedicados al Z Fold 3 y a su nuevo lápiz. El plegable puede dividir aplicaciones entre las dos mitades de la pantalla interior, lo que es muy interesante.
El usuario u/paxinfernum, que ha subido el vídeo, ha señalado que la letra pequeña de la imagen con el lápiz óptico dice lo siguiente:
"S Pen Pro" y "S Pen Fold Edition" se venden por separado. Utiliza únicamente el S Pen Pro o el S Pen Fold Edition de Samsung diseñados exclusivamente para el Galaxy Z Fold 3. Todos los demás S Pen no diseñados para el Galaxy Z Fold3 (incluidos los de otros fabricantes) pueden dañar la pantalla. Algunas aplicaciones pueden no ser compatibles con la multitarea. El modo Flex es compatible con ángulos entre 75° y 115°".
¿Qué es Flex Mode?
Flex es el nombre de Samsung para el modo que se puede activar cuando el teléfono está parcialmente plegado, que debutó con el Galaxy Z Flip original y se incluyó en el Galaxy Z Fold 2.
No sabemos por qué exactamente sólo se pueden usar los lápices especiales, pero es muy posible que sea porque son mucho menos duros con la pantalla del plegable que los lápices anteriores, diseñados para funcionar en pantallas de cristal. Según el filtrador Max Weinbach, el Z Fold 3 detectará los S Pen no compatibles y advertirá a los usuarios de que no los usen:
Using non foldable SPen on a Fold3? There will be a pop-up telling you to not do that.August 9, 2021
Nos alegra ver la confirmación de que el Z Fold 3 tendrá su propio S Pen, una de las principales novedades y la razón para comprarlo. Es posible que Samsung además tenga en mente funcionalidad extra para la nueva versión.
El vídeo también confirma la miríada de filtraciones de diseño y los rumores que mostraron el diseño de ambos dispositivos.
Sign up to receive daily breaking news, reviews, opinion, analysis, deals and more from the world of tech.
David is now a mobile reporter at Cnet. Formerly Mobile Editor, US for TechRadar, he covered phones, tablets, and wearables. He still thinks the iPhone 4 is the best-looking smartphone ever made. He's most interested in technology, gaming and culture – and where they overlap and change our lives. His current beat explores how our on-the-go existence is affected by new gadgets, carrier coverage expansions, and corporate strategy shifts.