Un nuevo problema con Windows 10 puede ralentizar tu PC pero tiene solución
Un nuevo problema con la actualización KB4559309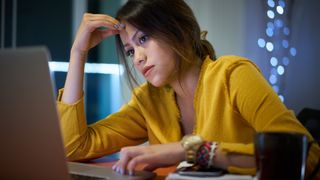 (Image credit: Shutterstock)
Un nuevo día, un nuevo problema con una actualización de Windows 10, que parece que está ralentizando algunos PCs. A este paso nos vamos a quedar sin fotos de stock de "gente con dolores de cabeza delante de su laptop". Afortunadamente, éste tiene solución.
Microsoft ha lanzado una actualiazción de Windows 10 que cambia su navegador Edge a la nueva versión con el motor Chromium por narices, te guste o no. Pero parece que la actualización está causando que algunos PCs arranquen más lentamente.
La actualización Windows 10 KB4559309 es automática y, como dice Windows Latest, ha personas que están quejándose de que, después de actualizar su equipo, sus PCs tardan más en ponerse en marcha.
Y si eso no fuera lo suficientemente molesto, también hay denuncias que afirman que el PC también funciona más lento después de arrancar, con aplicaciones y páginas web que necesitarán más tiempo para cargar. Y encima los juegos no funcionan a plena potencia después de la actualización.
Por ahora sólo sabemos que afecta a algunos PCs con la actualización instalada y no conocemos en qué medida es un problema extendido pero, si has notado que tu PC va más lento últimamente, tendrás que mirar si tienes instalados esta actualización y — si es así — esta podría ser la causa de tu problema.
Cómo arreglar el problema
Como explica Windows Latest, generalmente puedes deshacerte de estos problemas desinstalando la actualización que sea. Sin embargo, en el caso de la actualización KB4559309, no se puede desinstalar con un par de clicks.
Para solucionarlo tendrás que utilizar la función de System Restore (restauración del sistema) para revertir a tu PC al estado previo a la instalación de tu actualización. Pero no te preocupes, esto no significa que vayas a perder ningún fichero o dato. Esto sólo será posible si tenías System Restore — el sistema de backups de Windows 10 — activado. Ssi no lo tienes, mala suerte porque tendrás que esperar a que Microsoft saque un parche (para la próxima vez, aquí tienes una guía sobre cómo activarlo y utilizarlo).
Si tienes System Restore activado, sigue estos sencillos pasos:
Abre la ventana de System Properties (propiedades del sistema).
Pulsa en System Restore.
Haz click en Next y selecciona el backup que quieres aplicar de la lista que aparece en pantalla.
Antes de pulsar continuar de nuevo es una buena idea pulsar en "Scan for affected programs" para ver si algún programa no se reinstalará y si necesitarás instalarlo de nuevo después de restaurar.
Una vez lo hayas hecho, cierra esa ventana y pulsa seguir.
Pulsa Finish para restaurar el backup elegido.
Si todo ha salido bien, reinicia tu PC y todo habrá vuelto a la normalidad.
Sign up to receive daily breaking news, reviews, opinion, analysis, deals and more from the world of tech.