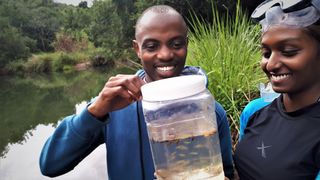 (Image credit: South African Institute for Aquatic Biodiversity)
The South African Institute for Aquatic Biodiversity (SAIAB) is a vital scientific organisation that does important work researching and monitoring aquatic ecosystems. South Africa's proximity to marine and freshwater environments makes it a great location for such operations, but also brings with it challenges involving a highly-dispersed workforce and sub-optimal cloud infrastructure.
Like many similarly-sized organisations, there was only one tech-support person doing the best they could with a limited budget. However, they were fundamentally limited in what they were able to provide – especially to a workforce that was frequently out of the office and needing access to all-manner of up-to-date files, at any one time.
The company wanted to focus on its important work without being distracted or hindered by basic IT infrastructure issues. Fortunately, Taiwanese technology company Synology – a leading supplier of network-attached storage devices – is well-used to such scenarios, and its combination of powerful, easy-to-manage hardware and services provided a solution. We spoke to Simon Hwang, Synology's APAC president, to find out what happened.
TechRadar: What were the specific problems that SAIAB was having?
Synology: The sizeable, disparate workforce made up of staff, interns and students was based both in the office and in multiple, remote locations. Everyone needed constant access to some 500TB of data (including backups) with varying degrees of permissions. The IT environment was managed by a single support technician who had managed to distill most operations down to Windows file server (for direct file interactions) plus Google Drive (for sharing). Of course, the two distinct technologies don't integrate with each other and this (along with basic functionality issues) was causing problems. SAIAB found that many solutions were overly complicated, had no native file server access, had sync and security issues or were low on features and only offered third-party support.
SAIAB needed remote access without a VPN, a single set of files that could be accessed via either file server, sync client or web browser, plus integrated backup. Access via mobile apps would also be ideal. The solution needed to address the fact that traditional cloud services don't work as well in South Africa as they do in other countries with more robust internet infrastructure. Finally, everything needed to be manageable by one person.
TechRadar: How did Synology's platform help?
Synology: A Synology NAS is an ideal choice for companies which, like SAIAB, require access to vast research data or large media files in a variety of ways, as it shares the virtues of both traditional file servers and the convenience of cloud services.
Many offices still share files through traditional Windows file servers but, when it comes to remote access, connections via VPN are usually troublesome. This means many users turn to public cloud storage which brings with it governance and privacy issues – the organisation isn't in control of its own data. There's also no integration between Windows file server services and public cloud storage. It's at this point where Synology steps in. We combine the flexibility of cloud with the full control of on-premises file storage.
What's more, Synology NAS represents a one-time, scalable investment. There are no subscriptions for multiple cloud services, nor are there multiple software license fees to pay. All software and service fees are included with the hardware (such as Synology Drive) and if you want more storage, can quickly and easily add a Synology Expansion Unit.
TechRadar: How far does this Synology solution scale? Can enterprises use it too?
Synology: Enterprises can make great use of Synology products. For example, with the RS18017xs+, the advanced RackStation, you can sync up to 1,800 clients concurrently. On its own, the RS18017xs+ can be scaled up to provide two petabytes of storage – that's 180 hard drives at 14TB each!
TechRadar: How does Synology's product improve on the competition?
Synology: We are working on improved file-streaming services to help customers free up disk space on their client devices and improve storage efficiency. Synology NAS devices also allow collaboration functions, so that users can co-edit a word, spreadsheet, or powerpoint file concurrently.
TechRadar: What did Synology learn while helping SAIAB? How can other organisations benefit from Synology's technology?
Synology: While working with SAIAB, we noted that research organisations often use traditional methods for data storage. While traditional file servers may be good to store data locally, clients struggle to find a way to access files remotely or share the data immediately. This leads many to move their data storage solution into the cloud. Public cloud storage promises instant file sharing, but those within organisations often worry about privacy and security: many people like to be able to fully-control their data's whereabouts. In addition, the subscription fees you pay for commercial cloud storage can be considerable in long run.
This is where a Synology NAS comes in. It fills in the gap between file server and cloud storage providing a one-stop solution which functions as a secure on-premises server but one where users can access files anywhere in the world with an internet connection. Simply put, Synology NAS is a cost-effective and time-saving solution for data sharing and data storage, which improves productivity across an entire organisation. In addition, the native backup function of Synology NAS devices can ensures all your critical working files are backed up.
TechRadar: Do customers need special hardware and software to create this environment?
Synology: Customers only need a Synology NAS which comes with Drive software free of charge. The beauty of a Synology NAS is that it's a one-time investment and a single-vendor solution.
TechRadar: Why choose a Synology NAS?
Synology: Whatever your storage requirements – whether you have personal, SMB, vertical or Enterprise requirements – Synology's highly-scalable products have you covered with their combination of cloud-like flexibility and on-premise control. The system is not only easy to manage but budget friendly too.
If you'd like to know how Synology can help your organisation, please visit https://www.synology.com/en-global/form/inquiry/product.
Get daily insight, inspiration and deals in your inbox
Get the hottest deals available in your inbox plus news, reviews, opinion, analysis and more from the TechRadar team.