Seis nuevas series y películas que no te puedes perder en Netflix, Disney Plus y HBO esta semana
De Titans en HBO Max a Paranormal en Netflix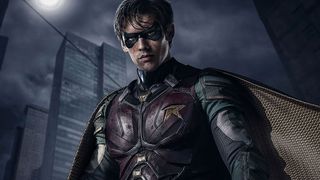 (Image credit: DC Universe / Netflix)
Entre el estreno de la temporada 2 de The Mandalorian y el de la temporada 4 de The Crown en Netflix — que llegará el 15 de noviembre — el calendario de lanzamiento de nuevas series está tranquilo en los Estados Unidos. Pero no os preocupéis, que nuevo material hay. Aquí tienes una selección.
Paranormal (Netflix)
Netflix tiene una adaptación de la serie de novelas de Ahmed Khaled Tawfik sobre un profesor — Refaat Ismail — que comienza a experimentar fenómenos paranormales y tiene que salvar a sus seres queridos de fuerzas sobrenaturales en colaboración con su amigo y colega. Ismail tiene un oscuro sentido del humor. La series es egipcia, así que es refrescante para salirse de las americanadas habituales.
Operation Christmas Drop (Netflix)
Netflix lanza una de sus grandes películas románticas navideñas tres semanas antes de que estemos preparados para pensar en la temporada festiva. Un infierno, vamos. Son así de hijos de la gran ****, qué se le va hacer. Esta película enfrenta a los soldados de una base militar — encargada de bombardear con regalos a residentes de islas remotas — contra un asistente del Congreso que hace todo lo posible para ayudar a cerrar la base en nombre de su jefe. El protagonista es el apuesto capitán detrás de la benévola operación.
La premisa es absolutamente inverosímil pero probablemente decenas de millones de personas la verán.
Disponoble ahora en Netflix
Moonbase 8 (Showtime)
Antes de que Space Force de Netflix nos decepcionara a principios de este año, hubiéramos asumido que esta serie de comedia tiene pinta de ser la risa.
Y quizás lo sea, porque tiene un reparto excelente: Skip (Fred Armisen), Rook (Tim Heidecker) y Cap (John C.Reilly) entrenan en el Moon Base Simulator de la NASA para probar que se puede vivir en la luna.
Las malas noticias es que Rotten Tomatoes le da sólo un 60% de críticas positivas en el momento de escribir este artículo. Los seis episodios se transmitirán desde el día 8 en la aplicación Showtime.
Disponible ahora en Showtime
Titans (HBO Max)
Si estás en los EE.UU. y tienes HBO, ahora puedes ver dos temporadas de esta extraña pero notable adaptación de los Teen Titans de la DC Comics, que combina violencia cruda en la línea de las películas de Zack Snyder con un poco del colorido cursi de los programas de la cadena The CW, como The Flash o Legends of Tomorrow.
El resultado es una serie en la que Robin dice "¡F *ck Batman!" y pega palizas a los criminales antes de formar equipo con otros jóvenes superhéroes. Este giro adulto de los Teen Titans tiene un reparto sólido y vale la pena echarle un vistazo si sabes algo sobre los personajes de DC más allá de Batman y Superman.
Anteriormente disponible sólo para los suscriptores de DC Universe en los EE.UU., ahora lo puedes ver en HBO Max, donde también podrás ver la tercera temporada próximamente.
Disponible ahora en HBO Max y Netflix en el resto del mundo
Spider-Man: Into the Spider-Verse (Netflix)
The Mandalorian season 2 (Disney Plus)
Sí, ya sabemos que llevan ya dos episodios, pero The Mandalorian sigue siendo la mejor serie para ver cada semana.
Disponible ahora en Disney Plus
Sign up to receive daily breaking news, reviews, opinion, analysis, deals and more from the world of tech.
Samuel is a PR Manager at game developer Frontier. Formerly TechRadar's Senior Entertainment Editor, he's an expert in Marvel, Star Wars, Netflix shows and general streaming stuff. Before his stint at TechRadar, he spent six years at PC Gamer. Samuel is also the co-host of the popular Back Page podcast, in which he details the trials and tribulations of being a games magazine editor – and attempts to justify his impulsive eBay games buying binges.