The ultimate Nokia camera test: is Pureview really worth it?
Which will be crowned photo purists's choice?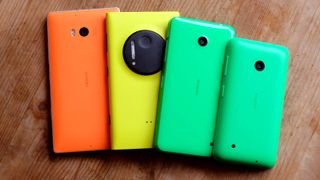 Want a phone with a decent camera? Nokia makes some of the very best, and if a camera has the PureView badge, you can be pretty sure it's going to be something special.
But what about Nokia's cheaper cameras? We're going to compare a range of phones from across the Nokia Lumia range to see what PureView gets you, as well as seeing how well Nokia's sub-£100 phones perform out in the field.
Do you really need to spend hundreds of pounds to get a decent phone camera?
Meet the contenders
Nokia Lumia 1020
PureView: Yes
Resolution: 41MP
Lens: f/2.2
Released: July 2013
Price: From £270
Nokia Lumia 930
PureView: Yes
Resolution: 20MP
Lens: f/2.4
Released: July 2014
Price: From £405
Nokia Lumia 635
PureView: No
Resolution: 5MP
Lens: f/2.4
Released: June 2014
Price: From £133
Nokia Lumia 530
PureView: No
Resolution: 5MP
Lens: f/2.4
Released: September 2014
Price: From £80
Hardware and Software
Nokia has tweaked the way its phone cameras operate in the last year or so, but the basics remain pretty similar across all these phones. The Nokia camera app gives you easy manual control over camera settings, even in the bargain basement Nokia Lumia 530.
It is a bit confusing, as there's also a standard Windows camera app on all these phones, but we wouldn't trade away the extra control the Nokia app gives you. For the purposes of these tests we've used the Nokia app, and left all of the settings to automatic – just to keep things fair.
We need to make the terms as fair as possible, because the hardware of these phones is completely different.
The Nokia Lumia 530 and 635 both have small 1/4-inch sensors, while the Lumia 930 uses a good-size 1/2.5-inch sensor and the Lumia 1020 a gigantic 1/1.5-inch one. In any camera, the sensor is what harvests the light that produces a photo, and the larger a sensor the better it usually is at dealing with tricky lighting conditions.
Resolutions are completely different too. The Lumia 530 and 635 have 5MPs a piece, the Lumia 930 a 20MP sensor and the 1020 a jaw-dropping 41MP one.
There's also the lens to consider: the other side of the camera hardware equation. The bit we're most interested is in the f-stop rating.
This tells you a lens's aperture in a phone, which determines how 'fast' it is, how much light it can suck in. Yes, we know what the pedants will say: 'nothing sucks in light but a black hole', but you get the idea. As such, it can be used to offset a smaller sensor a bit.
Here's a surprise: three of the cameras have the same lens aperture. The Lumia 930, the Lumia 635 and the Lumia 530 all use f2.4 lenses, while the Lumia 1020 has a slightly faster f2.2 lens.
The surprise here is that the Lumia 930 lens is so slow. While Nokia may brag about its Carl Zeiss optics, loads of Android rivals offer much, much faster lenses. The HTC One M8 has an f2.0 lens for example, which aids low light performance among other things.
Performance, Speed and Action Shooting
You may also be a bit surprised by the basic performance of some of these cameras. If a camera can't focus quickly and dash shot-to-shot quite nippily, you'll most likely miss the action.
Before we get onto actually picture quality, we have to start on a bit of a downer: none of these cameras are much use for action.
When shooting at full resolution they are all relatively slow. Next to the Samsung Galaxy S5 they seem like arthritic grannies shuffling down the queue in the post office.
What's really disappointing is that the top-end Nokia Lumia 1020 is the worst of the lot. It's very, very slow. You can only take a photo about every four seconds. If you're trying to take a picture of a fast-moving object, you only really have one shot with the 1020. As beautiful as that shot may be, it's a deal-breaker for those wanting to shoot birds or brats.
The Nokia Lumia 930 isn't too hot either, but it is at least a bit faster. We never expected much from the Lumia 635 and 530 in terms of speed, but it's unfortunate to see them outpace higher-end phones.
Detail
To test out these cameras' detail levels we took them to the beach. A pier is a good subject for a detail test, thanks to all those railing down the side. And you can grab an ice cream after too.
Click here for the full res shot
Without zooming in, the only phone that doesn't appear pin-sharp is the Lumia 530. It's quite obviously a bit soft, lacking the razor-sharp edges of its siblings.
Zooming in a bit closer, we see why the Lumia 635 has managed to appear as sharp as the much higher-resolution phones. There's clear sharpening taking place, which is why you see the outlines drawn around the 'legs' of the pier.
Click here for the full res shot
So while the Lumia 635 looks sharp from a distance, it doesn't really have the detail that bears cropping into too much for enlargements. Still, for a 5MP camera it's a decent performance.
Click here for the full res shot
There is also some sharpening in the Lumia 930, funnily enough, just to a much lesser extent than the 635. Only the Lumia 1020 produces truly natural-looking fine detail right down to pixel level.
Given the Lumia 930 has just half the resolution of the Lumia 1020, it's good to see it is able to get pretty close in terms of rendering fine detail. Look at the railings and the stripes on theshirts, though, and the Lumia 1020 image is a little bit cleaner.
Click here for the full res shot
Here we're comparing full-resolution images from the two higher-end phones. But as standard both phones actually capture much lower-res 5MP images (although some picture interpolation occurs with Pureview to get a more detailed shot, as you can see).
When shooting at this lower resolution, there's very little to separate the Lumia 930 and Lumia 1020 shots. Let's have a look at how the high-res versions compare to the lower ones:
Click here for the full res shot
If you're looking to keep your photos for posterity, we recommend making sure you now when you're capturing lower-res and higher-res pics. You can select this in the Nokia camera app.
Sign up for Black Friday email alerts!
Get the hottest deals available in your inbox plus news, reviews, opinion, analysis and more from the TechRadar team.
Andrew is a freelance journalist and has been writing and editing for some of the UK's top tech and lifestyle publications including TrustedReviews, Stuff, T3, TechRadar, Lifehacker and others.