Mega bites: essential foodie apps for the S4 and Note 8.0
10 tastebud ticklers to try out today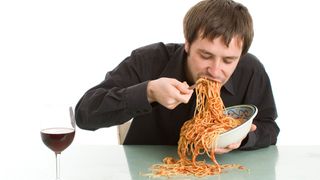 Food, glorious food. Can't live without it… no, you really can't. Good food used to be the preserve of chefs and show-offs, but with ever more foodie apps available for your Samsung GALAXY device, there's no excuse for not eating like a king – and we don't mean a Burger King, either.
Here are 10 lip-smacking apps guaranteed to whet your appetite for a bit of culinary creativity. You'll wonder how you ever coped in the kitchen without them – just remember not to mistake your Note 8.0 for a really classy chopping board!
BigOven
Free Get it here
This app certainly lives up to its name, with some 250,000 recipes on offer. And with options to search them by keyword, ingredient or collection, if you can't find something here to tickle your tastebuds, you probably haven't got any. It can even help you rustle up something scrumptious when your cupboards are almost bare, by matching your limited list of ingredients with dishes from its database.
Evernote Food
Free Get it here
Created by the same folks behind the similarly named note-taker, this app is designed to record your best food finds. Jot down meal ideas (using the S Pen on the Note 8.0), add photos, save shop and market locations, and build your own cookbook by clipping recipes from around the web. And when you don't fancy slaving over a hot stove, you can even search for restaurants and book a table.
Food Planner
Free Get it here
With options to sync across a range of devices as well as your Google Calendar, this app helps you keep on top of your weekly meal plan right down to the last mouthful, no matter where you are. So why not put your feet up at home and make a shopping list using your GALAXY Note 8.0, while your other half schleps round the supermarket with it instantly updating on his or her GALAXY S4?
Foodspotting
Free Get it here
These days we all like to photograph our food. And with the cameras on both the GALAXY Note 8.0 and the GALAXY S4 ideal for getting classy shots of your latest culinary creation, why on earth shouldn't we? Acting as a social network of sorts, this app allows you to upload your best foodographs, add comments, and find decent restaurants nearby for snapping and snacking alike.
BBC Good Food Recipes
Free Get it here
This free app offers just 20 recipes, but it's a great way to get a taste of the excellent premium version, which offers hundreds more. As well as some really great recipes (broken down into categories including quick dishes, cakes, and party ideas), it also offers handy cooking information, such as the best way to chop specific vegetables and how to properly poach an egg.
Dinner Spinner
Free Get it here
This handy app uses a barcode scanner to suggest meals you can make with what's in your cupboards. Drawing its content from the vast archives of alltherecipes.com, it also lets you search for recipes by cooking time or ingredient, or find inspiration by shaking your device for a random recipe. Whether delicious or disastrous, integrated buttons for Twitter and Facebook make it easy to share the results!
Jamie's 20 Minute Meals
£2.99 Buy it here
When he's not trying to save schools from a culinary disaster, Jamie Oliver is also one of the best chefs around, making this app something of a must-have. Detailed videos hosted by Jamie show you how to make many of the meals and look great on the GALAXY S4's AMOLED screen and the Note 8.0's larger display, while further video guides are full of informative tips and easy-to-follow advice.
Man v. Food
Free Get it here
Man v. Food is an epic TV battle in which the host chows down on the biggest, most gut-busting bites the US restaurant trade has to offer. Happily for your insides, this spin-off app doesn't suggest you follow in his fat steps, but instead offers a diverting food-based game that sees you trying to assemble the biggest meal you can before it all tips over into so much floor pie.
Recipe Search
Free Get it here
Boring name, brilliant app. Boasting the most comprehensive recipe listing service around, Recipe Search offers a whopping 150,000 dishes from around the world, sourced from cooking community website allthecooks.com. Voice search functionality is great when you've got sticky fingers, and you can even add your own recipes to the massive database through the app.
Urbanspoon
Free Get it here
This fantastic restaurant finder will suggest the best, cheapest or nearest places to eat in a wide range of countries, including the UK and the USA, with new places being added all of the time. Simply shake your GALAXY S4 for a random suggestion, or lock different options to narrow the results. As the name suggests, its best used in big towns and cities, but that is where you tend to be spoiled for choice.
Sign up to receive daily breaking news, reviews, opinion, analysis, deals and more from the world of tech.