Ember lights up your night iPhone photography
It's a video light with a space for an iPhone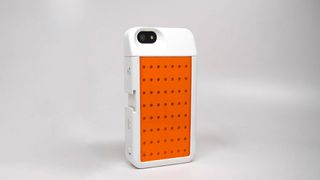 If you've ever found yourself wanting more than what the iPhone 5/5S' camera flash has to offer, you may want to check out Ember, a Kickstarter-backed light for the iPhone.
In a nutshell, and as evidenced by its design, Ember is basically a video light that your iPhone can dock into. However, it's smaller and more compact than a video light, but bulkier than your average iPhone case.
We spoke with Jedd Goble, creator of Ember, and asked why anyone would buy it over a proper video light.
For one, Ember is smaller and more compact than a video light, which makes you more likely to take it with you when you're out at night.
Of course, it's not so compact that you'll forget you have it with you. You'll probably need to put it in a bag, a larger jacket pocket, or if you're brave you can find a way to fit it in your pants pocket as Goble does.
Why Ember and not a video light?
Another reason to go with Ember is price. At $90, it's less expensive than your average LED video light, except maybe a few of the smaller ones. And the fact that it's designed to hold your iPhone means you won't have to clamp, hold or stick the iPhone to a video light in awkward ways.
The great thing about video lights, and Ember, is that it emits powerful light for photos and videos. You can also control its color temperature with different colored gels or filters. This means you shouldn't have trouble matching the Ember's color of light with your ambient light.
Like an LED video light, Ember's light power is dimmable, so you're not hitting your subjects with light at full power every single time you turn it on. Coupled with the ability to modify and diffuse that light, it's really a versatile package for iPhoneographers who are looking to expand their night photography capabilities.
Although we wish that the iPhone itself could control the Ember, the nice thing about independent function is that you can use the Ember as a separate light source. This allows you to play with off-camera lighting.
At full power, Goble tells us that the Ember will last up to four hours, which is plenty of time since you're probably not going to have this thing on all the time.
It's effective to about 15 feet when mounted on the iPhone, and at 10 feet it's six times more powerful than the iPhone's built-in LED flash.
If you're not a Kickstarter backer already, this iPhone light is going to set you back $90 as we mentioned before, and it becomes available in July with pre-orders taking place now. The base package comes with the Ember, which can also be mounted on a tripod, and a CTO (color temperature orange) gel.
Additional color gels will come in a six-pack and will cost $20.
Sign up to receive daily breaking news, reviews, opinion, analysis, deals and more from the world of tech.