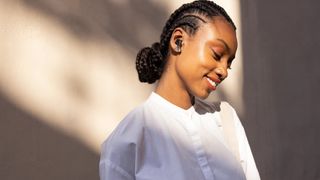 (Image credit: JBL)
What makes a great pair of true wireless earbuds? After spending years reviewing the best earbuds you can buy, we think the top priorities are that they feel great, have noise-cancellation on-board for zero distractions, there's solid battery life so you're not wasting time charging them up, and they sound truly stunning. But few earbuds tick all of the boxes, excelling in some areas and falling short in others.
The JBL Live Pro 2 are a fantastic pair of all-rounder true wireless earbuds. Whether you're wearing them on a train and need to drown out voices and sounds around you, to the gym for fantastic bass and sweat-resistance, or when you're working and studying, so you can switch between taking calls and listening to music easily. These earbuds are designed to fit into your life, adding a soundtrack to whatever you're doing, wherever you are.
It's good to know you're in safe hands with these buds, too. They're the latest true wireless earbuds from JBL, an audio tech brand with a solid legacy of combining terrific sound and features in a comfortable, durable and good-looking design—all at a price that's affordable compared to many rival brands.
Let's take a closer look at what sets the JBL Live Pro 2 apart from the competition.
Everything you need to know about the JBL Live Pro 2 true wireless earbuds
If you're looking for a new pair of true wireless earbuds, sound quality should be your number one consideration. Thanks to 11mm dynamic drivers and JBL's 'Signature Sound' profile, the JBL Live Pro 2 buds sound genuinely fantastic, with incredibly clear music and perfectly-balanced amounts of bass and treble. Essentially, whatever genre of music you're into, it's going to sound great with these buds.
The JBL Live Pro 2 true wireless earbuds make the most of that awesome sound by offering noise-cancellation, which reduces ambient noises when you're out and about, and allows you to focus on your music without interruptions. It's also adaptive, meaning it'll adjust to the volume of your surroundings. Whether you're on a noisy plane or in a quiet library, the Live Pro 2 buds will tailor the sound you hear to your environment.
We all know noise cancellation can be enjoyable one minute when you're feeling in the zone and pumped up by your music, but annoying when you need to quickly catch up with a friend or listen out for a bus announcement. You'd need to take out some buds to hear what's happening around you, but the JBL Live Pro 2 have a 'Smart Ambient' mode, allowing you to hear your environment without removing the buds—that way you can have the best of both worlds.
The JBL Live Pro 2 buds are designed for all-day wear and have the battery power to make that possible. You'll get 10 hours of playback from the earbuds and an additional 30 hours with the case—that's three more full charges and days of listening. The Live Pro 2 also have a handy quick charging feature. With only 15 minutes of 'Speed Charge' in the case, you'll bank another 4 hours of playback. This is ideal for busy lifestyles when you don't have the time to sit and wait for your tech to charge up.
JBL knows there's no one-size-fits-all approach to earbuds, which is why the JBL Headphones App allows you to customise your earbuds to your preferences and your ears. You can select different listening modes, adjust the noise cancellation settings and EQ curve, and change controls. This way you're not changing your habits for your earbuds, you're able to change your buds to fit you instead.
Other standout features include multi-point pairing to switch between devices if you're watching a TV show and need to take a call, an IPX5 water and dust resistance rating for peace of mind when you're working out, touch controls to play tracks and activate your voice assistant, and oval silicon tips for a snug and comfortable fit all day long.
The JBL Live Pro 2 earbuds are designed to keep up with you. They bring you wonderful sound, immersive noise-cancellation, fantastic battery life and a bunch of smart, customizable features in a slick design at a great value price. Find out more and buy the JBL Live Pro 2 from Currys now for £129.
Sign up to receive daily breaking news, reviews, opinion, analysis, deals and more from the world of tech.