Advertisement Feature
Growatt announces new portable power station INFINITY 1300 for green, sustainable power at home or on the go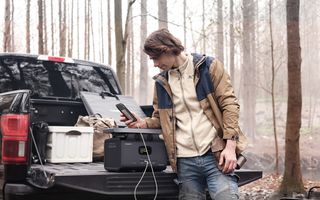 (Image credit: Growatt)
Following the widespread adoption of remote work as a result of the COVID-19 pandemic, a portion of the population decided to embrace what became known as a 'digital nomad' lifestyle. Untethered by the need to commute to an office every day, these people set out to travel and sightsee while working remotely from their vans, RVs, or campers. This new take on the off-grid life that still required connectivity and technology like laptops and smartphones led to a rise in the need for capable, high tech power solutions.
Fast charging, long lasting power on the go
Growatt, an industry leader in developing green energy resources such as inverters for solar powered systems, saw an opportunity to branch out into the portable power generator market to meet the needs of this new generation of adventurers. The INFINITY 1300 is a portable power station capable of charging its LiFePO4 battery system thousands of times using either AC or solar power. This small but mighty generator can charge fully in 1.8 hours thanks to it's bi-directional inverter when connected to AC charging and then discharge up to 1800W of power through its 14 ports to provide power sufficient enough to charge tablets, laptops, and smartphones while also powering small appliances suitable for cooking like air fryers and coffee pots. Fully charging the INFINITY 1300 with solar power takes approximately 2.5 hours thanks to the efficiency of its MPPT controller.
Regardless of whether you utilize the Growatt INFINITY 1300's rapid wall charging or bring it to full power via solar charging you can be sure you will get a long-lasting charge capable of keeping you plugged in when you need it the most.
Safe, reliable power for emergencies
In addition to being useful for off-grid living, the INFINITY 1300 is also well suited for use as a battery backup in the case of an emergency at home. The power station supports the feature of an Uninterruptible Power Supply (UPS) unit which can provide power back up in as little as 20 milliseconds following an outage. For those who rely on medical devices that require electrical service to function, like a CPAP machine, having a reliable power source that is ready to take over at a moment's notice can literally save lives. Not only can the INFINITY series of power stations take over providing power, but the INFINITY 1300 portable power station is capable of powering a 60W CPAP machine for up to 19 hours.
When it comes to generators, having a safe and clean alternative can be vital. During an ice storm in the southern states of the US some of those affected attempted to use gas powered generators in enclosed spaces to power heaters and cooking appliances. Unfortunately, the exhaust fumes from the gas generators caused illness and in some cases even death. Because Growatt solar generators utilize AC or solar power to charge the battery, these generators are much safer to use in an emergency than those that generate dangerous exhaust fumes. Additionally, the INFINITY 1300 is equipped with a multiple-level Battery Management System, including protection for over/under voltage, over current, short circuits, overcharging, and high temperatures. A Growatt app is also available for monitoring the generator when it is in use either via wifi or bluetooth connectivity. The app can also be used to adjust settings or update firmware.
Save on power you can trust
Growatt was originally established in 2011, and after rising the ranks to become one of the top one residential PV inverter suppliers in the world they began to expand their research and development to include additional power technologies. Their mission has been to provide green, more sustainable energy sources to their customers across 180 countries and regions. Their latest generator, the INFINITY 1300 is a continuation of their effort to bring clean and sustainable energy sources worldwide, and will be available for preorder from April 17 until April 30. Preorder early to benefit from a $300 discount, bringing the price down from $1299 to just $999 for safe, reliable and clean energy whether you're off the grid or in an emergency.
Sign up to receive daily breaking news, reviews, opinion, analysis, deals and more from the world of tech.