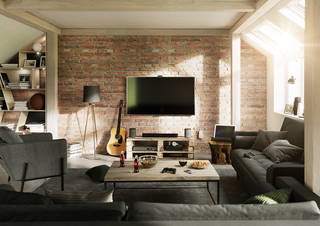 Unless you live in a brand new property, or you've got a very patient spouse, chances are you don't have the luxury of plugging into super-speedy wired Ethernet networking throughout your home. Of course, there are alternatives. The humble Powerline adaptor, which uses your property's electrical wiring to funnel data from socket to socket, remains a popular option. Wireless mesh routers, which use multiple wireless nodes to blanket your home in wi-fi, have grown in popularity too.
The trouble with all of these solutions, as well as the bundled Wi-Fi router provided by your Internet Service Provider (ISP), is that one size doesn't necessarily fit all. Mesh routers bring Wi-Fi to troublesome dark spots, but can lack the reliability of a wired connection for things like 4K streaming. Powerline adaptors can bridge the gap when you need high bandwidth, but configuring them to work with an existing wireless setup is often a frustrating experience.
That's where the Devolo Magic 2 WiFi comes in. It brings more speed, range and stability to home networks by combining high-performance mesh Wi-Fi with the latest Powerline technology into one integrated, fuss-free package. The Devolo Magic 2 WiFi hooks up to your existing broadband router or modem via Ethernet and uses your home's electrical wiring to transmit data. What's clever is that each Magic 2 WiFi node also contains a wireless AC access point, which lets you create a wireless mesh network with a wired backhaul (via Powerline) for super-reliable networking.
All you have to do is plug in nodes where you need Wi-Fi, or an extra pair of extra 1Gb Ethernet sockets, and you're ready to go. Within two minutes the nodes are automatically connected via a secure connection creating a mesh Wi-Fi network where devices seamlessly roam between nodes for a consistently stable connection. And, with speeds of up to 2,400 Mbps—that's over twice as fast as a typical 1Gb wired Ethernet connection—the Devolo Magic 2 WiFi lets you stream multiple 4K movies, 8K videos, data-hungry virtual reality applications and play online gaming with the minimum of lag.
Still on the fence? Watch the video above for a rundown of the Devolo Magic 2 WiFi's features and a demonstration of how easy it is to set up.
The devolo Magic 2 Whole Home WiFi Kit retails at £269.99. The devolo Magic 2 WiFi single adapter retails at £109.99, while the devolo Magic 2 WiFi Starter Kit retails at £169.99. Click here to buy now.
Sign up for Black Friday email alerts!
Get the hottest deals available in your inbox plus news, reviews, opinion, analysis and more from the TechRadar team.