Asus refreshes touchscreen Eee Top
Flagship all-in-one Windows PC has Full HD disply and Blu-ray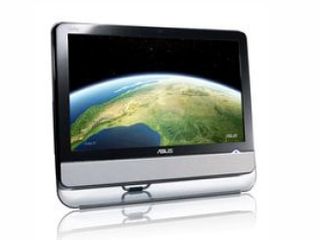 Asus has launched two new Eee Top PCs, including a Full HD PC with Blu-ray support and a half terabyte drive.
The cheaper ET2002 model has 2GB RAM, a 1600x900-pixel 20-inch touchscreen display and a DVD drive, costing £560.
The larger, flagship ET2203 has 4GB RAM, a 1920x1080 21.6-inch touchscreen screen and Blu-ray player, and will set you back £820.
Windows 7 inside
The top-end Top is powered by a 2.2GHz Intel Core Duo chipset, while the entry level model makes do with a 1.6GHz Atom Duo Core. Both devices run Windows 7 Premium, have 3W stereo speakers, a 1MP webcam, microphone, Wi-Fi, memory card slots and a single HDMI input for linking up a console or camcorder.
They also come with applications to suit their position as living room PCs. Eee Memo provides a fingertip-controlled handwritten 'sticky note' interface for communicating with the rest of the family. Eee Cam helps users get to grips with the 30fps webcam and a Eee Bar adds another toolbar for managing it all.
The pricier ET2203 also sports a Total Media Centre: a one-stop touch- enabled interface with which to browse, view and organise multimedia collections.
If the new Eee Tops tickle your fancy, you won't have long to wait - they're both available from the official Windows 7 launch date of October 22.
Sign up to receive daily breaking news, reviews, opinion, analysis, deals and more from the world of tech.
Mark Harris is Senior Research Director at Gartner.