Editor's note: August, 2022
Our AV receiver buying guide has been updated to promote the high value offered by Sony's STR-DH790 and to cite the Denon AVR-X2700H for offering the best overall combination of performance and features. The Denon AVR-X6700H carries over as our high-end choice owing to its cutting-edge feature set, including 8K video pass-through, and its higher per-channel power rating than the AVR-X2700H.
Al Griffin, Senior Editor, Home Entertainment
If you're after the best possible home theater experience, you're going to need one of the best AV receivers. These provide up to 11 channels – and in some case, more – of built-in amplification to power a Dolby Atmos speaker configuration and also serve as the system's brains, taking audio data from a source (like, say, a game console, a streaming box, or a TV) along with moving video signals from them to your TV.
How well it can handle these multiple tasks and how compatible it is with the latest generation of AV technologies and formats are the main criteria for evaluating which AV receivers are deserving of a spot on our list of the best models.
Importantly, AV receivers (which are also known as AVRs) don't just power 5.1.2 and more complex Dolby Atmos speaker setups. They also improve the sound of connected sources through digital signal processing (DSP). This can extend to advanced room correction that will make your system sound better by applying audio equalization that reduces interference caused by interactions between the speakers and the room itself.
This is essential, because you should not just think of the best AV receivers as the central hub that all your entertainment equipment will connect to and communicate with in order to bring you the best possible experience, but the best possible sound as well.
While 4K resolution has long been the de facto standard, 8K AV receivers are now also entering the market. That means if you own or you're thinking of upgrading to an 8K TV, you might want to check out the 8K-capable AVRs from Denon or Yamaha, especially for use alongside the latest gaming consoles, like the PS5 or Xbox Series X. While actual 8K content is many years away from being widely available, it's still a good idea to consider it as a future-proofing measure when shopping for an AVR.
The best AV receiver for most people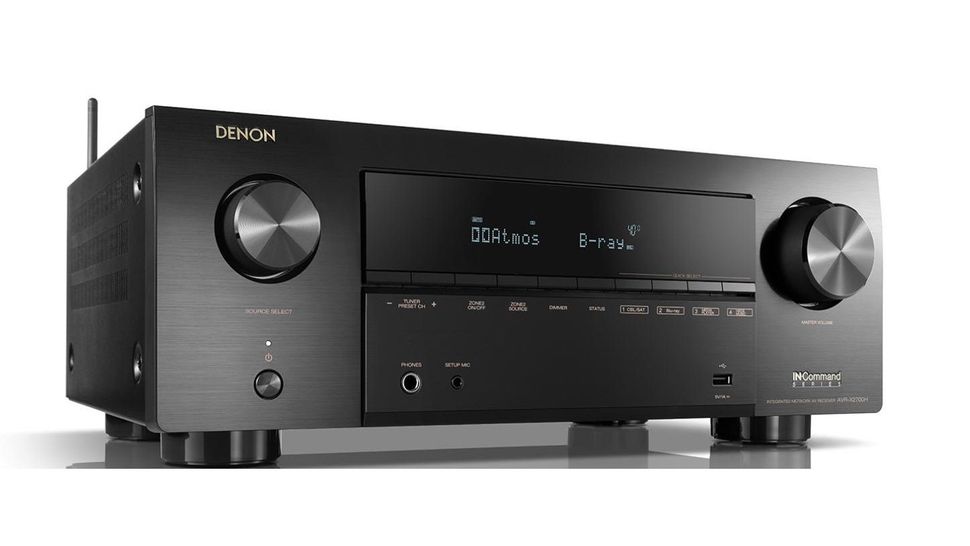 There's very little we can hold against the Denon AVR-X2700H, one of the world's first 8K receivers and the winner of a number of accolades. It's what we consider the best overall AV receiver in terms of what it offers for the money.
What Denon's entry-level 8K AVR brings to the table is an incredible feature set comprising of Variable Refresh Rate (VRR), Quick Frame Transport (QFT), and Auto Low Latency Mode (ALLM) on each of the HDMI-In ports, plus support for HDR10+, HDR10, HLG and Dolby Vision forms of HDR. For the exceptionally stringent viewers out there, the AVR-X2700H also supports IMAX Enhanced, too.
In terms of audio formats, Dolby Atmos Height Virtualization, Atmos, DTS:X and DTS Virtual:X are all present and accounted for, plus with eARC support, you don't have to juggle multiple remotes. Of course, if you want to go remote-free there is voice support for Alexa, Google Assistant and Siri-enabled devices, making it truly egalitarian. It's a futureproof AVR and a great value especially at under $1,000.
Read more: Denon AVR-X2700H revealed
Best budget AV receiver
The Sony STR-DH790 is the latest entry-level receiver from the Japanese electronics manufacturer. While it's ostensibly a seven channel design (which means it can run in a 5.1.2 Dolby Atmos configuration) there are also two phantom rears which create a pseudo seven channel surround soundstage. The receiver can even virtually relocate the physical position of your speakers, to create a better sonic balance.
Build quality is commensurate with its price tag. This is no heavyweight, and the fascia looks overly fussy, but the hairline finish is a premium touch. Connectivity is good. We get six HDMI inputs, all HDCP 2.2 enabled. There are also two HDMI outputs, for combi TV and projector use. There are also two analogue AV inputs, plus a pair of stereo phonos and two digital audio inputs.
The AVR connects via Ethernet or Wi-Fi, and Bluetooth with NFC for quick pairing, plus Airplay. The AVR also boasts Chromecast Built-in. That's all the main wireless boxes ticked.
Setup is helped along by the latest iteration of Sony's Auto Calibration software, which now features a 31-band graphic EQ and a stereo calibration microphone that adjusts phase, distance and level.
Usability is average. The receiver relies heavily on its UI, which is pretty but sometimes a little frustrating.
Overall, however, this is an innovative, exciting AV Dolby Atmos receiver. Consider it a brilliant value home cinema offering.
The best high-end AV receiver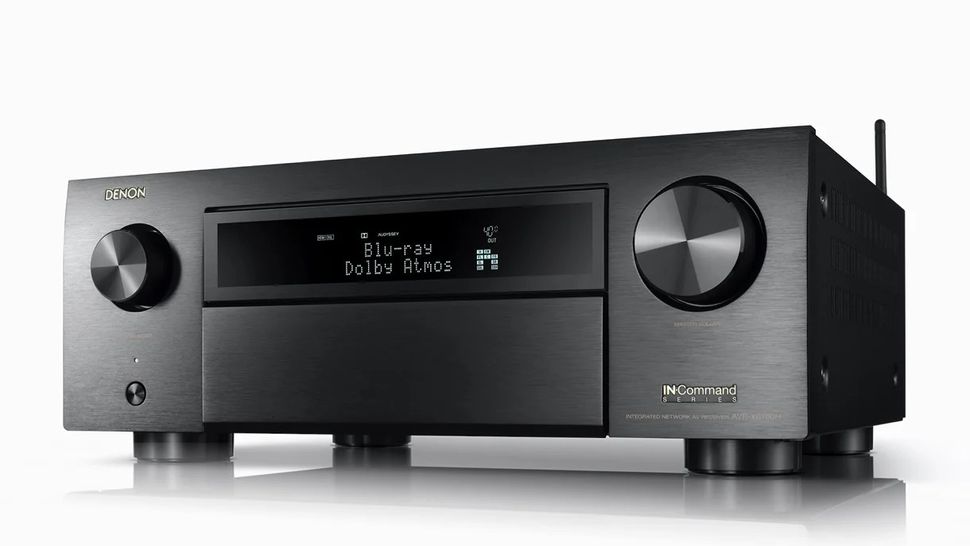 For most cinephiles out there, the Denon AVR-X6700H is going to be the best AVR money can buy. Sure, there are more expensive amps out there with a few superfluous bells and whistles, but the AVR-X6700H gives you 140W-per-channel amplification with all the essentials you need to keep your speakers sounding great.
Like the lower-cost the AVR-X2700H, the higher-end model supports Dolby Atmos Height Virtualization, Atmos, DTS:X and DTS Virtual:X are all present and accounted for, plus with eARC support, but you can also add DTS:X Pro to that list, too.
On the visual side, the AVR-X6700H does 8K upscaling unlike anyone else right now, as well as HDCP 2.3, the highest format available that can play copy-prohibited content without a problem. For HDR support, all the main players are here: HDR10+, HDR10, HLG and Dolby Vision.
It's a rock-solid choice, and while it's expensive, it absolutely delivers exceptional clarity, soundstage and presence to your favorite films and music, and is pretty much the pinnacle of what you can expect from a cutting-edge AVR.
Choosing your AV reciever
How to choose the best AV receiver for you
Which speaker type is best for you?
If you have a 4K set-up at home, then you need to be on the lookout for a receiver that has a wealth of HDCP 2.2 compatible HDMI ports. If you want to get really high-tech with your set-up, and invest in multi-room streaming, you need to think about which wireless speaker system is best for you – Chromecast, Heos, or even Yamaha MusicCast. Even if that's not something you're interested in right now, it makes sense to future-proof your set-up.
For many people, Dolby Atmos will be the killer app. This 3D audio system is now the gold standard in immersive audio. It may be available on soundbars, but only an AV receiver offers true overhead Dolby Atmos audio.
All you'll need to do is decide if you want a seven or a nine-channel system. (However, that said, you may not need Dolby Atmos at all, in which case a standard 5.1 sound system will fill your surround sound needs nicely.)
Have we convinced you that you need an AV receiver yet? The next step is figuring out which is the right one for you and luckily we've got a big list of all the best AV receivers you can get your hands on today.
Original reporting in this article was by Steve May.