As Mobile World Congress 2023 draws to a close in Barcelona, we wanted to reflect on all the weird and wonderful technology that companies brought from all over the world to showcase.
While some may have been a little more experimental than others, for the most part, we were pleasantly surprised by the range of innovative new devices we encountered that are making their way to market in the coming days, weeks, or months.
Now that we've done our time on the show floor, we thought it'd be a good idea to reflect on everything we, as a team, came into contact with, in order to build our 'Best of MWC 2023' awards list.
From the hundreds of devices we came into contact with, we've managed to cherry-pick eight of the most influential mobile and laptop-based innovations from the show floor. Enjoy.
Best mobile accessory: OnePlus 45W Liquid Cooler
Although the OnePlus 11 Concept phone was arguably the brand's biggest head-turner at the show, the company admitted that even if it could produce a market-ready version of the phone with the same integrated liquid cooling system, it'd likely only deliver two or three degree-Celsius reduction in temperature in real-world use.
In contrast, a surprise entrant from the brand that we'd heard nothing about before the doors to this year's Mobile World Congress opened was the OnePlus 45W Liquid Cooler.
Unlike the concept phone's integrated system, the Liquid Cooler is a table-top, water-based unit that pumps icy-cold water along a dedicated tube (in the company's signature red, naturally) to a specialized phone grip that OnePlus calls The Clip. This snaps onto the back of your phone and allows for heat transfer through a plate on the inside of The Clip, resulting in a chilled device that should be able to handle even the most intensive loads; be it high-fidelity gaming, prolonged high-resolution video capture, or constant multitasking.
The Thermo Electric Cooler (or TEC, for short) has four intensity settings and promises to chill your phone by up to an impressive 20°C / 36°F; that's huge in mobile silicon terms.
Perhaps one of the cooler's greatest strengths is that despite coming out of OnePlus, its design means it isn't only compatible with OnePlus' smartphones. As long as your device fits into The Clip, you can benefit from its chilling abilities, whether you use an iPhone, Samsung Galaxy, or any other brand's device.
We don't know how much it'll cost or when exactly it'll launch, but the fact that OnePlus confirmed it's coming to market at all means it's one of the stranger and more interesting examples from the show floor that users will be able to get their hands on before too long.
Best mobile innovation: Xiaomi 13 Pro
Although Xiaomi first introduced its latest Xiaomi 13 flagship phone series into the Chinese market in late 2022, MWC 2023 marked the line's international release (where the world was also introduced to the Xiaomi 13 Lite, for the first time).
Having already spent some hands-on time with both the Xiaomi 13 and Xiaomi 13 Pro, it's the latter's combination of Leica-tuned imaging and Sony's huge 1-inch IMX989 sensor that delivers a camera experience on a globally-available smartphone unlike anything we've seen before.
We've still got more testing to do before we pass judgment on the phone as a whole, but based on the time spent in our hands-on Xiaomi 13 Pro review and exploring the camera with some of the people responsible for developing it, it's clear that mobile photographers have something special to consider here.
Even though the China-exclusive Xiaomi 12S Ultra was the first example of this photographic fusion of Leica and Sony technology on one of the company's devices, Xiaomi has spent the time since refining the experience further; tweaking the design of the aspherical eight-element lens setup on the phone's main 50MP sensor, improving clarity, and reducing reflectivity by way of the lens coatings used and, all in all, refining the phone's photographic abilities to a degree seemingly beyond what we see from many manufacturers.
Add to this a price that undercuts key rivals and the promise of top-shelf performance too, and the Xiaomi 13 Pro is a smartphone to watch out for.
Best foldable: Honor Magic Vs
Not unlike Xiaomi's 13 series, the Honor Magic Vs is a device that was first introduced as a China-market exclusive late last year, but at MWC 2023, alongside the launch of the company's new flagship – the Honor Magic 5 Pro – the company also served up international pricing for its latest and greatest foldable (€1,599), cementing its position as a new contender in the global smartphone market.
It's a space where Samsung's Galaxy Z Fold 4 has sat relatively unopposed for the most part, so we welcome this newfound competition from Honor; which has taken a slightly different approach with its newest folding phone, compared to its South Korean counterparts.
While our hands-on Honor Magic Vs review allowed for a close inspection of the design, things like performance, camera prowess, and battery performance were off the table – all aspects of the device we're now thankfully able to delve into (stay tuned for a full review).
As for what we've already discovered about the phone, its refined hinge design, compared to the company's original Magic V foldable, is pretty impressive. It's now gearless; with Honor managing to reduce the number of components needed from 92 down to just 4; making the Vs not just lighter, but hardier too.
Best of all is the price, which looks set to undercut its leading rival when it does go on sale globally.
Tablet of the show: OnePlus Pad
The tablet market has been eerily quiet recently, but the OnePlus Pad sees the upstart phone company making a big splash on a bigger Android screen. Just as we'd expect from the affordable flagship phone manufacturer, the OnePlus Pad mixes some best-in-class specs with appropriately cut corners. The design recalls the latest OnePlus 11 phone, and we expect the OnePlus Pad will be the start of a growing ecosystem for OnePlus mobile devices.
The standout feature we loved during our OnePlus Pad hands-on review is the display, which is extra-large – at 11.6 inches – and a bit taller than you'd normally find on most tablet displays. OnePlus has opted for a unique 7:5 aspect ratio, which isn't so far from the normal 4:3 we'd expect, but OnePlus says it will make a difference in web browsing and other common tablet tasks. That display is sharper than you'll find on even the best iPads, with a pixel density of 296ppi.
The OnePlus Pad gets a unique design, with a centrally-located camera around the back that OnePlus says will stay out of the way of errant fingers. It also has fast charging, which is still a rarity in tablets.
The only slouch seems to be a MediaTek Dimensity 9000 mobile platform, which would have been a strong competitor last year, but won't push the OnePlus Pad to the top of the performance heap this year. That's a fine place to cut costs, as Android tablets tend to be underpowered compared to flagship Android phones and the 9000 isn't exactly lacking.
OnePlus hasn't given us specific pricing or availability for the OnePlus Pad, but this is the best tablet we saw at Mobile World Congress, and we're looking forward to seeing more when it launches.
Best outdoor tech: Bullitt Group Motorola Defy Satellite Link
We saw a Motorola Defy 2 prototype connecting with satellites earlier this year, thanks to technology and network partnerships developed by the UK's Bullitt Group. At MWC, Bullitt Group surprised us by bringing the same consumer-friendly satellite messaging to any smartphone, thanks to the Motorola Defy Satellite Link Bluetooth accessory.
While the iPhone 14 family of phones can talk to satellites, the Motorola Defy Satellite Link is an entirely different – and friendlier – beast. The iPhone can help you in an emergency, but what if you just want to make dinner plans while you're still high on the mountain? The Defy Satellite Link will connect to a satellite and send your message on. No need for all of the Emergency SOS drama.
Both the Motorola Defy 2 and the Motorola Defy Satellite Link will use a subscription plan to let users send up to 30 messages or more, depending on how much you pay. A set number of messages will be free in the first year. To receive messages from a satellite, your recipient will first get a text message telling them to download the Bullitt Group app, which will communicate with the satellite service.
Unlike Apple, which uses fast-moving satellite constellation networks, the Bullitt Group solution relies on singular geosynchronous satellites that are about as far away from earth as a satellite can get. In our hands-on test, it was easy to find and connect with the satellite, and we love the idea of bringing off-the-grid connectivity to everyone, not just adventurers in a jam.
Phone of the Show: Honor Magic 5 Pro
The competition for best phone of Mobile World Congress was surprisingly fierce, and we thought the Honor Magic 5 Pro gave us the best of all of the new innovations we saw at MWC. Besides the OnePlus 11 Concept phone – which won't ever be available to buy – this year was all about amazing cameras. It was also the year that limited brands took their shows global.
The Honor Magic 5 Pro doesn't have as large a sensor as the one-inch module on the Xiaomi 13 Pro, but it still packs a bigger sensor than most competitors; including the best Samsung phones and best iPhones you can buy. Instead, the Magic 5 Pro goes for a wider f/1.6 lens, and we think this is going to make a huge difference.
The Honor Magic 5 Pro also uses the latest Qualcomm Snapdragon 8 Gen 2 processor, so it should see speedy performance on common tasks and gaming. It's got fast charging, a bigger battery than much of the competition, and even new features we're excited to try that we haven't seen on other flagship phones.
There's IMAX audio, which could prove a competitor to the Dolby Atmos sound tuning we're seeing on many new smartphones. The Magic 5 Pro also uses an intriguing screen dimming technique that makes for more natural transitions between light and dark displays. Honor even says this could improve sleep and give users up to 30 minutes more rest, but we'll have to test that claim to be sure. It's all wrapped up in a rather stunning new design language for the company too.
Like its former parent company Huawei, Honor won't be selling its flagship phone in the US, but we expect wider availability throughout Asia, Europe, and Mexico.
Check out our hands-on Honor Magic 5 Pro review for a deeper dive into everything it brings to the table.
Best laptop: Lenovo ThinkBook Plus Twist
Lenovo had a brilliant MWC 2023, showing off some truly innovative and exciting laptops, proving decisively that the Barcelona-based tech show isn't just about smartphones, but it's increasingly seen as a platform for companies to show off their upcoming laptops as well.
The Lenovo ThinkBook Plus Twist, which we got time with at the show, is a great example of how a company like Lenovo can innovate, especially when it comes to the tried-and-tested laptop form factor.
Unlike traditional 2-in-1 laptops that turn into tablet-like devices by folding the screen back behind the keyboard, the Lenovo ThinkBook Plus Twist uses a central hinge that lets you literally twist the laptop and turn it into a tablet.
That's not all, though, as the back of the screen houses a second display – a color E Ink display similar to the ones found on e-readers. This allows you to use the laptop in an ultra-low powered state, conserving battery life when you want to browse the web, for example.
The main screen is a gorgeous 2.8K OLED, and Lenovo has also packed cutting-edge tech, such as 16GB of DDR5 RAM and a 13th gen Intel Core i7 processor into an incredibly slim and stylish body.
Computing innovation: Lenovo's rollable laptop concept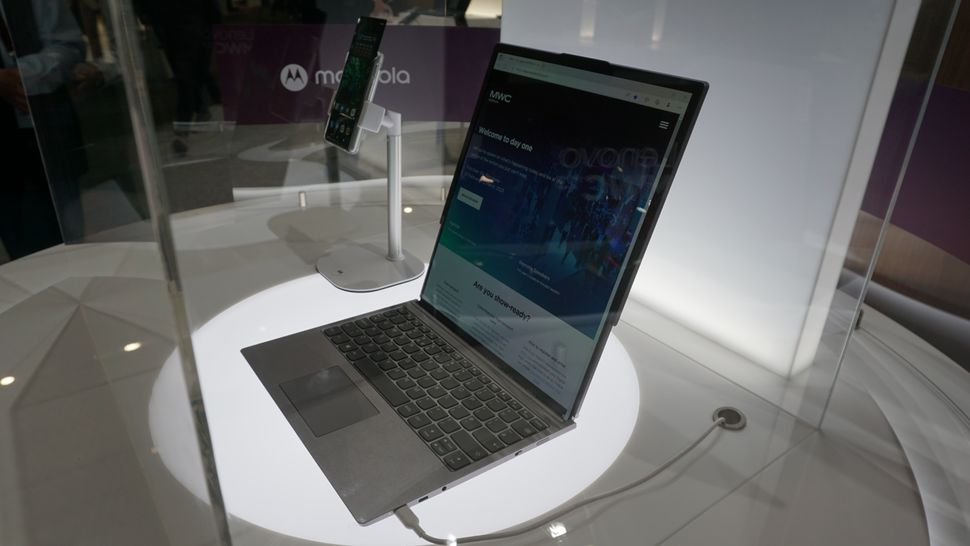 Lenovo didn't just show off laptops that were coming soon at MWC, it also showed off its vision of the future of laptops with its 'rollable' laptop. While this is clearly not going to appear in a product any time soon, it impressed us enough when we saw an early version in person to get excited for Lenovo's vision, and give its rollable laptop concept our Best Computing Innovation of MWC 2023 award.
Rather than a laptop that you can roll up like a newspaper, it it stores part of its display in a roll behind the screen, which then unspools, slowly increasing the overall screen size.
Even in this early incarnation, it's an impressive feat, and it's a great showcase for rollable screen technology. Don't expect to see this in laptops any time soon, but when it does appear, it could be a game changer.