Microsoft's flagship console has been picking up a variety of discounts in 2023's eBay Plus Weekend sale, and we've even seen the Xbox Series X bundled with Diablo 4 available for pre-order at a low price of AU$662.25.
While the Diablo 4 bundle appears to be sold out at the moment, you can still score an Xbox Series X along with a copy of Forza Horizon 5 for well under AU$700 right now – you'll just need to be an eBay Plus member and use the code PWE22 to nab this big saving.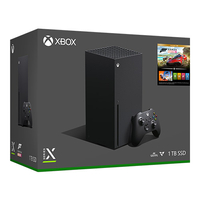 Xbox Series X and Forza Horizon 5 bundle
Was: AU$849
Now: AU$662.25 at The Gamesmen eBay with code PWE22 (eBay Plus membership required)
Overview: For decades now, Xbox and Sony have gone head to head with consoles, and the Xbox Series X is Microsoft's competitor to the PS5. It's getting increasingly harder to find the console on its own, as Microsoft tends to bundle it with a game now, but that just means you can jump right into the action as soon as your new Xbox arrives. Plus, if you get a subscription to Game Pass, you can experience a huge library of games including some of the latest titles.
Key features: 4K/60fps (support up to 120fps), 3.8GHz 8 core Custom Zen 2 CPU, 12 TFLOPS RDNA 2 GPU, 16GB RAM, 1TB SSD
Product launched: November 10, 2020
Price history: We've seen this bundle drop down to AU$806.55 before, but this current offer smashes that deal by over AU$140. Typically, the Xbox Series X's price point floats around AU$749 on its own, and rarely goes below AU$700.
Price comparison: Amazon: AU$849 | The Good Guys: AU$849 | JB Hi-Fi: AU$849
Reviews consensus: The hardware behind the Xbox Series X is seriously impressive, making a powerful machine with a quick load time regardless of what game you're playing. While the console lacked a lot at launch, especially with regard to exclusive titles, the last few years have seen a variety of updates that have improved the overall experience for gamers. Additionally, the Xbox Series X is the only current-gen console to offer Dolby Vision support, so you can enjoy brilliant contrast and colour accuracy, whether you're playing games or watching movies, so long as your TV also supports it.
TechRadar: ★★★★ | GamesRadar: ★★★★ | Tom's Guide: ★★★★½ | T3: ★★★★★
Featured in guides: Best gaming consoles, best Xbox Series X games
Buy it if: You want a console that will play games both new and old. With fantastic backwards compatibility supporting over 1,000 titles at launch, as well as a stack of Xbox One accessories, the Xbox Series X will not only give you the power to play the latest titles, but will also let you get the most out of your long loved favourites.
Don't buy if: You don't need the disc drive. The Xbox Series X is a fantastic console, but if you don't intend to use all its features there are some other options that cost quite a bit less. The Xbox Series S, for example, supports the same extensive games library and is both cheaper and physically smaller, plus it can upscale to 4K as well.
If you want access to a huge library of games for your Xbox Series X, consider subscribing to Game Pass, starting from AU$10.95 per month. There's hundreds of games available and more added each and every month, so you'll always have something to play.
Not sold on the Xbox Series X but still want to pick up one of the latest consoles? There's also a super hot discount on the PlayStation 5 in this eBay Plus Weekend sale as well.