Well, it finally happened, the Sony PlayStation 5 just became more affordable than ever, and can now be picked up from The Gamesmen's eBay store for AU$624 with code PWE22W at the checkout, in the eBay Plus Weekend sale. You will need an eBay Plus membership to be able to get the deal.
The code mentioned takes 22% off the original price of AU$799.95
If you haven't yet jumped onboard the next-gen gaming bandwagon, this is the best opportunity you've had yet.
Today's best Sony PlayStation 5 deal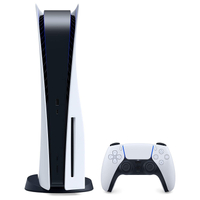 Sony PlayStation 5 disc console
Was: AU$799.95
Now: AU$624 at The Gamesmen eBay Store with code PWEGOW (eBay Plus membership required)
Overview:
Key features: 4K/120fps gameplay, 3.5GHz 8-core AMD Zen 2 CPU, 10.3 teraflop RDNA 2 GPU, 16GB RAM, 825GB SSD
Launched: November 2020 (international)
Price history: The PS5 has been out for around two and a half years now, and following a period of incredibly high demand and low stock, which saw prices for the games console skyrocket, it has now become more affordable than ever. This deal is for the standalone disc console, meaning you can not only buy physical copies of games to play, but you can use it as a 4K Blu-ray player, too.
Price comparison: Big W: AU$799 | JB Hi-Fi: AU$799
Reviews consensus: The PlayStation 5 is without doubt the best games console to buy, even well into 2023. It's incredibly powerful, has a great suite of games to play and we simply fell in love with the DualSense controller as soon as we got our hands on it. If you have a HDMI 2.1-compliant TV, then you'll be able to take full advantage of the PS5's ability to run compatible games at 4K/120fps which is truly a sight to behold. Most games, however, run at a maximum of 4K/60fps, which still makes for truly stunning gameplay.
TechRadar: ★★★★1/2 | GamesRadar: ★★★★1/2 | Tom's Guide: ★★★★1/2 | T3: ★★★★★
Featured in guides: Best gaming console in 2023, Best PS5 games
Buy it if: You want the best games console currently available. The PlayStation 5 offers incredible power and has a long list of must-play games which load at lightning speed. The PlayStation Plus subscription service also offers a way to play legacy titles for less and the DualSense controller is one of the best games console controllers we've ever used.
Don't buy it if: You hope to use it to play Dolby Atmos and Dolby Vision content, as the PS5 doesn't support either. You also need to be aware that the PS5 is a big console, so you'll want to make sure you have adequate space on your desk or your entertainment centre to accommodate it.