From free flights to Xbox extras: 6 weird ways mobile phone deals are being promoted this week
If you like a freebie, it's a good time to get a mobile phone deal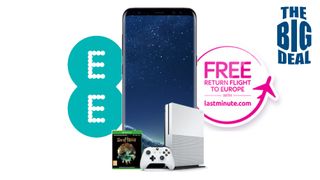 It's been a very odd week in phone deals land. Whether it's coincidence or a remarkable game of one-upmanship, mobile phone companies such as EE, O2, Virgin Mobile and Sky have used the start of June to experiment with some weird and wonderful ways of getting you to direct your business their way. And The Big Deal is loving it.
We're hardened by now to the lure of special offers. The odd bit of extra data here or chucked-in third-party wireless charger there. Little sweeteners that are a nice perk rather than a genuine incentive to choose one network over another. But return flights to Europe? Donations to cancer charities? A free printer? These are new – and thoroughly welcome – promotional offers to us.
So before you head to our best mobile phone deals page to discover the cheapest prices in the UK today, scroll down this page for a few minutes to see what's on offer. We'll tell you how you could be jetting away to sunnier climes, sailing the seven seas or becoming a family hero with your next smartphone purchase.

01. Free European flights with Sky Mobile
Let's start with perhaps the most eye-catching of all these mobile phone deals. Head Skywards and you could be heading skywards. Okay, so forget the tortured wordplay – Sky Mobile has teamed up with lastminute.com to give away free return flights to 30 European destinations when you take out a mobile phone deal or buy a tablet before July 5. So take your pick from what Sky Mobile has to offer, and bag yourself a free trip to France, Spain, Portugal, Italy, Germany or Greece.
Fly high with this offer at Sky Mobile now

02. Free Xbox One S and Sea of Thieves from Virgin Mobile
Avast ye landlubbers. If it's treasure you seek, then those swashbucklers at Virgin Mobile have set sail with free booty when you buy a Samsung Galaxy S8, S8 Plus or A8. Buy any of those phones on contract and they'll throw in a free Xbox One S bundle with the pirate-based Sea of Thieves game and one free month of Xbox Gold online access as well. It's a freebie worth in the region of £270, and there's no looting required to get it. Pieces of S8 anyone?
Capture the Samsung Galaxy S8 with free Xbox One S here
Mount the poop deck for the Samsung Galaxy S8 Plus with free Xbox One S here
Walk the plank for the Samsung Galaxy A8 with free Xbox One S here

03. A fiver to Cancer Research UK with Tesco Mobile
We're certainly not judging you if you're looking at those two deals above and thinking of pocketing a fabulous freebie. That just isn't us. But if you want to give a little back with your new smartphone purchase, and achieve an enormous sense of well-being, then Tesco Mobile is giving a fiver to Cancer Research UK every time somebody buys a pink (or rose gold) mobile phone deal from it before June 26.
Kick cancer in the bum with these phone deals from Tesco Mobile

04. Family phone discounts from EE
Half the time you just want to scream at them, the other half you can't imagine what you'd do without them. Families, eh? Well, if you're currently in the latter camp, EE is giving you the chance to be benevolent with your, ahem, loved ones. If you have more than one EE phone contract in your household, you can now share data in 500MB blocks around. So if you have a bit extra to play with this summer, you can feed your littlun's YouTube habit on that loooooong drive down to Weymouth.
Do something for the family with EE

05. A free wireless photo printer from O2
Now this, if we may indeed say so, is a bit of a tenuous one. O2 has clearly got hold of a job-lot of Kodak Mini 2 Instant Photo printers (worth around £80), and is giving them away with selected mobile phone contract deals. It's available if you pick up the Sony Xperia XZ2, XZ2 Compact, Huawei P20 Pro, P20 or LG G7 ThinQ on O2 Refresh tariffs from now until June 27.
Print out your fondest mobiles memories with O2

06. £15 per month Galaxy S9 from e2save
Okay, so this isn't a freebie. But it is a bolt-from-the-blue discount that makes the Samsung Galaxy S9 indefeasibly cheap over two years. For £15 per month (yes, £15 per month) you can get your hands on the superb Samsung S9 with 1GB of data and unlimited everything else on EE. There's £260 to pay upfront, but the total cost over two years is a remarkable £620. That can't be touched at the moment, and is actually less than the RRP of SIM-free Samsung Galaxy S9 deals if you buy the handset by itself.
Save £££s on the Samsung Galaxy S9 with e2save

If you want to discuss, debate or deliberate any phone deals news and views with The Big Deal, then head over to our @TRDeals twitter feed – you'll also find the latest offers on phones, TVs, consoles, broadband and more tech.
Get daily insight, inspiration and deals in your inbox
Get the hottest deals available in your inbox plus news, reviews, opinion, analysis and more from the TechRadar team.
Adam was formerly the Content Director of Subscriptions and Services at Future, meaning that he oversaw many of the articles TechRadar produces about antivirus software, VPN, TV streaming, broadband and mobile phone contracts - from buying guides and deals news, to industry interest pieces and reviews. Adam has now dusted off his keyboard to write articles for the likes of TechRadar, T3 and Tom's Guide.