For those in the market for TV deals, Walmart is a great place to shop. The store consistently has some of the best prices around on 4K and HDTVs, not to mention a large selection. To help you, we've selected Walmart's best deals on a wide range of TVs. Whether you want an extra large set with all the latest bells and whistles or a more modest TV, you'll find plenty of choices below.
And be sure to check out these other Walmart deals: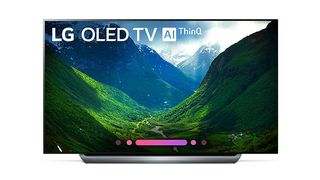 LG C8 OLED Series (2018)
LG sets a new standard with its 2018 OLED range
55-inch: LG OLED55C8 | 65-inch: LG OLED65C8
Superb picture quality
Comprehensive features
Highly effective smart platform
Limited peak brightness for HDR
No HDR10+ support
Near the top of our list of the best TVs of 2018 is the LG C8 OLED – available in both 55 and 65-inch iterations. It combines an impressive picture, an extensive set of features, an attractive design and its unrivaled smart platform, to deliver one of the best TVs we have seen to date. It's not as bright as an LCD TV but those deep blacks make a huge difference to the dynamic range of the image. It's also capable of vibrant and gorgeous colors, not to mention an astounding level of detail with native 4K content. We think the OLED C7 offers the best price-to-performance ratio of any TV under the sun in the year 2018.
Read the full review: LG OLED C8 (OLED55C8, OLED65C8)
TCL 6-Series (R615, R617) (2018)
An exceptional 4K HDR TV for the budget-minded buyer
55-inch: TCL 55R617
Bright, colorful HDR
Supports Dolby Vision
Roku TV is amazing
Loss of darker details
Limited motion settings
If you had deep pockets and checkbook filled with blank checks, we'd tell you to reach deep and shell out for only the best TVs on the market. That's not really realistic, though. For the vast, vast majority of us, our budget to spend on a TV is limited to somewhere under $1,000 – and often less than that.
To that end, it's absolutely fair to say that the TCL 6-Series is the best TV you can possibly get in this price range. Its performance-per-dollar is unmatched, and its picture quality – despite a few minor flaws – will truly impress you.
Read the full review: TCL 6-Series (R615, R617)
LG E8 OLED Series (2018)
A tiny processor makes a huge difference to the OLED range
55-inch: LG OLED55E8 | 65-inch: LG OLED65E8
Awesome picture quality
Opulent and beautiful design
Excellent operating system
Occasional picture noise
Lacks brightness vs LCD
Having potentially pushed the hardware capabilities of its current OLED screen technology as far as they can go, LG has for 2018 turned its attention to the software that drives these screens, and this shift in focus has yielded surprisingly impressive results, improving and even removing many of the residual niggles associated with 2017's already in truth outstanding OLED sets. And the OLED65E8 is comfortably the best OLED TV LG has ever made.
Vizio D50-F1 50-inch 4K Smart TV
Screen size: 50-inch | Tuner: Yes | Resolution: 3840 x 2160 | Panel technology: Edge-lit LED | HDR: No | Curved: No | Dimensions: 50 x 29.9 x 6 inches
Good contrast
Lackluster Smart TV features
While Sony, LG and Samsung scrap over which high-end screen should grace your living room, Vizio is dedicating its resources to going after the budget-conscious crowd. The D50-F1 delivers high-quality streaming via a built-in Chromecast and a V8 octa-core processor and the latest ultra-fast Wi-Fi standard, 802.11ac dual-band Wi-Fi, which helps reduce buffering times. Even better, Walmart has dramatically reduced its price tag from its original list price.
Sceptre U550CV-U 55-inch 4K TV
Screen size: 55-inch | Tuner: Yes | Resolution: 3840 x 2160 | Panel technology: Edge-lit LED | HDR: No | Curved: No | Dimensions: 48.8 x 28.30 x 3 inches
Lowest priced 55-inch 4K TV
Mediocre picture
This bargain-priced 55-inch doesn't offer a lot of features, but what do you expect for this price. A great choice as an entry-level 4K TV, it's hard to believe that a 4K TV of this size can be priced so low. In fact, Walmart consistently sell this Sceptre for the lowest price we've ever seen for a 55" 4K TV, and right now it's at the best price we've seen for it.
Samsung UN65MU6290 65-inch 4K Smart TV
Screen size: 65-inch | Tuner: Yes | Resolution: 3840 x 2160 | Panel technology: Edge-lit LED | HDR: Yes | Curved: No | Dimensions: 68.8 x 35.8 x 7.8 inches
Voice-controlled remote
Decline in picture quality when viewed at an angle
If brand name is important to you, but you don't want to break the bank, this Samsung is a good option. At this price, you get an HDR-equipped high quality picture, 120Hz refresh rate, and voice-controlled remote, among other features. Plus, Walmart sells it for less than its competitors.
Sceptre U650CV-U 65-inch 4K TV
Screen size: 65-inch | Tuner: Yes | Resolution: 3840 x 2160 | Panel technology: Edge-lit LED | HDR: No | Curved: No | Dimensions: 57.4 x 33.2 x 3 inches
Inexpensive
Poor sound quality
The larger cousin of the above 55-inch Sceptre set, this 65-inch 4K TV is for those who want the most square inches for their dollar. Just don't expect primo picture quality or sound for those dollars, though. Regardless, you're not going to find too many other 65-inch 4K TVs for less than $500.