We've just spotted a new record-low price for the excellent Google Pixel 7 at Amazon, with the flagship Android smartphone going for just $449 (was $599).
This is the best deal we've ever seen for the unlocked Pixel 7, and a perfect opportunity if you've been holding out for an Android flagship at a reasonable price.
Today's best Google Pixel 7 deal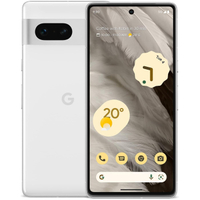 Google Pixel 7
Was: $599
Now: $449.99 at Amazon
Overview:
Key features: Android OS, Tensor 2 chip, 50MP camera, 6.3-inch AMOLED display (90HZ), 4,355mAh battery
Product launched: October 2022
Price history: This is the lowest price so far for the unlocked phone, breaking the previous record by $50. In context, the device has been on sale for $499 at Amazon multiple times over the past few months, but this price is still exceptional considering how relatively recent this phone is. There's no trade-in or other conditions for this discount either.
Price comparison: Amazon: $449.99 | Google: $599 | Best Buy: $599
Reviews consensus: Most review sites agree that the Google Pixel 7 is an exceptionally well-priced Android flagship that challenges the very best from Apple and Samsung while easily undercutting their prices. Highlights include the camera, innovative assistive AI tools, and the overall look and feel of the device. Drawbacks include the display and chipset, which slightly lag behind the competition for refresh rate and raw power respectively.
TechRadar: ★★★★ | Toms Guide: ★★★★ | Android Central: ★★★★ | T3: ★★★★
Featured in guides: Best Pixel phone, Best Android phone, Best camera phone
Buy it if: You want a decent flagship device that focuses on the camera and overall usability. Whether you're an avid mobile photographer or someone who just loves the idea of using excellent dictation features, the Google Pixel 7 is a fantastic choice that won't break the bank.
Don't buy it if: You want a device with a 120Hz refresh rate or a display that's smaller than the Pixel's 6.3 inches. There's also an argument for waiting to see what the upcoming Google Pixel 7a or Google Pixel 8 offers. In the latter's case, it should be another great-value device (based on previous models) and will likely land next month.
Check out our Google Pixel 7 deals page for more of today's best promotions from other retailers and carriers, or our best cell phone deals page for recommendations on other brands.
You can also look forward to upcoming bargains at the 2023 Memorial Day sales event.