Weight: 185g
Dimensions: 165 x 71 x 8.2mm
Screen size: 6.5-inch
Resolution: 1644 x 3840
CPU: Snapdragon 8 Gen 1
RAM: 12GB
Storage: 256GB/512GB
Battery: 5,000mAh
Rear camera: 12MP+12MP+12MP
Front camera: 12MP
The Sony Xperia 1 IV is the best phone for a select subset of people - particularly those who are serious about photography and viewing 4K footage.
As an all-rounder it's slightly less convincing, especially given its high price, but this is undoubtedly an excellent phone.
For
Great continuous zoom
4K display
Physical shutter button
Against
Incredibly high price
Dated design
Less powerful than the iPhone
Weight: 206g
Dimensions: 147.5 x 71.5 x 7.9mm
Screen size: 6.1-inch
Resolution: 1179 x 2556
CPU: A16 Bionic
RAM: 6GB
Storage: 128GB/256GB/512GB/1TB
Battery: 3,200mAh
Rear camera: 48MP+12MP+12MP
Front camera: 12MP
The iPhone 14 Pro is a versatile, powerful phone that's got far broader appeal than the Sony Xperia 1 IV.
It's a little cheaper while offering a better point-and-shoot camera experience, and competing in most other areas. But for true 'pro' users, the Sony might be the better bet.
For
Exquisite design
High-quality cameras
Very powerful
Against
Lower resolution screen
Fixed 3x zoom
Slow to charge
The iPhone 14 Pro is undoubtedly Apple's most 'Pro' phone yet, establishing a clear gap to the plain iPhone 14 below it.
When you compare the iPhone 14 Pro to the Sony Xperia 1 IV, however, you might question whether that Pro moniker is fully earned. Sony has built a phone with dedicated photographers and media enthusiasts in mind, and with key specifications that you simply won't find from any other brand.
But does that multimedia expertise translate to a fully formed flagship phone that can take on Apple's finest? Has Sony been able to apply the polish necessary to burst out of its enthusiast niche?
Let's take a closer look at how these two pricey flagships compare.
Sony Xperia 1 IV vs iPhone 14 Pro: price and availability
The Sony Xperia 1 IV has had something of a drawn out release schedule, hitting the UK and European markets on June 16, 2022, and the US several months later on September 1. It's not available in Australia at all.
The US only gets the range-topping 512GB model, which costs $1,599. In the UK and Europe, there's just the single 256GB model for £1,299.
The situation with iPhone 14 Pro availability is much more straightforward. It landed in most markets on September 16, 2022, priced at $999 / £1,099 / AU$1,749 for the base 128GB model.
Stumping up $1099 / £1,209 / AU$1,899 gets you 256GB, while the 512GB model costs $1,299 / £1,429 / AU$2,249, and the range-topping 1TB unit costs $1,499 / £1,649 / AU$2,599.
There are more options with the iPhone 14 Pro, then, and it also costs less money if you're comparing equivalent storage capacities in the relevant regions.
Sony Xperia 1 IV vs iPhone 14 Pro: design
Both of these phones have striking, angular designs with dead-flat surfaces. What's interesting is that they really don't look alike at all despite that fact.
Apple's phone looks a lot like the iPhone 13 Pro and iPhone 12 Pro before it, with a sleek stainless steel rim, a colorful glass rear with a prominent square camera module, and a tough Ceramic Shield glass cover.
The Sony Xperia 1 IV also looks nigh-on identical to its predecessors, with a stealthy metal rim and a muted glass rear cover. The main word that comes to mind here is 'tall', thanks to a 21:9 display (which we'll discuss in the next section) and an extended forehead and chin.
That latter design feature risks making the phone look ever so slightly dated next to the minimal bezels of the iPhone 14 Pro, but it has its advantages. It enables the Xperia 1 IV to pack in front-firing stereo speakers, as well as removing the need for an unsightly camera cut-out in the screen.
Apple, for its part, has at least removed its divisive notch for the iPhone 14 Pro, packing its selfie cam and sensors into a lozenge-shaped island instead. It's also made a feature of this, employing a new Dynamic Island UI system that surrounds those sensors with expanding and contracting widgets.
It's an intriguing approach that supplies a new layer of heads-up intuitiveness. For the most part, it works brilliantly, and we look forward to seeing how this system develops.
Apple's selfie camera still houses its Face ID system for biometric authentication, whereas the Xperia 1 IV relies on a more old fashioned (but still fast and reliable) fingerprint sensor housed under the power button on the right hand edge.
As discussed, Sony's phone is much taller than the iPhone (165 x 71mm vs 147.5 x 71.5mm), and it's also a little thicker (8.2mm vs 7.9mm). However, it's also quite a bit lighter at 185g rather than the iPhone 14 Pro's 206g. Stainless steel is a heavier material than aluminum, after all.
The Sony also stands apart from the iPhone 14 Pro with its signature physical camera button, as well as its 3.5mm headphone jack. The iPhone 14 Pro, for its part, has that signature physical alert slider, which we never tire of.
Sony Xperia 1 IV vs iPhone 14 Pro: display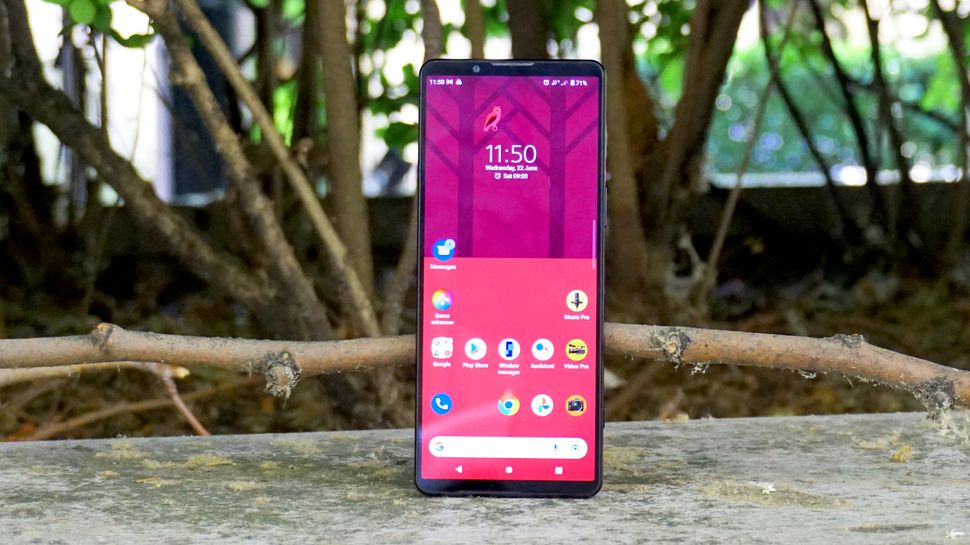 We've already mentioned that Sony's 6.5-inch OLED screen is unusually tall, and with no camera cut-out in the way it's a much better canvas for landscape movie content than the 6.1-inch OLED of the iPhone 14 Pro.
However, Apple's more regular 19.5:9 aspect ratio makes it better suited to non-media tasks, whether that's surfing the web, flicking through photos, or reading an email.
Sony's phone strikes back with another headline feature in its 4K resolution. You simply don't see this 1644 x 3840 pixel provision on other smartphones.
While Apple's 1179 x 2556 resolution might look a little weedy, however, it's more than up to the task of rendering sharp content. What's more, it's worth pointing out that Sony's phone renders most content (i.e. anything other than 4K video content) at 1080p, which is actually less sharp than the iPhone.
Plus, the iPhone 14 Pro's screen gets much brighter to the tune of 2000 nits in peak conditions. Sony has boosted its phone's brightness by 50%, but it still doesn't get as bright as the iPhone in outdoor conditions.
Both screens are super-fluid to the tune of 120Hz, and Apple has finally implemented an always-on display function. Sony's phones have had this for years, of course.
Sony Xperia 1 IV vs iPhone 14 Pro: cameras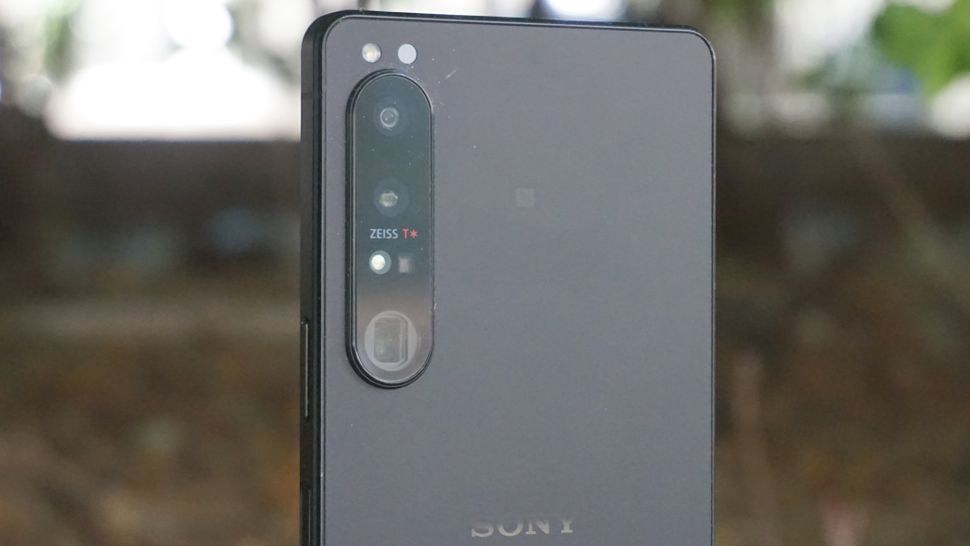 Sony is arguably the only smartphone manufacturer that leans on the language of classic photography even more than Apple. That makes sense, given that Sony is the only smartphone maker that is also a serious player in the dedicated camera space.
So, while Apple has finally abandoned the principle of fewer but larger (and faster) pixels with the iPhone 14 Pro's brand new 48MP main sensor, the Xperia 1 IV sticks with its 12MP main sensor.
Both phones feature 12MP ultra-wide and telephoto back-ups, but the Sony throws in a genuinely unique feature with the latter. This telephoto can provide a continuous physical zoom between 70mm and 125mm, which roughly works out to a fluid 3.5x to 5.2x zoom range. Apple's fixed 3x zoom looks a little meager by comparison.
Throw in a physical shutter button, the most hands-on camera UI around, and the most advanced autofocus system of any smartphone, and the Xperia 1 IV emerges as a peerless photographer's tool. Sony's color science, meanwhile, is even more natural than Apple's, with way less processing intervention.
For Apple's part, you have the ultimate point and shoot experience. There's no manual tinkering, just impeccable automated shots every time.
It absolutely destroys the Xperia 1 IV (and most other cameras to be fair) in low light shooting, thanks to its advanced sensor-shift optical image stabilization system and its new Photonic Engine.
It's a similar story when you consider video capture. Sony offers much more Pro-level hands-on control, as well as 4K at 120fps from all cameras (vs 4K at 60fps), though only for slow-mo footage without audio. For the sheer ease of use and the quality of the final footage, however, there's simply no phone better than the iPhone 14 Pro.
Apple's selfie camera is also better than Sony's thanks to the addition of autofocus for more sharply defined subjects.
Sony Xperia 1 IV vs iPhone 14 Pro: specs and performance
No Android phone can stand up to the iPhone 14 Pro for performance, so it's no disgrace when we say that this category is a no-contest.
Apple's A16 Bionic chipset is simply much faster than the Snapdragon 8 Gen 1 used in the Sony Xperia 1 IV. All of our benchmarks bear this sizable gap out.
Yes, the Xperia 1 IV offers double the RAM (12GB vs 6GB), but that means nothing within the context of the differences between iOS and Android.
Talking of which, Sony's UI is relatively close to stock Android, but with some added Sony apps reflecting its expertise in photography and media. The style of these isn't quite as refined or unified as Apple's is for iOS, but it's one of the cleaner ones in Android-world.
More significantly for some, the Xperia 1 IV will get two Android upgrades and three years of security patches, which isn't all that much by today's standards. Apple tends to support its phones for upwards of five years, by contrast.
We've already touched upon the disparity in storage options here. While Apple gives everyone the option of 128GB, 256GB, 512GB, and 1TB, Sony only supplies 512GB in the US and 256GB everywhere else.
Sony Xperia 1 IV vs iPhone 14 Pro: battery
Sony has equipped the Xperia 1 IV with a large 5,000mAh battery, which is a significant increase on previous models. Apple, for its part, has given the iPhone 14 Pro a 3,200mAh cell.
Don't let that difference fool you – Apple's iOS is typically more efficient than Android. In practical use, both phones will get you through a full day of usage.
The Sony Xperia 1 IV can run a little warm, however, which can impact the battery life under sustained load (when gaming, for example, or shooting lots of 4K videos). Generally, though, its stamina is excellent.
On the charging front, neither flagship phone impresses. The Sony Xperia 1 IV supports up to 30W, while the iPhone 14 Pro extends to a mere 20W. Neither comes with a charger.
The Sony has a slight edge in the wireless charging stakes, with support for up to 15W Qi charging next to the iPhone 14 Pro's 7.5W. You can even the score with the iPhone if you invest in a MagSafe charger.
Takeaway
These are two of the priciest, most premium smartphones on the market. Aside from a shared taste for flat surfaces, though, they're really quite different.
Despite the iPhone 14 Pro's name, it's the Sony Xperia 1 IV that's better suited to a 'Pro' audience. Its 21:9 4K display renders 4K video content natively and unimpeded by a camera cut-out, which contrasts with the iPhone 14 Pro's squarer aspect ratio and more casual-friendly (but undeniably cool) Dynamic Island.
It's similar when you consider the respective camera systems, where the Xperia 1 IV's physical shutter button, speedy autofocus, hands-off image processing, and unique variable zoom lens makes it ideal for committed photographers. The iPhone 14 Pro, by contrast, is a point-and-shoot delight, rendering stunning photos with minimal thought or effort.
All in all, the iPhone 14 Pro is the better rounded, more complete phone, and the better bet for most people. Certainly, it ranks higher in our best phones guide. But if you're a media or photography enthusiast, the Sony Xperia 1 IV gives you more unique tools than any other smartphone.