Advertisement Feature
Looking for great-value TV deals? These TVs have a heap of features at a fraction of the cost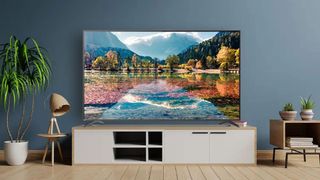 (Image credit: Kogan.com)
A TV is so often a focal point of the living room in homes around the country, and we'd wager that many of us also have screens in bedrooms, separate media rooms or even the kitchen.
You're probably now thinking, "that's a lot of TVs, that's a lot of money!" Not so with Kogan.com, as the Australian retailer has a huge range of screens catering to all sizes and uses, usually for just a fraction of the cost of other brands.
Big-screen entertainment
We've lost count of the number of times we've seen (or indeed used) the phrase 'bigger is better' when used in connection to your home TV, but it really is true. The bigger you can go with your screen, the more immersive movie viewing experience you're rewarded with.
But for many of us, a big screen is unobtainable due to prices that usually extend into the thousands. That is at least, if you want a good TV, or at least that's the common belief.. But Australian online retailer Kogan.com believes that you don't need to spend big to get great quality. Kogan.com offers a comprehensive collection of TVs that include many of the latest specs and features, and serve up a quality that belies their price tags.
Want an 85-inch or 98-inch TV to dominate your front room and change the way you watch TV shows and movies forever? No problem. This 85-inch QLED screen, for example, makes use of quantum dot technology to serve up a brighter image, and includes support for Dolby Vision, which is a leading standard for High Dynamic Range.
That means that with content that supports it, the display will deliver a dramatically expanded range of colours in a scene. A great example of this would be a sunset scene – HDR makes the sun look realistically bright, while the reds and oranges in the clouds have a colour depth that looks absolutely beautiful.
This model also supports Dolby Atmos, which is a high-end audio standard that delivers expansive surround sound using the same technology found in cinemas. If your content has support for Dolby Atmos, this TV has the tech inside to process it and your attached soundbar or home theatre speakers can provide startlingly emotional sound positioning and effects.
But the headline figure here is the price. You can get seriously big screen thrills for less than $2,000, which is outstanding value compared to a similarly specced TV from other popular brands.
Not got the space for an 85-inch? Kogan.com has a huge range of 75-inch and 65-inch screens, with many of the sets costing less than $1,000. You'll find a comprehensive collection of QLED and OLED screens all bearing the Kogan name, proving that the latest advances in TV screen technology don't have to cost a fortune.
Google for all your needs
Moreover, the vast majority of Kogan TVs employ either Google TV or Android TV for their operating system, making navigation an absolute breeze and opening you up to a huge world of apps and services.
Google TV, in our experience, is a game changer for TVs. Not only does it support the full suite of the most popular streaming services, but it collates your viewing habits across the devices and services that you use to deliver curated recommendations (and good ones at that) as soon as you turn your TV on.
Want to know what the next hit show is before your friends? Google TV has you covered.
Supercharge your gaming sessions
Aside from catching up on the latest TV shows or becoming immersed in the latest blockbusters, the other big win with owning a lovely big TV is for gaming. The latest generation of games consoles deliver graphics performance like never before and Kogan TVs are equipped to help harness this extra power.
Make a statement
Finally, Kogan.com also gives you the opportunity to really show off your brand new screen and make a statement in your home with a collection of floor stands and wall-mounts that can transform your Kogan TV into something more akin to a piece of furniture.
The Larvik or Lofoten stands are compatible with TVs ranging in size from 45-inch up to 70-inch and come in a range of wood finishes. Not only can they help to add some contemporary style to your viewing room, but they're ideal for people who are unable to wall-mount their TV, or don't want to invest in a full entertainment unit.
Head to Kogan.com today and upgrade your living room for less while not sacrificing on quality.
Get daily insight, inspiration and deals in your inbox
Get the hottest deals available in your inbox plus news, reviews, opinion, analysis and more from the TechRadar team.