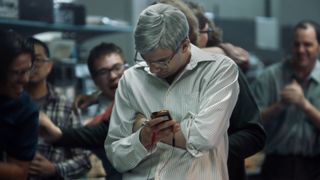 (Image credit: Elevation Pictures)
2010 was a strange year for a number of reasons, but not even the eruption of Iceland's Eyjafjallajökull volcano (stick that on your Scrabble board) could cast a shadow over the fortunes of BlackBerry co-CEOs Mike Lazaridis and Jim Balsillie.
At the turn of the decade, BlackBerry's share of the US phone market hit a record-high 43%, with the company's 'CrackBerry' mobile devices sitting pretty in the hands of some 40 million users worldwide. A year later, that figure would rise to 85 million; a peak that followed 11 years of sales growth for a company whose top brass had spent much of the 1990s on the brink of bankruptcy. Lazaridis was rich. Balsillie was richer. BlackBerry – then known as Research In Motion (RIM) – was both a cultural force and money-printing machine.
Until, suddenly, it wasn't.
Matthew Johnson's new movie, BlackBerry – which finally hits UK theaters this weekend, having been released in the US and elsewhere back in May – details the how and why of this rapid rise and even faster fall. The film's budget was small, and its profile remains low, but if you're someone who enjoyed the corporate politics of The Big Short or The Social Network, then BlackBerry might also be one of the best new movies of 2023.
For starters, BlackBerry focuses almost exclusively on the before and after of BlackBerry, the company. The film doesn't spend too much time preaching to the choir about how its palm-sized phones captured the attention of businessmen and socialites the world over (The keyboard! The encryption! The style!) because, well, we know how. We all had one.
Instead, Johnson's movie is concerned with the machinations behind BlackBerry's early success and, ultimately, its failure to stay ahead of the competition. Jay Baruchel plays Lazaridis, the brilliant-but-business-averse inventor whose idea for a new type of phone is picked up by ruthless corporate climber Balsillie (played superbly by Glenn Howerton), and much of of BlackBerry's two-hour runtime is dedicated to exploring the pair's on-off relationship.
The dynamic between the two men is a familiar one: Lazaridis has the technological smarts, while Balsillie knows how to work a boardroom. Lazaridis will submissively take "no" for an answer, while Balsillie "won't leave this *****ng pitch meeting" without a million-dollar order. Lazaridis wears an oversized pair of brown Aviator glasses, Balsillie a crisp blue suit. You get the idea; they're Spock and Captain Kirk, but with much more swearing. And lying.
Initially, RIM co-founder Doug Fregin – a Star Wars-obsessed, headband-wearing goofball, played in BlackBerry by Johnson himself – can't stomach Balsillie's brazen demands and city slicker arrogance ("that guy's a shark," he warns Lazaridis after their first meeting). But once Balsillie successfully pitches a "PocketLink" prototype to deep-pocketed investors at Bell Atlantic (now known as Verizon), Fregin's skepticism makes way for wide-eyed wonder. And then BlackBerry goes supersonic.
Cut to 2007 – after a brief detour to 2003, when Palm CEO Carl Yankowski attempts a hostile takeover of the now-widely-successful RIM – and Lazaridis, Fregin and the rest of the RIM hierarchy are caught off-guard by the launch of the iPhone; a keyboard-less, multi-function mobile device from another fruit-themed tech company, Apple. Ignoring the hype, RIM pushes ahead with its keyboard-based vision – and does so successfully for another half a decade – until, at last, the BlackBerry runs out of juice.
The crucial – and in some cases, fateful – business decisions depicted in BlackBerry are far from revelatory. RIM (which was officially rebranded to BlackBerry in 2013) failed to move with the times, but anyone who ever swapped their BlackBerry for an iPhone could tell you that. What Johnson's movie does so well is to humanize the people behind those decisions.
BlackBerry's story is one of dreams dashed, fulfilled and dashed again. Lazaridis – the well-meaning developer who revolutionized the mobile market and, arguably, modern popular culture – struggles to understand how he and his company can be considered pioneers one minute, but old news the next. Being the first to do something does not grant you a permanent seat at the table, and it's genuinely quite moving to see RIM's band of geeky tech bros fall victim to the unforgiving nature of corporate America.
That's not to say BlackBerry isn't an entertaining ride. The razor-sharp script is frequently hilarious – Howerton, in particular, steals the show as Balsillie – and it's hard not to fall for the film's first-half underdog story. Jay McCarrol's era-hopping soundtrack hits all the right notes, too (The Strokes' "Someday", Joy Division's "Love Will Tear Us Apart", and The Kinks' "Waterloo Sunset" are just a few of the perfectly-timed needle-drops).
But, in essence, BlackBerry is the tragedy of a trailblazer; a bittersweet comedy with a sting in its tail, and a stark reminder that innovation waits for no one.
Sign up for Black Friday email alerts!
Get the hottest deals available in your inbox plus news, reviews, opinion, analysis and more from the TechRadar team.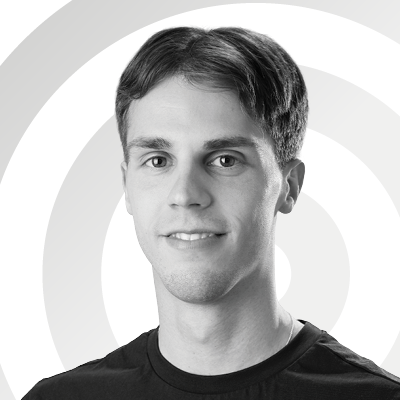 Axel is a London-based Senior Staff Writer at TechRadar, reporting on everything from the latest Apple developments to newest movies as part of the site's daily news output. Having previously written for publications including Esquire and FourFourTwo, Axel is well-versed in the applications of technology beyond the desktop, and his coverage extends from general reporting and analysis to in-depth interviews and opinion.
Axel studied for a degree in English Literature at the University of Warwick before joining TechRadar in 2020, where he then earned an NCTJ qualification as part of the company's inaugural digital training scheme.