Advertisement Feature
Your search is over: Turtle Beach's Stealth Pro is the ultimate wireless gaming headset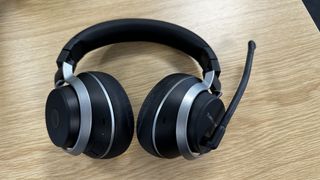 (Image credit: Future)
When it comes to gaming headsets you're spoilt for choice. But if you want a headset that excels in every area from exceptional clarity to unparalleled noise cancelling, there's only one headset you need to consider. The new Turtle Beach Stealth Pro is an incredible combination of innovation, precision engineering, and sheer gaming joy, and it's been two full years in the making. The Stealth Pro may well be the best gaming headset ever made.
It starts with the sound
Inside the Stealth Pro you'll find hand-selected 50mm Nanoclear drivers, which are bigger and stiffer than the drivers you'll find in most rivals. That means a bigger, more accurate sound that delivers all the low-end thump you could ever want without losing the clarity you need to keep your competitive edge. And those drivers are hand-matched, ensuring that each driver complements its partner perfectly to ensure the ultimate in accuracy.
That's not all. Turtle Beach's custom audio tuning enhances the effect of positional audio and spatial audio, so whether you're listening to Windows Sonic, Dolby Atmos or PlayStation's 3D Audio you're getting the most powerful positional audio you've ever heard.
It destroys unwanted audio
With a whopping 25dB of noise cancellation, the Stealth Pro delivers the most versatile noise cancellation of any gaming headset so you can focus on what you want to hear and eliminate what you don't. And since all your sound customizations, including noise cancellation levels, are saved to the headset and controlled via the Turtle Beach Audio Hub app, your customised audio settings will work on all your gaming kit – not just your PC. That means you get the full audio experience without wires on PlayStation, Xbox, Steam Deck, Switch, PC, Mac and even your mobile devices via Bluetooth.
While the noise cancellation gets rid of the audio you don't want, Turtle Beach's clever Superhuman Hearing technology prioritises the in-game sounds you do want to hear – such as your rival's footsteps trying to sneak up on you, an enemy weapon reload just around the corner before an ambush, and even enemy gunfire in the distance. In the Stealth Pro, Turtle Beach has taken its Superhuman Hearing tech to a whole new level with a choice of three preset levels and adjustable intensity for a huge range of games. It's the most advanced and versatile version of Superhuman Hearing yet.
It makes you sound spectacular
The Stealth Pro's noise cancelling isn't just for what you hear. It's for what you say too. Two concealed microphones and a removable TruSpeak boom mic include Turtle Beach's SMART (Sonic Measurement Audio Reduction Tuning) technology to actively monitor and screen out background noise, delivering your in-game chat with unprecedented clarity.
No DAC and no downtime
Unlike many other premium gaming headsets, high quality doesn't mean lots of hardware hanging around. The Turtle Beach Stealth Pro doesn't need you to stick an external DAC on your desk to benefit from its exceptional audio. And thanks to their two swappable 12-hour battery packs you never need to pause to let your headset recharge. Those batteries won't keep you waiting either: just 15 minutes of charging gives you a full 3 hours of gaming heaven.
Lag-free listening when every millisecond counts
The Stealth Pro also offers Dual Connectivity via its 2.4GHz lag-free wireless connection and Bluetooth 5.1 connection, both of which can be used simultaneously. This enables you to take calls or listen to your own music or discord chat while gaming on Xbox, PlayStation, Switch, PC or Mac. The Stealth Pro's 2.4GHz connection also has an impressive 15m of wireless range. It also automatically optimises your audio and chat in real time to help you stay one step ahead of your competitors. It even reconnects instantly if you need to swap the battery or restart your PC, ensuring you don't waste a second.
Complete control of absolutely everything
The Stealth Pro's extensive customisation can be found in the Turtle Beach Audio Hub app, which is available on PC and Mac and for iOS and Android mobile devices. The app enables you to assign useful audio features as secondary functions to the volume wheel – so you can adjust the mic monitoring, switch noise cancellation modes, boost the bass and more. The MODE button is also remappable so you can toggle EQ presets, the mic noise gate, and control your PC's audio playback. A 10-band EQ is also available in the app, meaning you can get the Stealth Pro's sound to your liking, depending on if you're playing games, listening to music, or watching a movie. Like I mentioned before, all your settings are saved to your headset, and can be adjusted via the app, so they're always ready as soon as you put your headset on.
Incredible specs you can wear with your specs
If like us you wear glasses when you're gaming, you'll appreciate the extra thought Turtle Beach has put into the Stealth Pro: in addition to its plush leatherette-wrapped memory foam cushions and premium materials that deliver maximum comfort for every gamer in even the longest gaming sessions, Turtle Beach's patented ProSpecs ear cushions prevent uncomfortable pressure on your eyewear.
Incredible performance for every player
With an RRP of just £279.99 / $329.99 / €329.99 the Stealth Pro is competitively priced and outperforms many rivals that cost much more. That's because they've been built specifically for gamers who want the best, with a level of performance and clarity that lesser models just can't match.
Click here to find out how the incredible Turtle Beach Stealth Pro gaming headset will help you leave your rivals in the dust.
Sign up for Black Friday email alerts!
Get the hottest deals available in your inbox plus news, reviews, opinion, analysis and more from the TechRadar team.