Por fin WhatsApp se actualiza para competir con las llamadas de Zoom y Skype
La última beta sube el límite de cuatro a ocho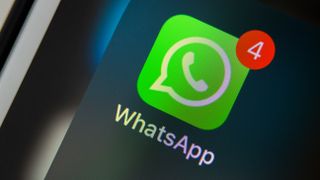 (Image credit: Shutterstock)
Buenas noticias para todos que desconfíen de ese coladero de hackers que es Zoom: WhatsApp incrementará el límite de usuarios de llamadas y videoconferencias en grupo: pasará de cuatro a ocho usuarios.
Lo ha descubierto la página que monitoriza las betas del sistema de mensajería, WABetainfo.
Según WABetainfo para que el nuevo límite sea aplicable, todos los usuarios tendrán que tener la última beta instalada o — cuando finalmente salga — la versión final.
En la actualidad, WhatsApp permite hasta cuatro participantes simultáneos en sus llamadas, algo que lo deja muy por debajo de servicios como Zoom, Facetime, Hangouts o el propio Messages de Facebook, la dueña actual de WhatsApp. Ocho participantes también está por debajo de los anteriores, pero mejor eso que nada.
No ha habido ningún cambio en la manera de hacerlo. Funciona como siempre, creando una nueva llamada y utilizando el icono del teléfono con el símbolo de + en la esquina superior derecha de la pantalla para añadir hasta siete usuarios (que contigo serán ocho en total).
Para utilizar esta función, los usuarios de iOS tendrán que tener la versión 2.20.50.25 descargada de TestFlight. Los usuarios de Android deberán descargar la versión 2.20.133 beta de Google Play.
Si no eres miembro de los programas de beta testing de WhatsApp, hay una alternativa para usuarios de Android: descargar la beta de un servicio de mirroring de paquetes y instalarla mediante un proceso de sideload.
Cómo descargar la beta de WhatsApp con llamada a 8 usuarios
Antes de seguir, tengo que decirte por imperativo legal que 1) esto es una beta y 2) no está en la tienda oficial de Google Play Store (aunque es el paquete oficial). Así que procede por tu cuenta y riesgo.
1. Visita APK Mirror en tu navegador
Lo primero que tienes que hacer es pulsar aquí. El link te llevará a APK Mirror, un repositorio de paquetes de instalación de aplicaciones Android.
2. Descarga la beta de WhatsApp
Busca la versión 2.20.133 beta en la lista y pulsa en el link. En la siguiente página, baja y busca un gran botón verde que dice "Download APK". Pulsa en el botón.
3. Abre el APK
Cuando haya terminado de descargar tu navegador te preguntará si quieres abrir el APK. Responde Sí o Abrir. Si no te pregunta nada, visita la carpeta de descargas y pulsa en el APK de WhatsApp Beta para abrirlo.
4. Instala WhatsApp beta
Cuando tu dispositivo Android te pregunte si quieres instalar la APK, pulsa OK.
Ya está. Pero recuerda que todos los usuarios tendrán que tener la beta para poder entrar en una llamada a ocho.
Get daily insight, inspiration and deals in your inbox
Get the hottest deals available in your inbox plus news, reviews, opinion, analysis and more from the TechRadar team.