Vuelven los rumores del iPhone plegable
Y esta vez podría ir en serio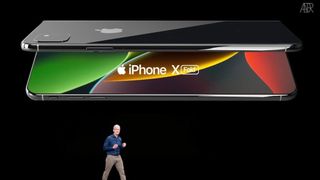 (Image credit: Antonio de Rosa)
Un reputado filtrador de noticias dice que Apple ha pedido un gran número de pantallas flexibles a Samsung para la fabricación de prototipos de un futuro iPhone plegable, un nuevo modelo que muchos piensan será inevitable de aquí a un par de años.
Según el reputado leaker 'Ice Universe', "Apple ha pedido a Samsung Display una gran cantidad de pantalla plegables y espera obtener una exclusiva de suministro durante un año". Según Macrumors, Ice Universe parece afirmar que ese suministro podría estar a punto de comenzar y que el desarrollo de estos prototipos sería inmediato.
El iPhone plegable es casi inevitable
Apple tiene varias patentes relacionadas con celulares plegables. Sabemos que han estado trabajando en ello durante bastante tiempo y que estaba colaborando con LG, que también fabrica pantallas OLED plásticas. Ahora parece que Samsung también está en el ajo.
No es de extrañar. La división de pantallas compañía coreana — Samsung Display — está a la cabeza en lo que a OLED flexibles para celulares se refiere. Además, Samsung Mobile ha estado utilizando esos productos durante más de un año y ya tiene dos generaciones de celulares en su haber.
El mercado de los celulares plegables todavía es demasiado limitado y joven, pero Apple tiene la costumbre de esperar un par de generaciones antes de lanzarse al ruedo con una versión más avanzada y pulida que la competencia, evitando así los fallos iniciales de cualquier nueva tecnología de vanguardia. Por eso tiene sentido que estén trabajando ahora en nuevos prototipos que podrían dar lugar a un iPhone plegable sobre el 2022.
La solución Surface Duo, mejorada
Sin embargo, otros analistas sugieren que Apple no está trabajando en un celular con una única pantalla flexible que se doble por la mitad, sino en un celular que sigue la misma filosofía que el Surface Duo: dos pantallas unidas por una bisagra y una pantalla externa con la cámara Face ID.
Eso no significa que Apple no utilizaría pantallas plásticas flexibles como las de Samsung. Pero las podría utilizar de forma diferente al Galaxy Z Fold, Galaxy Z Flip o Motorola Razr para conseguir perfeccionar el formato de Microsoft.
Es difícil de imaginar que Apple vaya a lanzar un iPhone de dos pantallas separadas por un margen interior como el Surface Duo. La compañía de Cupertino podría eliminar ése margen completamente usando dos pantallas flexibles que se plegarían en la parte interior de la bisagra. De esa forma, al abrir el iPhone plegable, las dos pantallas estarían unidas en el medio de forma casi perfecta — como los celulares-tableta que usan en la serie de HBO Westworld.
Por otra parte, el laboratorio de diseño de Apple no para de trabajar en nuevos formatos que, la mayoría de las veces, no llegan a ver la luz del día.
Get daily insight, inspiration and deals in your inbox
Get the hottest deals available in your inbox plus news, reviews, opinion, analysis and more from the TechRadar team.