Una nueva actualización de Windows 10 mata Adobe Flash de una vez por todas y para siempre
¡Hasta nunca, Flash, recuerdos a tu madre!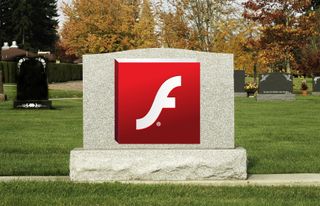 (Image credit: Mr.Nikon/Shutterstock)
Microsoft ha lanzado una actualización opcional para Windows 10 diseñada para eliminar Adobe Flash del sistema operativo — de una vez por todas y para siempre. El nuevo parche prohibirá la instalación de Flash en preparación a su eliminación final en 2021.
La actualización, con el código KB4577586, elimina el Flash preinstalado en Windows 10 aunque por ahora no afecta a cualquier versión que haya instalado el usuario. Tampoco elimina, de momento, el plug-in Adobe Flash que pueda tener instalado Microsoft Edge y otros viejos navegadores. Pero sí prohíbe cualquier instalación de Flash por parte del usuario así que, si estabas usando el Flash que viene con Windows, despídete para siempre.
El soporte de Adobe para Windows 10 acabará permanentemente a finales de 2020. Y Microsoft ya ha declarado que no lanzará más actualizaciones para Internet Explorer 11 o la edición Edge Legacy — el Edge que no se basa en Chromium — de Edge. Además la última versión de Edge dejará de ser compatible con Flash en enero de 2021.
El mes pasado, Microsoft publicó un calendario para su soporte Flash. Ahora mismo la instalación de este parche con la herramienta de eliminación de Flash para Windows 10 es opcional y lo seguirá siendo hasta fin de año. En 2021 pasará a ser una actualización recomendada y, en verano de ese mismo año, Microsoft hará el cambio obligatorio, eliminando el interfaz de usuario y todo el contenido relacionado con Flash tanto de Internet Explorer 11 y como la edición Legacy de Edge. Estos cambios se realizarás mediante múltiples actualizaciones de Windows.
Sign up to receive daily breaking news, reviews, opinion, analysis, deals and more from the world of tech.
Giulia Di Venere è Editor Senior per TechRadar Italia e lavora con orgoglio al progetto da quando è nato.
Laureata in Lingue e Letterature Straniere all'Università Ca' Foscari di Venezia, è una grande appassionata di cinema, libri, cucina e cinofilia.
Da sempre considera la scrittura lo strumento più efficace per comunicare, e scrivere per fare informazione, ogni giorno, è per lei motivo di grande soddisfazione.
Copre una grande varietà di tematiche, dagli smartphone ai gadget tecnologici per la casa, gestendo la pubblicazione dei contenuti editoriali e coordinando le attività della redazione.
Dalla personalità un po' ambivalente, ama viaggiare tanto quanto passare il tempo libero nella tranquillità della propria casa, in compagnia del suo cane e di un buon libro.