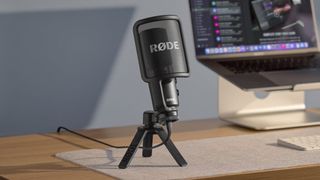 (Image credit: RØDE)
The RØDE NT-USB mic changed the game for musicians, podcasters, producers and other audio pros – and incredibly, RØDE has managed to make it even better. The new RØDE NT-USB+ takes everything that's great about RØDE's class-leading mics and adds even more audio power. It's the mic your voice, your studio and your setup have been dreaming of.
The ultimate mic for everything
The RØDE NT-USB+ is a USB condenser mic with incredible processing power, pro-level pre-amps and of course, exceptional sound. It's the latest innovation from a truly legendary brand: RØDE has been at the forefront of audio technology for more than 40 years, and you'll see – and hear – the Australian brand's audio tech in everything from podcasters' bedrooms to professional sound and video studios.
This particular microphone is the very latest generation of a much-loved mic. The first NT-USB was one of the very first professional recording USB microphones, and the NT-USB Mini raised the bar by introducing onboard digital sound processing. And now the NT-USB+ brings you all that and much more.
A Revolution in your ears
The RØDE NT-USB+ includes the firm's world-class Revolution Preamps, and they're a real game changer. They deliver spectacular sound quality, warmth and clarity, and because they're both ultra-low noise and ultra-high gain they deliver plenty of output without introducing unwanted noise. By delivering the highest possible gain with the lowest possible noise floor, the NT-USB+'s preamps mean that you don't need to mess around with microphone boosters, lifters or external processors. Simply plug in your mic and you're good to go.
That's not the only audio upgrade you'll find in the RØDE NT-USB+. You can now record or stream in high resolution audio at 24-bit/48KHz to capture every detail perfectly.
One thing that hasn't changed is the condenser capsule inside the mic. When it comes to capturing speech, vocals or musical instruments, condensers deliver the warmest, most involving, most incredible sound. And thanks to the improved signal conversion, higher gain and lower noise floor, the condenser in the RØDE NT-USB+ sounds even more spectacular.
Advanced processing on all your devices
In addition to those powerful preamps, the RØDE NT-USB+ also delivers RØDE Aphex Processing. That means you get all the benefits of pro-level digital signal processing features including the legendary Aphex Aural Exciter and the brilliantly named Big Bottom effects.
With a compressor, a noise gate and a high-pass filter built into the mic, it's never been quicker or easier to get the perfect sound no matter what you're recording or livestreaming. And because the RØDECentral app that controls these features is available for mobile devices as well as your PC or Mac, all that power stays with you wherever you and your RØDE may roam.
The mic that works with everything, everywhere
The RØDE NT-USB+ has upgraded the connector to USB-C for more convenient connection and charging, and it's fully class compliant and iOS compatible so you can use it with your favourite hardware and audio apps via RØDE Connect. You can use it as a free-standing mic, on a boom stand or on a studio arm, and the included pop shield keeps percussive plosives from ruining your recording.
It's also superb for everyday apps such as voice and video calling, and because it has the same 3.5mm output as its predecessor with zero latency monitoring you can use it to monitor your recording or stream in real time without having to mess around in software.
The perfect performer for every kind of audio
With its compact design, superb pre-amps and class-leading audio quality, the RØDE NT-USB+ raises the bar for USB microphones. Whether it's in your studio or on your desk, streaming via your Mac or recording to your iPhone, the NT-USB+ delivers an unrivalled combination of power, performance and portability for producers, podcasters, musicians and anybody else who needs the best possible audio. And it make you sound pretty good in voice and video calls too.
Click here to find out why the RØDE NT-USB+ is the mic you've always dreamed of.
Sign up to receive daily breaking news, reviews, opinion, analysis, deals and more from the world of tech.