The SNES Mini was almost impossible to get hold of late last year as Nintendo's production line turned into yet another omnishambles. If you managed to avoid temptation on over-priced eBay units though, your time has come today as we're seeing multiple reputable retailers stocking the tiny retro console at the RRP of £69.99.
Don't let other retailers pull the wool over your eyes with their 'offers'. Some are charging the re-invented RRP of £79.99, and Game is selling it for that price and pretending it's an offer down from a non-existent price of £99.99. Tut and indeed, tut.
With newfound stock available at so many retailers now, you might be tempted to hold out for a genuine discount off the £69.99 RRP, but that could end up being a bit of a gamble if Nintendo isn't set on producing many more units. We've listed the current retailers below stocking the SNES Mini at the proper £69.99 price if you don't want to risk missing out on this classic piece of gaming history.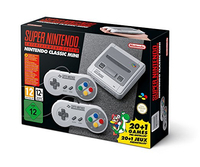 (opens in new tab)
SNES Mini | 21 games | two controllers | £69 @ AO.com (opens in new tab)
Update: AO.com has just unveiled some stock of its own. The electronics store has edged ahead of the competition too with a massive, wait for it, 99p discount. With free delivery available too, this is the cheapest option for a SNES Mini in the UK at the time of writing.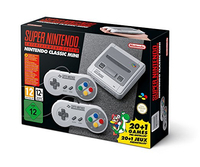 (opens in new tab)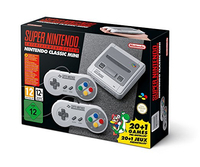 (opens in new tab)
The rumour machine is really starting to make some noise about a potential N64 Mini next - hopefully, Nintendo won't be so stingy on the production line. If that does get announced though, expect production of the SNES Mini to stop, if it hasn't already.