Advertisement Feature
McAfee protects all your devices – your data and your life – from hackers, and it's a bargain at Currys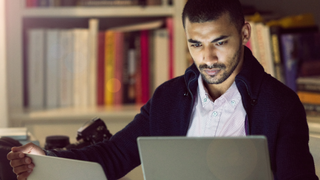 (Image credit: McAfee)
It's becoming increasingly clear these days that simple antivirus defences aren't enough. Granted, they're an excellent start, but with all the threats out there in the online world, what you really need is overarching protection for your devices – and your life, for that matter. A complete solution to help tackle not just the prospect of malware infecting your devices, but to guard against your personal data being stolen by the likes of hackers.
This is precisely why McAfee aims not just to deliver antivirus capabilities with its security products, but a full range of protection for you, as a person, and the online life you lead across all your devices (PCs, laptops, tablets and mobile phones).
McAfee's innovative Protection Score
The anchor of McAfee's Total Protection security suite is what's called the 'Protection Score', a fully personalised rating for just how secure your life is.
You're given a score out of 1000 to indicate just how you're doing in terms of the health of your online protection. Think of it like a credit score, except that it reflects the robustness of your online security, being monitored and adjusted appropriately going forward.
McAfee doesn't just keep you informed about how good your level of online protection is, though, it makes recommendations on how to improve the score and deal with weak spots in your overall security.
That's the really game-changing bit here, and if you implement the suggested measures, you'll watch your Protection Score slowly climb towards that magic 1000 figure.
In other words, this is a proactive approach to security, not just simple reactive defences.
Also helping you to be more proactive is McAfee's Identity Monitoring system, which watches like a hawk for any of your sensitive personal details appearing online. If vital data like, say, your credit card details, or passport info, should turn up on the dark web, McAfee's system will immediately alert you. Moreover, McAfee will then advise on what action to take to remedy the situation.
It's also worth noting that McAfee doesn't just keep a watchful eye on the dark web. The company monitors your credit score as well, warning you about any sudden dips in that score, as this could also be a sign that your personal data has been compromised.
Ensuring your online privacy
A further focus of McAfee's security suite is protecting your online privacy, with Total Protection boasting a full VPN.
A VPN is a Virtual Private Network which encrypts the data that you send and receive online, meaning even if hackers manage to get hold of your data, it won't make any sense to them. It'll be scrambled, and with bank-grade encryption, that data will effectively be impossible to crack.
For those out and about with their smartphone, connecting to public Wi-Fi (in, say, a coffee shop), a VPN is a must-have piece of protection to safeguard your data against potential snoopers.
A VPN also hides the IP address of your device, meaning that you're completely anonymous when online, too, doubling down on privacy levels.
On top of the privacy delivered by that VPN, McAfee further offers a new feature called Personal Data Cleanup. (Note that this isn't available on lower-end McAfee Total Protection subscriptions, but is included with Premium and Advanced plans).
Personal Data Cleanup tightens up your privacy by monitoring and pointing out data brokers that have collected your details. Data brokers are firms that make a business out of collecting data on people, subsequently selling those details to third-parties. Armed with the knowledge of broker sites who have your information, you can then contact them and request that your data is removed (or get McAfee to do this for you, if you're signed up to the Advanced subscription). Between this and the VPN, your online privacy levels will be seriously bolstered.
McAfee also delivers on all the basics you'd expect with Total Protection. You get a full antivirus, naturally, backed up with a firewall, and a Web Protection feature. The latter blocks malicious websites and phishing attempts, and ensures your downloads stay free of malware.
Total Protection for your life
As you can see, the McAfee Total Protection suite is designed to offer wide-ranging cover for you – and your life, online or otherwise – rather than just your phones, tablets and PCs, with all manner of measures to keep your personal data safe. For those with a family, it'll also ensure that children will stay safe online, providing comprehensive parental controls with its Premium subscription.
If you want to sign up for McAfee, you'll find that Currys offers some great prices on Total Protection plans, and some seriously compelling discounts. Indeed, right now you can get McAfee Total Protection for 15 devices (1 year subscription) for just £39.99. Considering the absolute raft of features you're getting with this security suite, that's a temptingly low price for covering 15 pieces of hardware.
Sign up for Black Friday email alerts!
Get the hottest deals available in your inbox plus news, reviews, opinion, analysis and more from the TechRadar team.