Netflix rails against Comcast, Time Warner Cable merger
One broadband company to rule them all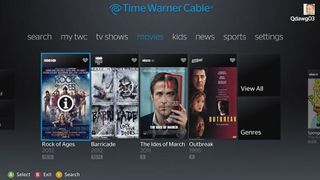 Update: Netflix looks to have struck a nerve over at Comcast.
The cable giant swung back at the streaming champ, saying the latter's opposition is based on "inaccurate claims and arguments."
You can read the whole post here, but Comcast left with one final thought:
"Netflix is free to express its opinions. But they should be factually based. And Netflix should be transparent that its opinion is not about protecting the consumer or about net neutrality. Rather, it's about improving Netflix's business model by shifting costs that it has always borne to all users of the Internet and not just to Netflix customers."
Original article below...
Forget the financials; Netflix is, once again, using its latest earnings report to make a statement.
The subject of the streaming service's ire is none other than the Comcast/Time Warner Cable merger. Can you guess where Netflix falls on the for/against spectrum?
"The internet faces a long-term threat from the largest ISPs driving up profits for themselves and costs for everyone else as detailed in our recent blog post," a section entitled "Strong Net Neutrality: No-fee Interconnect" began.
Netflix figured that combined, Comcast and TWC would have a footprint that covers over 60% of US broadband households, "with most of those homes having Comcast as the only option for truly high-speed broadband (>10Mbps)."
"As DSL fades in favor of cable internet, Comcast could control high-speed broadband to the majority of American homes. Comcast is already dominant enough to be able to capture unprecedented fees from transit providers and services such as Netflix," the section continued.
With this kind of control, Comcast could have "even more anti-competitive leverage" through which it could "charge arbitrary interconnection tolls for access to their customers."
"For this reason, Netflix opposes this merger," the House of Cards distributor concluded.
Not in my house
It's no surprise Netflix is opposed to the merger; already it feels it's been manipulated into paying Comcast fees so the latter would stream its content faster.
The result has been 65% faster streams, but at a cost.
There's little chance Netflix's words will do anything to sway the tide of regulators, who have already heard Comcast's reasons for why a merger would benefit consumers, but it's nice Netflix is trying.
The company also took a swing at AT&T's U-verse, saying it "has lower performance than many DSL ISPs" and, as evidenced by comments on the carrier's "anti-Netflix blog post," AT&T customers "expect a good quality Netflix experience given how much they pay AT&T for their internet service."
"It is free and easy for AT&T to interconnect directly with Netflix and quickly improve their customers' experience, should AT&T so desire."
Sign up to receive daily breaking news, reviews, opinion, analysis, deals and more from the world of tech.
Michelle was previously a news editor at TechRadar, leading consumer tech news and reviews. Michelle is now a Content Strategist at Facebook. A versatile, highly effective content writer and skilled editor with a keen eye for detail, Michelle is a collaborative problem solver and covered everything from smartwatches and microprocessors to VR and self-driving cars.