Advertisement Feature
Here's why your next gaming laptop should have an NVIDIA GeForce RTX 40 Series Laptop GPU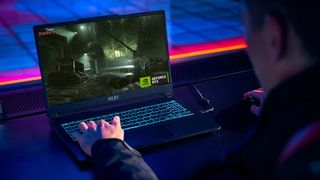 (Image credit: MSI)
When it comes to gaming, there are two different types of gamers; casual gamers who play for fun and the more dedicated gamers who immerse themselves deeply in what they're playing and strive to achieve victory in competitive gameplay.
For the latter group, having the right hardware is crucial to their success, whether they're playing a competitive shooter or real-time strategy (RTS) game.
If you're preparing your weapons loadout for a shooter, for example, you don't enter the field of battle armed with a potato peeler and a collection of kitchen knives – you grab an assault rifle and rocket launcher. And similarly, you don't charge onto the battlefield with a potato PC – lurching and lagging all the way – you use powerful hardware, so your gaming experience is as smooth and responsive as possible.
For those looking for a powerful gaming laptop, one you can use both at home and on the move, there's a key component that will make all the difference as to how well a game will run. That's the GPU, and it doesn't get any better than NVIDIA's GeForce RTX 40 Series Laptop GPUs based on the Ada Lovelace GPU architecture, which are, quite simply, the cutting-edge of mobile graphics technology and provide a huge generational leap in terms of performance and power efficiency.
Silky smooth
The key benefit to choosing a laptop with a dedicated GPU is the ability to achieve smooth gameplay. Fast frame rates and smoother gameplay makes the experience feel more immersive with no distractions to break the spell. A slight stutter or lag can mean missing that crucial shot which can be the difference between victory or defeat.
This isn't just about shooters, either. A jerky moment (or three) in a racing game can make you miss the apex of that hairpin, for example. And even with games like an RTS, smoother scrolling around the map can mean quicker selection of troops, and allow for faster response times and issuing of orders, with saved nuggets of time that all add up over the course of a battle.
NVIDIA's GeForce RTX 40 Series Laptop GPUs are designed to deliver smooth gameplay in a variety of ways. Firstly, they are seriously fast GPUs, with the flagship RTX 4090 capable of driving a gaming laptop to well over 100 frames per second in the likes of Microsoft Flight Simulator and Cyberpunk 2077 at 1440p with ultra settings.
They also have DLSS 3, NVIDIA's AI-powered upscaling tech that massively improves performance while maintaining great image quality and responsiveness, offering jaw-dropping results.
RTX GPUs also enable full ray tracing in games thanks to dedicated hardware. Ray tracing simulates how light behaves in the real world to deliver more lifelike virtual worlds, with the sheer level of detail being startling.
Another major benefit of RTX 40 Series Laptop GPUs is power-efficiency, with the Ada Lovelace architecture being able to deliver a two-thirds reduction in power at the same level of performance compared to previous generations. Indeed, NVIDIA tells us that RTX 40 Series Laptops are up to three times more power-efficient than RTX 30 Series models, a vast leap.
This is due to NVIDIA's fifth-generation of Max-Q, a collection of technologies that optimise your laptop's performance, power and acoustics for peak efficiency so that RTX Laptop GPUs can fit into thinner and lighter laptops and retain good battery life – a crucial piece of the puzzle for a gaming portable.
MSI for the win
Are you sold on the strengths of a gaming laptop with an NVIDIA GeForce RTX 40 Series Laptop GPU? If so, what laptop might you go for? There are lots of models out there, so you'd be forgiven for being afflicted with a bit of 'analysis paralysis' when making a buying decision.
We'll try and make things easier here by narrowing it down to one gaming laptop manufacturer with a vast amount of experience in the field, boasting some excellent choices across a gamut of budgets – namely MSI.
MSI provides a range of GeForce RTX 40 Series laptops, and if you're a no-compromise hardcore gamer looking at the high-end of the spectrum, you'd do well to consider the MSI Raider GE series – mainly because it allows for achieving blistering frame rates.
That's because MSI's Raider laptops can be equipped with up to an Intel Core i9-13980HX (flagship) processor combined with a GeForce RTX 4090 (also a flagship) Laptop GPU for the ultimate in portable performance. This laptop has 250W of power under the hood to offer plenty of grunt, and thanks to MSI OverBoost Ultra technology, it's capable of keeping the GPU and CPU with their pedals to the metal when needed.
It's not just your games that'll look good, running fluidly with the details cranked right up, but the laptop itself is a head-turner. The Raider GE series sports a new premium design from MSI that makes use of not just RGB backlighting for the keyboard, but a matrix light bar across the front of the laptop chassis for some really smart-looking lighting effects. The recommended asking price for the MSI Raider GE series starts at £2,199.
For those on a tighter budget looking for an entry-level gaming laptop, check out the MSI Cyborg series. The Cyborg laptops run with up to an Intel Core i7-12650H processor, combined with a GeForce RTX 4060 Laptop GPU, still providing a whole lot of punch for your gaming on the go.
The Cyborg laptops also benefit from being thin and light, with a chassis that comes toting a new futuristic translucent black design, meaning this portable also has plenty of appeal in the aesthetics department. In this case, MSI Cyborg laptops start from a more affordable MSRP of £1,249.
The Raider and Cyborg aren't the only brands of gaming laptops MSI sells that are powered up by NVIDIA GeForce RTX 40 Series Laptop GPUs – to explore other possibilities, such as Stealth notebooks, head over to MSI's official website.
Sign up to receive daily breaking news, reviews, opinion, analysis, deals and more from the world of tech.