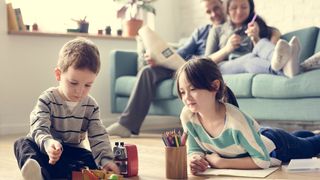 There's no doubt burglary is a growing concern of yours, both at home and in the office. One in 36 homes are burglarized every year, at an average loss of $2,230 per break-in, FBI data shows. Businesses are even more favored targets, with nearly one in 10 companies suffering a burglary in 2016 at an average loss of $8,000 out-of-pocket expenses per incident.
These stats show it's worth your while to invest in effective security systems that incorporate the latest technology to protect you, your family and your business from burglars. When it comes to cutting-edge security technology, Lorex Technology is a company that stays ahead of the competition by investing in innovations to provide you better protection. Here are some of the reasons why Lorex is a good buy for your security needs.
Lorex Wireless Cameras vs. Traditional Wired Systems
Traditional wired systems can be tough and expensive for you to install, limiting your camera positioning options. Lorex wireless security cameras, on the other hand, provide you with installation flexibility, letting you place cameras at a greater height or distance from your digital video recorder without the need for costly cabling. This makes Lorex's wireless cameras perfect for you to monitor the outdoors or to place in detached buildings. Each wireless camera also comes with its own wireless receiver, delivering a secure and reliable connection.
Lorex's wireless cameras use high-gain antennas that can transmit video to a receiver in a clear line of site up to 500 feet away, with the option of an addition that can boost the wireless signal to an even greater distance.
To make sure your camera keeps recording at all times, Lorex's wireless cameras use SignalGuard, an exclusive technology that automatically reconnects the camera to its receiver if it detects a weak signal or a lost connection.
Lorex makes sure other signals don't interfere with your wireless signal by using Adaptive Frequency Hopping Spread Spectrum (Adaptive FHSS) technology, which ensures a continuous connection as your signal hops from one channel to another. This also creates a unique signal-hopping sequence that protects your wireless connection from eavesdroppers.
Lorex's upcoming wire-free camera works on batteries, which can be recharged and therefore has no need for a plug. It works by using a passive infrared sensor, which detects heat signatures within its field of view. When the camera detects movement — based on body heat — it will turn on and start recording. Unlike similar models on the market, this system sends the data back to a DVR for storage. This means the user can, but doesn't have to, have a monthly cloud subscription to handle their footage.
Lorex 4K Resolution vs. 1080p Full HD Resolution
Just as 4K Ultra HD has replaced HD as the cutting edge in TV screen technology, 4K resolution is now expected for state-of-the-art security cameras. With 4096x2160 pixels compared to 1920x1080 pixels for full HD, 4K Ultra HD delivers four times the resolution. This means that Lorex 4K security cameras deliver images four times crisper than full HD competitors, capturing crucial details that other cameras might miss. Lorex's 4K cameras provide the maximum level of detail and clarity you can get for your security footage, along with the ability to digitally zoom in on distant objects without drastically sacrificing image quality.
Another advantage that Lorex provides is their Color Night Vision technology. It is no secret that burglars often prefer to take advantage of low lighting. Traditional infrared night vision turns the video to black and white in low-light conditions. This can make it impossible to distinguish important identifying characteristics such as the color of hair, clothes or vehicles.
Lorex Color Night Vision security cameras improve on traditional infrared night vision to distinguish details in darker conditions. Color Night Vision cameras have powerful image sensors inside that are especially sensitive to light. This allows the camera to capture more ambient light than traditional cameras and allows the camera to continue recording in full color, full detail and great contrast, even in very low-light conditions.
With Lorex Color Night Vision, you never have to let a suspect get away in the dark.
Secure WiFi Cameras vs. Unsecured Cameras
One concern you may have for unsecure connected camera systems is the risk of hacking, which can lead to an invasion of privacy. All Lorex Wi-Fi cameras, such as the Secure HD WiFi Security Camera, come with strong security features, including the ability to set unique usernames and passwords.
For your convenience, feeds from the Secure HD WiFi Security Camera and other Lorex cameras can be viewed remotely on your mobile device by using the FLIR Secure app.
The FLIR Secure app provides a single interface to monitor your entire DVR/NVR security system, as well as any Secure WiFi cameras, without the need to switch apps.
The app includes SmartZone, which allows you to set up customized motion detection alert zones, so that, for instance, your camera system can distinguish between cars passing on the street and cars entering your driveway. Another handy feature is RapidRecap, which lets you review up to 12 hours of footage in just a few minutes. You also get cloud storage space for back-up recordings.
The FLIR Secure app's RapidRecap and cloud storage features come in free and premium packages as part of the FLIR Cloud subscription plan included with all devices compatible with the app. All devices include the free FLIR Cloud subscription plan which comes with two-day video backup (up to 10 GB), three RapidRecaps per month and view 8-hour RapidRecap videos from within the past two days. If you upgrade to the premium subscription plan, you get 30 days of cloud and video history, unlimited cloud storage for all videos for 30 days, unlimited 12-hour RapidRecap videos from within the past seven days.
H.265 Plus vs. Traditional Hardware Storage
When you're filming 24 hours a day, seven days a week, and you need to keep footage and backups for legal purposes, the amount of storage space you consume quickly adds up. This is why Lorex offers systems with large security grade hard drives pre-installed. These hard drives are designed to be in constant use and are extremely reliable. Cloud storage options are also available with a FLIR Cloud free and premium subscription. Lorex's new 4K NVR's also use cutting-edge H.265 Plus high-efficiency video coding. This compression technology allows you to use approximately half the amount of storage and half the bandwidth that you would normally use using H.264 encoding, effectively doubling your recording capability.
Complete DIY Installation vs. Inconvenient and Expensive Traditional Installation
Installing security cameras usually requires the services of a professional technician, which can be inconvenient to schedule, as well as expensive. Lorex makes it easy-to-install security cameras by supporting complete do-it-yourself installation. Lorex's equipment is specially designed to make it easy for you to get your system running right out of the box. All necessary parts come with each camera, including 60 feet of UL certified in-wall cable, a mounting kit and a power adapter and/or receiver. All you need is some common household tools such as drills and screwdrivers for fine-tuning positioning and adjustments.
Lorex cameras take innovation a few steps further than traditional security cameras, and provide easy-to-implement tech for homeowners, business owners and others needing to keep security top of mind.
Sponsored by Lorex Technology
Sign up for Black Friday email alerts!
Get the hottest deals available in your inbox plus news, reviews, opinion, analysis and more from the TechRadar team.