Esta tablet Windows 10 cuesta $119 — pero no tiene batería y ni falta que le hace
La Gole11 es barata y viene con Windows 10 Pro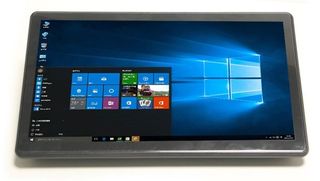 (Image credit: Gole)
$119. Eso es lo que cuesta la tablet Gole11 para aquellas personas que hagan su reserva ahora mismo. Una tableta con pantalla táctil y Windows 10 Pro que no tiene batería — y ni falta que le hace. ¿Para qué quiere nadie una tableta Windows sin batería, te preguntas? Hay muchísimas razones para que tú quieras una. De hecho, para mí va a ser difícil resistirme y no pedir una para mi casa.
Para qué sirve una tableta sin batería
Por descontado, es una tableta ideal para muchas empresas. Restaurantes, cafés, hoteles, peluquerías, tiendas — cualquier compañía que requiera un punto de venta [point-of-sales o POS] para cobrar, realizar pedidos o administrar reservas, entre muchas otras cosas, podrá sacarle jugo a una tableta sencilla y totalmente equipada que sólo cuesta $119 (por un tiempo limitado). Todas aquellas empresas que ahora usan iPads o dispositivos dedicados que cuestas muchas veces más podrán disfrutar de ella.
Pero también hay otras aplicaciones caseras para un dispositivo así. Por $119 esto puede ser una pantalla para controlar tu cine en casa, por ejemplo (de hecho, puedes convertirlo en un media center fácilmente). O controlar todas las instalaciones eléctricas de tu casa, como persianas, lámparas, seguridad, calefacción o aire acondicionado. También puedes usarlo como una pantalla de control secundaria para tu gaming PC. O un PC para la cocina. O una reemplazo del Facebook Portal o alguno de los dispositivos para casa de Google o Amazon — sin tener que depender de las grandes corporaciones y su espionaje de datos para acceder a noticias, información del tiempo o videoconferencia.
Las posibilidades están sólo limitadas por tu imaginación. Por sólo $119, es difícil resistirse y no incorporar esta tableta a tu casa.
Prestaciones más que suficientes
La tableta Gole11 viene con Windows 10 Pro, un procesador Intel Celeron N3450, 4GB RAM, 64GB de almacenamiento eMMC, pantalla táctil de 11,6 pulgadas con resolución Full HD touchscreen display, un altavoz, lector de tarjetas, Wi-Fi, Bluetooth, Gigabit Ethernet, cuatro puertos USB y una salida HDMI.
Para las empresas también tiene cuatro puertos serie RS232 para conectar periféricos como escáneres láser, impresoras y cualquier sistema que depende de este tipo de puerto.
Un proyecto Indigogo
El Gole11 es un proyecto Indigogo, así que podría no llegar a pasar — tiene un objetivo de $100.000 para financiarse y todavía sólo lleva una pequeña fracción con 26 días por delante a la hora de esta publicación. Sin embargo, la compañía que lo ha diseñado y lo va a fabricar tiene un historial de años. Su primer producto fue una tableta diminuta llamada Gole Gole1 y el segundo fue la Gole1 Plus — ambos con Windows 10 y dedicados a nichos de mercado no tan flexibles como esta Gole11.
El precio para aquellos que compren ahora es $119, pero subirá a $169 pronto y luego a $199. Al final de mayo, una vez hayan superado su objetivo de financiación, el precio será de $249.
Are you a pro? Subscribe to our newsletter
Sign up to the TechRadar Pro newsletter to get all the top news, opinion, features and guidance your business needs to succeed!