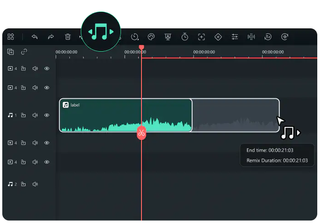 (Image credit: Wondershare)
If you're a videographer, you're no stranger to audio engineering. Whether you're compiling music videos as a hobby, recording interviews in public, or running a video podcast, audio and video have almost always gone hand-in-hand.
Maybe you have no issue with that. Maybe you enjoy the painstaking process of tweaking and modifying audio to fit your visuals.
On the other hand, perhaps you view audio editing as another obstacle to realizing your creativity. Maybe it's one more roadblock to overcome in order to bring your videos from concepts to finished productions.
Either way, if you're interested in making video editing easier and revolutionizing how you deal with audio editing as a video creator, Wondershare Filmora 12 might just be the perfect video editing tool for you.
Seamless optimization and synchronization
You've probably already heard that the latest iteration of Wondershare Filmora leading video features ChatGPT integration. While it's certainly exciting, that news has in a sense overshadowed everything else about the product. ChatGPT brings a lot to the table in terms of features, but there's a lot more to be excited about in Filmora 12.
For instance, as you can see in the video above, Wondershare's leading video editing platform includes some incredible features that help make audio engineering an absolute breeze.
AI Audio Stretch automatically retimes and rearranges your audio tracks so they match the length of your video. With a single click and drag, you can refine virtually any piece of audio to mesh perfectly with your video — all without sacrificing audio quality.
Wondershare Filmora's existing Auto Beat Sync alongside the new AI Audio Stretch cuts out potentially hours of work.
AI Audio Denoise is geared more towards people who need to edit background sounds out of recorded videos. This AI-driven feature does exactly what you'd expect; it intelligently identifies and eliminates audio interference from your videos. Similar to AI Audio Stretch, you just need a few clicks to get things working.
You'll also be able to choose from one or more of the following noise reduction options:
Voice enhancement
Reverb reduction
Hiss reduction
Think these new features are cool? It gets better. Filmora 12 also has access to a comprehensive library of stock audio, video, effects, and visuals. And the library grows larger with each day.
Stock up on the footage you need
The Filmora Filmstock library is your one-stop shop for royalty-free content. Here, you can find anything you don't want to purchase from a third party or create from scratch yourself. As you've likely guessed from the above screenshot, Filmora Filmstock's selection is absolutely staggering, ranging from folk guitar to dubstep and everything in between.
There's also a ton of freely-customizable AI music. Just choose a mood, style, and length, and Filmora Filmstock will take care of the rest. Once you've got the final product, you can customize and tweak it as much as you like, either manually or through one of Wondershare's other AI-driven features.
Creating smarter soundscapes
Filmora 12 has made audio editing simpler and smarter than ever before. The best part, though? This is only the beginning.
This video editing tool will only grow smarter as time goes by, and developers will only continue exploring new ways of revolutionizing the creative process through artificial intelligence. We'd be surprised if that doesn't make you at least a little excited.
Join Wondershare at Vidcon 2023 This Year
For more than a decade, VidCon has been the world's leading convention for online video creation. For the past four years, Wondershare has been an official sponsor of the event. This year will be no different, with one exception — you have an opportunity to win a free trip as part of Wondershare's Project Go Viral.
You can enter the contest by posting a video that reflects your unique style on social media, tagging @Filmora_editor in the caption and including the #FilmoraVidCon hashtag. The Filmora team will announce the winner on June 7, then the two runner up entries on or around August 3.
To learn more about the contest and its prizes, visit the official landing page.
Wondershare Filmora 12 is available as a free download, with licenses starting at $49.99 per year via Wondershare. It is compatible with Windows PC, Mac, Android Phones, iPhone, iPad, and Android Tablets.
For more information or to stay up to date with product announcements, see the official Filmora Facebook page.
Sign up to receive daily breaking news, reviews, opinion, analysis, deals and more from the world of tech.