5 things you really should know before you buy a Samsung Galaxy Note 9
The best deals, promotions – and alternatives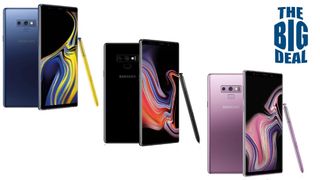 Remember 2016? Stinker of a year, wasn't it? David Bowie, Prince and George Michael all joined the great Music Hall of Fame in the sky; certain elections went certain ways that certain people certainly didn't like; and then there was that now-seemingly forgotten England football calamity against Iceland.
It was one of the worst years in recent times for Korean tech giant Samsung, too. After much anticipation it released its Samsung Galaxy Note 7 to the world, only to see expectations go up in flames – literally. After massive problems with overheating handsets and potentially flammable phones, Samsung had to stop selling the Note 7, causing a massive third-degree burn to its reputation and profits.
Luckily, some of that pain was soothed with the hugely popular Note 8 that launched last year and sold like... well, maybe 'hotcakes' would be an ill-advised simile in the context. And now the Samsung Galaxy Note 9 has arrived on shelves, both physical and virtual, to enhance the company's name as the premier Android smartphone manufacturer even further.
The Big Deal can see why you may be chomping at the bit to get your hands on the new Samsung Galaxy Note 9. But before you do, can we humbly suggest that you cast your eyes downwards for five minutes – those precious 300 seconds could save you a lot of money and time in the long run.

1. The best Note 9 deals can all be found on TechRadar
We seriously hope you weren't thinking of wasting your bank holiday by stalking up and down your local high street in search of that killer Galaxy Note 9 deal. Surely you know by now that TechRadar has got your back? It's very simple: head to our dedicated guide to discover the best Samsung Galaxy Note 9 deals on contract in the UK. You'll discover that Three has got the rest beat in terms of the very lowest prices, while our favourite deal right now is this 30GB data deal on O2 from Mobiles.co.uk.
And if it's just the handset SIM-free that you want to buy, it's even simpler. We can't see anybody yet daring to dip below the £899 RRP, so there seems to be no reason why you'd buy it from anywhere but Samsung itself – click here to head through straight to the Samsung store.

2. Carphone Warehouse will give you an Amazon.co.uk Gift Card – but only on TechRadar
It's always a bit of a bun fight when a new smartphone is released, as retailers all try to offer something distracting to get you to place your business with them. It's no different with the Galaxy Note 9, with Mobiles.co.uk giving away free wireless chargers and Virgin Mobile offering handsome rewards for trading in your old mobile.
Well, Carphone Warehouse has dug deep, and produced a tasty little perk just for TechRadar readers. Buy a Note 9 online from Carphone by September 1 and you'll also get a £40 Amazon.co.uk Gift Card. Bonus! Not only that, but it's also throwing in that free wireless charger. It's pretty straightforward to claim, but if you're in any doubt then be sure to follow our simple instructions.

3. Buying a Galaxy Note 8 would be much cheaper...
Take a look at our Samsung Galaxy Note 9 review and you'll notice that we like the new phablet – a lot! The improved S Pen is a pleasure to use, the Infinity display is a stunner and the battery is a real goer. But take a look at those first two points on the 'against' list: "expensive" and "a lot of small upgrades". In fact, we've given it exactly the same star rating as we did its predecessor, the Galaxy Note 8.
So should you go for the 2017 version instead? Well, if you want to save yourself a stack of cash then the answer is an unqualified yes. Even a quick peek at our best Samsung Galaxy Note 8 deals page will tell you that you can get it for an impressive £36 per month after spending only £50 upfront. And that's for a mighty 30GB of data, unlimited calls and texts on EE, too. So that's a saving over the two years of more than £300 for an equivalent Note 9 tariff!

4. ...and so would a Samsung Galaxy S9
We're not trying to put you off the Galaxy Note 9, we're really not. But we reckon there's a good reason why an industry insider old us that sales have been on the slow side since release, and that reason is the eye-watering price tag. Even if you follow our buying advice above, there's no getting away from the fact that the Note 9 is pricey.
And Samsung's other 2018 flagship phone – the Samsung Galaxy S9 – can currently be bought for around half the price on contract, thanks to a wicked price drop that came into effect this week. Check out the Editor's Pick slot on our Samsung Galaxy S9 deals page to see what we mean, or simply take our word for it that £23 per month and £120 upfront for 4GB of data on Vodafone will not be beaten by anybody right now.

5. We're only a month or so away from a new iPhone
Sure as eggs is eggs, the perpetual conveyor belt of mobile phone launches means the rapturous news coverage dedicated to the Samsung Galaxy Note 9 release will soon be fish and chip paper. Why? Because we're probably only a couple of short weeks away from the release of a new Apple iPhone or two.
Will it be the iPhone 9? An iPhone 11 or XI? Will there be a Plus model thrown in there, too? And whatever happened to the iPhone SE 2? Oh, Apple – can't you throw us a bone here? It may not be giving anything away, but the rumour mill is gathering pace at an alarming rate, and we'll tell you everything we already know and think we know about the new iPhones.
So if you want 2018's flashiest, cleverest, prettiest, fastest phone, it's probably worth leaving it a few weeks to see what Apple comes up with. It's enough to make you forget 2016 altogether...

If you want to discuss, debate or deliberate any phone deals news and views with The Big Deal, then head over to our @TRDeals twitter feed – you'll also find the latest offers on phones, TVs, consoles, broadband and more tech.
Sign up to receive daily breaking news, reviews, opinion, analysis, deals and more from the world of tech.
Adam was formerly the Content Director of Subscriptions and Services at Future, meaning that he oversaw many of the articles TechRadar produces about antivirus software, VPN, TV streaming, broadband and mobile phone contracts - from buying guides and deals news, to industry interest pieces and reviews. Adam has now dusted off his keyboard to write articles for the likes of TechRadar, T3 and Tom's Guide.