Game has launched a brand new trade-in deal for the PS5 that gives you the opportunity to bag Sony's latest console and a copy of God of War Ragnarok for £399.99 or less (opens in new tab). In order to pay this record-low price, you need to hand over your existing PS4, Xbox One X, or Nintendo Switch console when buying the PS5.
Specifically, the £130 saving is applied when trading in any original or Slim PS4 with either 500GB or 1TB of storage, an Xbox One X 1TB, or an Xbox Series S. Others are also included in the promotion, but the trade-in credit is higher or lower depending on the console.
In most cases, though, it's one of the best PS5 deals we've seen since launch. Not only do you get what we think is the best console this generation according to our PS5 review, but there's also one of the best PS5 games along with it for the lowest price yet - as long as you have a console to trade in.
PS5 trade-in deal at Game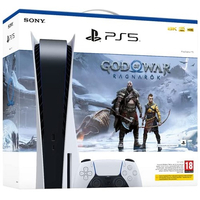 (opens in new tab)
PS5 God of War Ragnarok bundle: was £539.99 now from £399.99 at Game (opens in new tab)
By trading in your PS4, Xbox One X, or Nintendo Switch, you can get the most recent PS5 God of War Ragnarok bundle for as little as £399.99. Other consoles can be traded in as part of this promotion to get a larger (or smaller) discount, but you can check all prices at Game. If you have a console to trade in, it's a fantastic price and one of the best deals we've seen yet for the PS5.
For example, trading in a standard Nintendo Switch drops the price of the PS5 bundle by an extra £10 to £389.99, while parting with a PS4 Pro 1TB discounts it even further to £369.99. Meanwhile, you get less off with an Xbox One S or Nintendo Switch Lite. You can check out the full table below to see the price you pay depending on which console you trade in.
We've had a quick look around other second-hand stores to see how their trade-in prices compare to Game. The money you'd get is very similar at places such as Cex, but that's only for boxed consoles – and if you take their voucher option, that must be spent in-store.
If you choose to trade in at Game, there's no requirement that the console is supplied in its original box, but it must have an official controller, HDMI cable, power cable, controller charging cable (where applicable), and dock (for the Nintendo Switch). Of course, the console must also be in good working order, be in satisfactory condition and pass a number of tests.
By choosing to trade in at Game, too, you end up with a brand new PS5 with God of War Ragnarok instead of a second-hand one. It seems the best way to go from our perspective, especially now that the hunt for a PS5 restock is past us, as the console is widely available now.
Once you've got your fresh console, be sure to browse through our PlayStation Plus deals hub so you can sign up for Sony's gaming subscription service for the lowest price and get access to dozens of games as part of your membership. We've also got pages dedicated to finding the cheapest PS5 games and best PS5 SSD deals, and you can look forward to the upcoming Presidents' Day sales event.