What's the difference between ADSL broadband and fibre broadband?
These are two of the most common broadband options, but there are some big differences between them.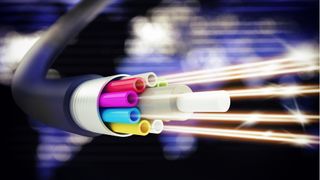 (Image credit: Shutterstock / alphaspirit)
While looking for the best broadband deals, you may have noticed there are a number of different broadband types to choose from.
Fibre is now the most popular choice for UK households, but there are still some who might prefer - or only be able to get - ADSL. However, both can include different options and packages that can make it confusing on what might be the best choice for your property.
So if you are in the market for a new ADSL or fibre tariff, be sure to have a look through this guide as we've looked at both these broadband types in isolation and have covered the core differences.
What is ADSL broadband?
ADSL - or 'Asymmetric Digital Subscriber Line - broadband was once the main choice for most households and businesses, but this is now no longer the case.
ADSL has the slowest download speeds and it's not as widely available as it used to be, because most providers have switched to offering fibre.
It's now only really for remote locations and areas where fibre hasn't been rolled out yet. However, if you can get it, then it can be one of the cheapest broadband choices.
How does ADSL broadband work?
ADSL broadband uses copper telephone wires - the ones you might see connected to your house from a nearby telegraph pole - to supply your broadband.
These wires run from the nearest telephone exchange, to the pole, across to a property and inside it into a 'microfilter' device that splits the phone and broadband services, allowing you to use both at the same time.
It's because of this setup that ADSL is the slowest, and by today's standards, the least reliable broadband type. The copper wires can only transmit a limited amount of data and they're not particularly hardwearing, so can have issues with connectivity and how effectively they can send signals. Although, as we've mentioned above, this can mean ADSL broadband packages are cheaper than faster ones.
With an ADSL line that's in decent working order, you can get average download speeds of about 10Mbps and average upload speeds of about 1Mbps. But if it's a really old line and your property is quite far from the cabinet, the speeds can drop. By contrast, some properties can have upgraded versions of these lines called 'ADSL2+', where speeds can reach around 24Mbps.
If you want to learn more about this, check out our comprehensive 'what is ADSL broadband?' guide.
What is fibre broadband?
When we say 'fibre broadband', we're referring to 'fibre-to-the-cabinet' broadband or 'FTTC', which in part uses fibre-optic cables to provide your broadband. You may also hear it being referred to as 'superfast' broadband and with it you can get average download speeds of between 35 and 80Mbps - a clear step up from ADSL.
It's now the most common broadband type in the country, as network providers like Openreach- which most internet service providers (ISPs) use to facilitate their broadband to consumers - have largely upgraded the older ADSL connections.
Something to note here though is that if you see the term 'Full Fibre' being used to describe a broadband package, this is in reference to newer 'fibre-to-the-premises' connections, which are much faster and usually more expensive.
These connections are also the next stage of upgrades we're getting to our broadband services in the UK. Again, this is because network providers like Openreach are aiming to get these ultrafast connections available to the majority of nationwide properties.
We've explained more about this in our 'what is Full Fibre broadband?' guide.
How does fibre broadband work?
With FTTC connections, your broadband is supplied partly by fibre optic cables which run from a provider's broadband exchange to your nearest telephone cabinet, with the final section of the connection to your property being via the original copper wires.
Fibre optic cables are able to transmit larger amounts of data at the speed of light, which is why they can give you faster average download and upload speeds. They're also more durable than copper wires so aren't as likely to suffer from any damage or performance issues.
However, as the last part of the connection does use the copper telephone wires, it also limits the speeds, and again, if the line is really old and far from the cabinet, the speeds can also drop a bit.
We've also gone into more detail about fibre broadband connections in this useful guide.
What are the main differences between the two?
From our descriptions above, it's quite clear to see there are a few big differences between ADSL and fibre broadband, but below we've summarised these into a few handy bullet points.
Key differences
ADSL has slower download and upload speeds
Fibre provides a faster, more secure connection
ADSL is an older technology and is no longer widely used
Fibre is typically more expensive of the two
ADSL will eventually be completely phased out
Fibre allows you to do more online
ADSL can be better-suited to basic broadband requirements
What can you do online with fibre broadband?
What the above list shows us is that fibre is largely a better choice than ADSL for your broadband, especially in regards to speed and reliability. However, it's also a smarter choice for today's internet users too, because such connections can allow us to do much more online, without interruption and on multiple devices.
Here are a few examples:
Download larger files
Make video calls
Enjoy online gaming
Casually browse websites
Be able to access broadband and TV bundles
As you might expect here, the faster the fibre connection, the greater the number of devices that can use it at the same time. So this is something to bear in mind if you do live in a larger household where you'll have lots of users.
Which providers offer ADSL broadband?
One of the advantages of this broadband is that pretty much all ISPs offer an ADSL package, but as we've mentioned earlier, these are only really for areas that don't have fibre yet.
Here are a few examples of leading providers that still have ADSL options:
Which providers offer fibre broadband?
The majority of providers offer fibre broadband packages. However, unlike ADSL, there's a larger choice as these can range in the average download speeds they give, and ultimately in price.
It's also worth mentioning that independent broadband providers like Virgin Media and Hyperoptic - who have their own networks - can technically still offer 'fibre' packages that have similar speeds to those that use the Openreach network.
If you head over to our 'best broadband deals' page you'll see a breakdown of the latest offers from some of the most popular ISPs.
What does the future hold for ADSL and fibre broadband?
As we've alluded to earlier in this guide, both ADSL and fibre will one day be a thing of the past for most parts of the UK.
Openreach is in the process of retiring all its copper lines and getting ultrafast 'Full Fibre' connections 'to 25 million homes and businesses by December 2026'. This will cover the majority of the country's premises, with only a small number requiring connections that use the old phone lines.
What other broadband options do we have in the UK?
Whether you opt for a fibre or an ADSL broadband package is of course up to you, your budget and your personal preferences. That said, if you want something faster, or you want to future-proof your internet before these two types are phased out, you'll be pleased to know there are other broadband options out there in the UK.
We've already mentioned 'Full Fibre', but as our guide to different broadband types shows, you might be able to get one of the following:
How to find the best broadband deals
Whatever you do decide to pursue for your next broadband package, our breakdown of the latest and best broadband deals is a great place to start. Alongside this, you might want to speak to your current provider to see what new tariffs or upgrade options might be available to you.
Alternatively, if you want to know what broadband deals are currently on offer in your specific location, our widget below can help. All you need to do is enter your postcode into it and then we'll list out what broadband packages and deals you can get in your area.
Loading...
Sign up to receive daily breaking news, reviews, opinion, analysis, deals and more from the world of tech.
Rich is a freelance copywriter and content strategist with over 10 years' experience. His career has seen him work in-house and in various agencies, producing online and offline content marketing campaigns and copywriting for clients in the energy industry.