Whether you're rushing in-store or scouring online, there are plenty of Black Friday TV deals to get that ideal television set at a reasonable price.
Black Friday may well be the best time of the year for snatching up gadgets and AV products at slashed prices, and many eager shoppers will be looking to the sales to pick up the best deal they can for a new television.
After all, a new TV can be one of the most expensive purchases you make when furnishing your home, so you naturally want to make sure you're getting the best deal for your budget.
So whether you're looking to upgrade to a top-end OLED screen, make the shift to 4K TV, or just find a nifty discount for a more mid-range set, we've put together one single page to guide you through the deals bonanza that is to come.
First things first: when is Black Friday 2018, and what sort of deals are we talking?
When is Black Friday 2018?
The day of sales falls on Friday 23 November, though there'll be plenty of deals going in the previous weeks. There's also going to be plenty of retailers trying to offload their stock through to the following Cyber Monday (November 26), though it's more of an event in the US than elsewhere.
And of course after that, it's basically Christmas, so it's not like the flurry of deals will completely die up when you hit December.
How to get the best Black Friday TV deals
Whatever you're looking to snatch in the sales, it's best to go in with a general budget in mind – rather than get swept away by a big discount that still isn't in your price range.
When you've got that sorted, make sure to check not just the end price but how large the discount is. A £500 television at half price is an infinitely better deal than a £400 set that's only seen 20% off its retail price.
The absolute cheapest HD or 4K TVs today come in at around £200 and £400 RRP respectively, and tend to be from budget manufacturers like Hisense, TCL, or Polaroid. The picture processing in these tends to be more basic, but even budget sets tend to have a base standard of quality.
When you get to the £500-800 price range, you'll be looking more at the big names like Philips, Samsung, Panasonic, or LG – but most of them will have attractive propositions above the £1,000 mark too. Currys, Argos, John Lewis, Amazon, and Richer Sounds are the big UK retailers likely to be pushing the best deals.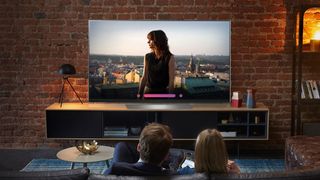 What to look for in a new television
High Dynamic Range (HDR) is now considered a general standard for modern televisions and allows for a richer, more vivid picture quality. So if you're buying a new set you'll probably want this included.
There'll also be a lot of retailers shouting about '4K UHD' television displays. With thousands more pixels than a standard HD set, 4K TVs are capable of a huge amount of visual detail. There's only so much 4K content out there currently to be enjoyed – 4K Blu-Rays, some UHD movie streaming, and the like – but even bog-standard HD/SDR broadcasting can be elevated to new heights on a 4K screen.
It goes without saying that 'smart' features like integrated apps, streaming services and browsers are now built right into most TVs nowadays – but just in case, check that you're getting a connected set that lets you access all these modern features. For what exactly this entails, we have a more fleshed out guide to each smart TV platform too.
Then there's the matter of size. You won't realistically find a 4K television smaller than 40 or 42 inches, so you can rule that out if you can only fit in a 32-inch screen. It may be worth gauging if that's the biggest you can realistically fit around your other furniture, or if you have the space for a larger 55 or 65-inch set – with a good few feet viewing distance from the sofa.
The best Black Friday TV deals we saw last year
Our deals predictions for Black Friday 2018
As with Black Friday of years gone by, there'll be plenty of discounts, whether small ones chipping helpfully away at the RRP or big ones collapsing the manufacturer's profit margin.
We expect discounts on some of the older OLED sets out there, like the £1,299 Philips OLED 873, since upstaged by the OLED 803 and OLED+ 903. The Sony Bravia A1E OLED – £1,999 for the 55-inch model – is also ripe for a price slash, as is the £1,099 Sony Bravia XE90 LCD, both of which have since seen newer, more up-to-date models released in the meantime.
On the budget end, TCL's C-Series and Hisense's N6800 offer great 4K/HDR at affordable prices – each nestling around £600-£700 – and now could be the time to get them at their lowest prices yet. Samsung's cheap-but-capable 4K smart TV, the Samsung NU7100, could also dip down from £549 to some very tempting levels.
Get all the best Black Friday deals on TechRadar
All that aside, Black Friday and Cyber Monday are going to see fleets of deals and plummeting prices across all sorts of consumer tech: everything from laptops and iPads to smartphones, Kindles, and streaming sticks.
For all the latest info and deals we've scoured from across the net, keep an eye on TR Deals on Twitter and make sure to check out the rest of the site.