The best Huawei phones are also some of the best camera phones on the market. They're stylish, powerful, but come with a massive caveat.
Since a trade ban from the US government, the latest Huawei phones can't run Google Mobile Services and don't even have the Google Play Store. Depending on where you live that could be an issue.
The company's latest flagships like the Huawei P50 and Huawei P50 Pro have been released in the Middle East recently and are now featured on our list.
So, if you want the best Huawei phone, you may need to be patient and make some compromises. However, there are some excellent handsets from the firm to choose from. We've ranked them all below.
Best Huawei Phones 2022
Why you can trust TechRadar We spend hours testing every product or service we review, so you can be sure you're buying the best. Find out more about how we test.
The Huawei P30 Pro is the best Huawei phone you can buy right now if you require Google services. It's also one of the best phone we've used when it comes to photography, with the cameras being the P30 Pro's real party piece, providing staggeringly good 5x and 10x zoom, and a digital 50x zoom with gets you insanely close to objects far off in the distance. Its low-light capabilities are also top-notch.
The large 6.47-inch screen on the P30 Pro may 'only' have a Full HD+ resolution, but it's bright, clear and colorful providing an excellent canvas for your apps and games.
There's no worry when it comes to the P30 Pro potentially running out of juice, the battery life here is excellent. We regularly got to the end of the day with 30% or more left in the tank.
The P30 Pro not only sets a new standard for Huawei, it sets a new standard for the entire mobile industry. Its cameras are quite simply astonishing, the design is eye-catching and the power plentiful. It's a true flagship smartphone.
Read more: Huawei P30 Pro review
The Huawei P50 Pro is the best Huawei phone right now if Google services aren't important to you. It looks and feels great and has an ideal size with a polished metallic surface that looks gorgeous. A 6.6-inch OLED screen means it's ideal for watching movies on with a 120Hz refresh rate ensuring it can keep up with fast moving scenes.
Specs wise, it's powerful too with the Snapdragon 888 chipset powering proceedings. A set of four AI-powered Leica cameras with the primary wide camera offering a 50MP sensor means it's great for taking beautiful images.
The only letdown here is that color management is a little flawed with the ultra-wide lens and telephoto lens, but for the average snap, it's a delight.
Read more: Huawei P50 Pro review.
The Huawei Mate 20 Pro is a brilliant all-round phone, offering up a heady mix of design, power and performance with a few party pieces thrown in too.
It builds on the excellent P20 and P20 Pro offering up even more screen, enhanced triple rear cameras and an in-display fingerprint scanner.
The Mate 20 Pro packs a huge 6.39-inch display giving you a large amount of space for gaming and movies, and its QHD resolution and HDR10 support ensures everything looks great. There is a wide notch at the top of the display though.
It also boasts three cameras on the rear, nabbing the excellent 40MP wide-angle and 8MP telephoto lenses from the P20 Pro - but the third sensor is new. It's an ultra-wide 16MP snapper allowing you to cram even more of your surroundings into each shot.
The Mate 20 Pro is a full-featured phone for a full-featured price - it even has a few tricks you won't see elsewhere, and more powerful specs than most of its competitors.
Read more: Huawei Mate 20 Pro review
The Huawei Nova 9 SE builds on the Huawei Nova 9 with its great camera and good display to make it one of the best affordable phones. It also features a 16MP selfie camera with AI image stabilization which is great for users that like to vlog.
There's also an ultra-wide camera, a depth sensor and a macro camera that lets you get as close as 4cm. You can also simultaneously record using the main camera and the ultra-wide letting you showcase the big picture along with the details.
The rest of the phone is also excellent with a beautiful design that's just 7.9mm thin and a 6.78-inch 90Hz OLED display. Combined with a large 4,000mAh battery and a price tag of just AED 1,199, it. makes it more affordable than the previous Huawei Nova 9
We recommend this phone for users who love photography and can live without Google Apps.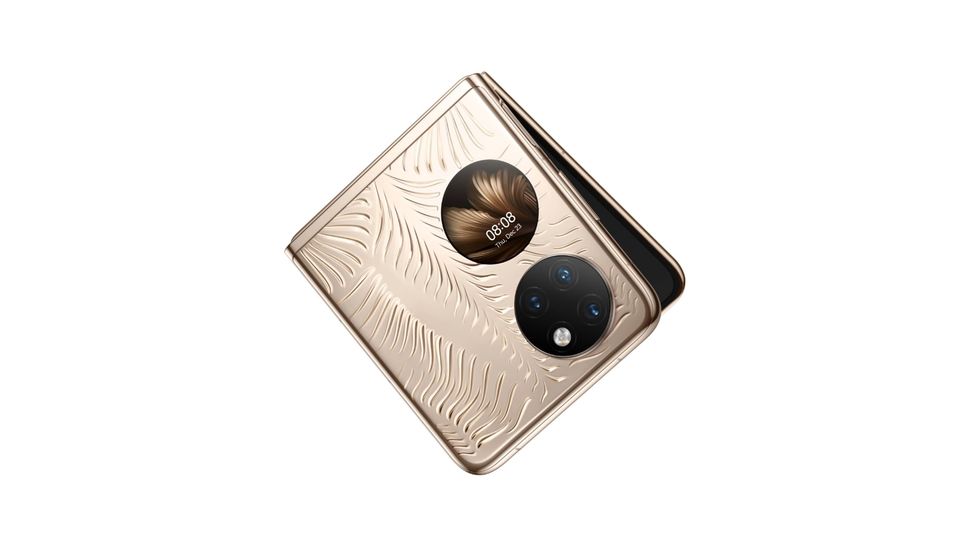 The Huawei P50 Pocket was released alongside the P50 pro phone in the UAE and it features a clamshell design with stylish design. Arguably, this is the most beautiful phone we've seen- especially the Premium version in gold.
The phone folds on itself and there's an additional screen that you can show a slew of info like: notifications, schedule, calendar, music, weather, and control of the camera and other features.
Of course, you'll have to rely on App Gallery for your supply of apps, the silver lining here is the camera's performance that makes this phone one of the best camera phones made by Huawei, and the better part is that you use the same main camera to snap selfies which make them come with great quality.
The Huawei P30 has a smaller screen than the P30 Pro, and makes do with just the three rear cameras and a maximum zoom of 30x, but it's still one of the best Huawei phones around.
With a 6.1-inch display the P30 is a little easier to manage in the hand than its larger sibling, and with a Full HD+ and plenty of colour it's a top smartphone screen. You can expect to get excellent battery life from the Huawei P30, with the phone often lasting a day and a half on a single charge without issue.
While the three cameras on the rear aren't quite as good as the four on the P30 Pro, they still offer up an impressive shooting experience with 5x, 10x and 30x zoom and great low-light abilities.
There's heaps of power, a handy headphone jack (something the Pro can't boast) and a more manageable form factor for one-handed use. And of course, it's a little cheaper too.
Read more: Huawei P30 review
Easily one of the best phones around in terms of hardware, the Huawei Mate 40 Pro suffers for the lack of Google apps and Play Store but if you simply want great photos and a gorgeous screen, this is the one for you.
It moulds into your hand perfectly thanks to its curved design that feels great, and it handles pretty much everything you throw at it enthusiastically. Photography wise, it takes fantastic photos and has an extensive range of tools to enhance them further.
However, with the lack of Google apps support, you will be restricted with what you can download to this phone, and it does feel rather pricey to be so limited.
Read more: Huawei Mate 40 Pro review
The Huawei P40 Pro should be the best handset Huawei has ever made. After all, it's an upgrade on the Huawei P30 Pro in most ways, with a superb quad-lens camera, phenomenal life from its 4,200mAh battery, and a stylish design, with curved glass on all four front edges.
You also get flagship power from the P40 Pro's Kirin 990 chipset, plus a great screen with a high 90Hz refresh rate.
So why isn't this Huawei's best phone? Because like other recent Huawei handsets it lacks Google Mobile Services, meaning no Google apps (such as Maps) and more importantly no access to the Google Play Store. So you have to get your apps elsewhere, and the selection is more restrictive.
As such, the Huawei P40 Pro finds itself in the awkward position of being a lesser handset than its predecessor. But the hardware is great, so if you can live without Google on your phone then it's still well worth considering.
Read more: Huawei P40 Pro review
If you want in on the hardware design and solid cameras of the P40 series but are still cautious that they don't support Google Mobile services, you might want to go for this regular P40 considering it's cheaper than the Pro and Pro Plus.
There's no wireless charging or high refresh rate display but the design is among the best in the market and the triple camera set up takes stunning photos and videos. The Kirin 990 chipset is 5G ready, and the battery life is incredible.
But with no access to the Google Play Store or Google services it remains limited for the Western market.
Read more: Huawei P40 review
The Huawei Mate 30 Pro was one of the earliest casualties of the Huawei ban – so there are no Google apps on this phone, and there's no access to the Google Play Store.
If you can get past the restricted software though, there's some very good hardware here, including a stunning edge-to-edge waterfall display, great battery life from its 4,500mAh battery, and an excellent quad-lens camera, which outperforms most rivals in low light situations.
The Huawei Mate 30 Pro also has the same chipset as the Huawei P40 Pro, so performance is similar, and it packs most other flagship features, such as water resistance and wireless charging.
Read more: Huawei Mate 30 Pro review