What is the best LG TV of 2021? With LG Electronics putting out some of the very best OLED TVs every year, along with a renewed push into 8K technologies, there's never been a more tempting time to buy LG – which is what this guide is all about.
If you're not sure which of LG's latest sets to go for, we have everything you need. We've sat down and tested the very best LG TVs from last year and some of the new ones that'll be hitting the market in 2021, and are able to compare them to find out which is the best choice for you.
There are some high-profile LG TVs you won't see on this list yet, like the rollable LG Signature Series R, which has been delayed well past its initial 2019 launch date. While the 2021 range has technically 'launched', the LG C1 OLED, LG G1 OLED and LG A1 OLED are yet to be tested, and as such we'll have to wait until a bit later in the year to see if they're worthwhile additions to this list.
If you're buying now, here are the best LG TVs to consider. Be sure to check out our LG TV 2021 guide for the full rundown on everything that's available this year – or our guide to the best 48-inch OLED TVs, which you can expect to see in greater numbers in the coming year.
Top picks
The LG CX OLED is topping a lot of our buying guides, and for good reason. As an iteration on last year's LG C9, it offers top-class picture quality, thanks to its a9 Gen 3 processor and infinite contrast OLED panel.
You're also getting 2.2 channel speakers, ensuring you can get some quality audio alongside those rich pictures – and even if it's a bit heavy on the bass frequencies at times, it's not enough to tarnish the overall experience of this set.
It's also more affordable than it's predecessor was, too, thanks to a new 48-inch OLED size bringing down the price to just $1,499 / £1,499 (around AU$2,100). Thanks to the range of sizes, it's a flexible choice for a range of homes and budgets, and you won't get better for an LG TV in 2020.
There are still reasons to opt for the others in this list, of course, with other models offering a slightly different form factor, price point, or panel technology – but know that they play second fiddle to the LG CX.
Read the full review: LG CX OLED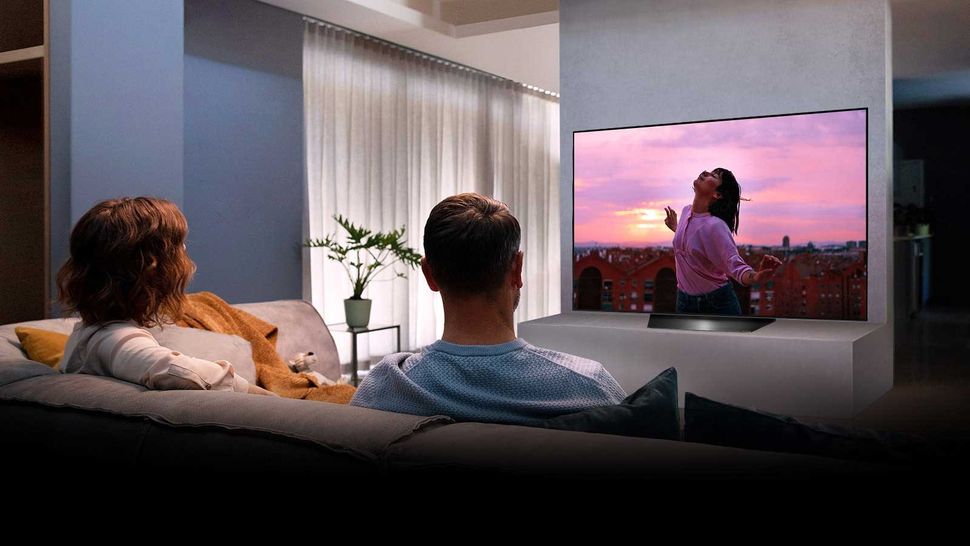 Can't afford the CX, or don't feel like you need the latest processing to satisfy your cinephile needs? The LG BX OLED may be the one for you.
The BX may have only launched in late 2020, but it immediately became a must-buy for those after a lower-cost OLED compared to the CX or Gallery Series. By packing in a cheaper (if less capable) a7 Gen 3 processor, it managed to knock a decent amount off the asking price for an OLED TV, and offers both great performance and great value.
You're getting pretty much all the perks of a more premium LG TV, with the webOS smart TV platform, individual pixel control, deep blacks, and the like.
The only place it falls short is in the processing, which has had to take a hit in order to keep costs down. There is some mild video noise in dark scenes, as well as occasional (if not very regular) motion blur. These won't be huge issues for everyone, though they'll be more noticeable if you're watching a lot of dark, moody television and films.
Things are changing for 2021, with a new entry-level A1 OLED that looks set to undercut the B Series on price, though it will sacrifice HDMI 2.1 ports and some of the audio output (20W rather than 40W) to do so. For now, though, this is the cheapest OLED you can buy from LG Electronics.
Read the full review: LG BX OLED

After something a bit more stylish? The LG Gallery Series OLED cleaves close to the WX OLED – bur with an all-in-one design that keeps its Dolby Atmos speakers built into the television itself, instead of separate soundbar.
While the outside is a marvel of engineering, inside you've got the all-new LG Alpha a9 Gen 3 processor that adds better facial recognition and multi-step noise reduction to LG's already-great HD-to-4K upscaling and much-improved motion processing technology.
It's not absolutely flawless, as it still can't reach the brightness levels of some LED-LCD TVs and has some audio balancing issues, but otherwise it's still a slick flatscreen for folks who don't mind spending a bit more money on their next TV purchase.
Keep in mind, though, that this set doesn't come with a TV stand – meaning you'll need a professional installer to properly fit it with a no-gap wall mount that keeps the cables out of view.
Of course, there's a new LG G1 OLED model for 2021 that looks set to improve the Gallery Series with a brightness-enhancing panel structure, and add a tripod TV stand for those not keen on wall-mounting their sets – and we'll be updating this guide as soon as we've completed our review.
Read more: LG Gallery Series OLED TV review

LG's LCD TVs can have a hard time of it, given how much effort LG goes to when making its case for OLED's superiority. If you are after an LCD TV, though, the Nano90 is a capable 2020 TV that won't cost as much as the flagship CX OLED at the top of this list. In fact, you'll get 65 inches of screen on the Nano90 for less than a 48-inch CX – so there's certainly a case for LCD yet.
The arrival of HDR has been particularly challenging for IPS screens, putting even more strain on IPS's inherent contrast controls. The Nano90's new backlight power management system, though, truly transforms LG's LCD HDR fortunes – despite some mild backlight flickering.
Contrast is vastly improved over past LCD models, too – and black levels are, if not on a par with OLED, certainly still capable.
We imagine that if you're after an LED set at this price range, you'll probably be making the jump to a QLED in this list of the best Samsung TVs. For LG enthusiasts, though, the Nano90 is still a solid choice for your home.
Read the full review: LG Nano90
Why LG?
Why should you buy an LG TV?
A great question. With so many outstanding TV brands out there, why should you choose LG over the rest?
Panel-maker LG Display (distinct from LG Electronics, which assembles and sells LG-branded TVs) has become the poster child for today's OLED TVs, as a major supplier to its competitors like Panasonic, Sony, or Hisense. While you may like the specific feel or features of other OLED ranges – Panasonic has a more grounded color palette, while Sony's Acoustic Surface Audio+ technology emits sound from the panel itself – you're still in a sense buying from LG.
LG's OLED sets tend to have a slightly warmer 'pop' to colors than some competitors, but the difference is pretty small unless you're looking for it. But what really marks it out is that it offers the cheapest OLED model on the market, the LG BX – with the exception of the Vizio OLED during some rather tempting sales periods.
OLED is able to reach deeper black levels and offer more precise light control than even the best LCD or QLED TVs, thanks to its self-emitting panels and ability to turn pixels off entirely. The TVs of degrade faster than LCDs, though, and can't go quite as bright as some new Samsung TVs. (You can suss out your preference in our OLED vs QLED comparison guide.)
The webOS smart TV platform on LG TVs is also fantastic, with a sleek and polished interface alongside good app support – and voice commands through the Magic Remote for all new OLED sets. Keep in mind, though, that LG doesn't support HDR10+, even if it has generally wide support for HDR10, Dolby Vision, and HLG formats. UK viewers won't find Freeview Play on its most recent televisions either.
Naming conventions
Can't make head or tail of all those numbers and letters naming those LG TVs? We don't blame you – the name structure can be confusing, if necessary for differentiating the huge number of old, new, and incoming sets that LG releases to market. It doesn't help, either, that each TV maker tends to use different identifiers for their sets.
For LG's OLED TVs, the structure is slightly easier. Something like the LG C9 OLED will be listed as "LG OLED55C9PUA" – with "LG" obviously referring to the manufacturer, "OLED" referring to the panel technology, and "55" being the model size you're looking at (55-inch). Most sets will come in several sizes, though 55-inch is the flagship size for most new televisions these days.
Here, "C" is for the mid-range "C Series" of televisions, which sees a new model every year, alongside the budget "B Series", stylish "E Series", wallpaper-thin panel "W Series", and more advanced "Z Series".
The "9" in "LG OLED55C9" refers to the year the TV was released: 2019. That's why LG TVs that came out in 2018 were called "C8", "E8", and so on. At the end of the model number are three letters marking the territory the TV is sold in: "PUA" is for North America, while "PLA" is for the UK.
LG TV Guide Cheat Sheet
Here's a quick cheat sheet for reading an LG label:
Example: LG 65SM9500PUA
1. 65: Screen size (this is a 65-inch TV)
2. SM: Indicates panel technology (S for Super UHD) and year it was made (M for 2019)
3. 9500: The number here is the series (higher is better but also more expensive typically)
4. PUA: Territory that the TV is offered in (PUA for America, PLA for UK, PTA for Australia)
LED sets work a bit differently, though. LG's LEDs are now labelled under "NanoCell", rather than "Super UHD", though they're still the LED panels LG has been making for years.
The LG NanoCell 9 Series – that "9" again referring to its 2019 release, so you know it's up to date – is listed as "LG 65SM9500PUA", this time leading with the model size (65-inch). That's followed by the "S" labelling for Super UHD / NanoCell TVs, compared to "U" for simpler UHD TVs, "L" for LED TVs that aren't 4K. LG also used to use "E" for OLED and "P" or Plasma TVs (now discontinued), though you won't find these labels on new sets.
The second letter differentiates between each year's new product range. So, while 2019 4K LEDs from LG all have "SM" in them, 2018's sets had "SK" instead. 2020 will no doubt use "SN" to keep this logic going.