Black Friday is just around the corner, and if you're waiting to get a great deal on a high-end laptop for playing PC games, then this guide on how to buy the best gaming laptop on Black Friday can help.
Just because you've got a bit of a budget for your next laptop, that doesn't mean you should plonk down your cash on the first deal that you see. When buying a high-end gaming laptop (or a mid-range or budget device), there are certain things you should bear in mind before making a purchase, especially on days like Black Friday and Cyber Monday, when there's pressure to jump on deals before they sell out.
In this guide we'll show you how you can prepare for Black Friday, and how to shop smart to ensure you buy the best gaming laptop for your needs and budgets on the day itself.
Plan ahead
Planning ahead of Black Friday will help you when it comes to the day itself. On Black Friday, which kicks off on Friday November 23, there will be huge amounts of deals being thrown around by desperate retailers, so it might all seem a little overwhelming at first.
By planning ahead and having a clear idea of the sort of gaming laptop you want to buy on Black Friday will give you a real advantage.
Check out our Black Friday laptop deals: how to get the best model for the best price guide for tips and tricks on securing the best laptop deals on Black Friday, and we'll also be highlighting top deals that we find on that page as well in the run up to the day itself, as well as on Black Friday and Cyber Monday as well.
Keeping an eye on various retailers' websites is also a good idea. Online stores that have had some great gaming laptop deals on previous Black Fridays include Currys, PC World, Amazon, Overclockers UK and Scan.
Visiting manufacturers websites is also a good idea. For example, Dell often has special Black Friday deals on its website, including deals for its gaming laptops and Alienware brand.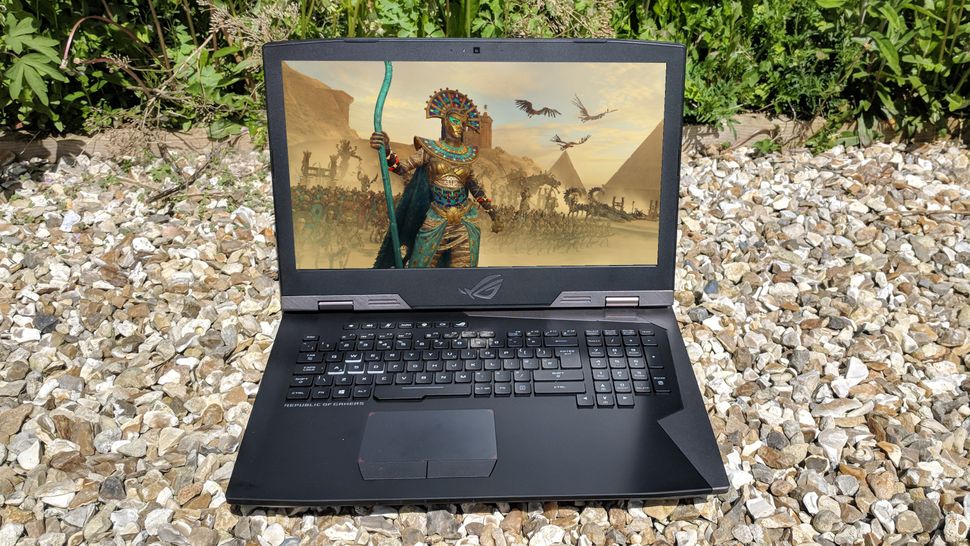 Know what kind of gaming laptop you want
It's a good idea to have an idea of what sort of gaming laptop you're looking for on Black Friday. The two biggest deciding factors when it comes to the sort of gaming laptop that is right for you are budget and power.
Gaming laptops are usually more expensive than regular laptops, however while high-end gaming laptops can cost £1,000 or more, there are also budget and mid-range gaming laptops as well. Budget laptops are around £600 - £700, while mid-range would be £700 - £1,000.
There may be gaming laptops on sale on Black Friday for under £600, but we advise you to be cautious, as some of these deals may prove too good to be true. They could have under-powered or old components that, although inexpensive, mean the laptops aren't great at playing modern games.
When it comes to power, you'll need to think about what kind of games you're going to be playing, and how important graphical fidelity is to you.
If you're mainly going to be playing indie games, casual games or older games, then a budget or lower mid-range laptop should do fine. If you only want to play retro games, and mobile-like games like solitaire, then you may even get away with going for a normal laptop, rather than a gaming laptop.
If you want to play modern games, and games in the first person shooter (FPS), role playing game (RPG) or real time strategy (RTS) genres, and don't mind playing at lower resolutions or graphical settings, then a mid-range gaming laptop is a good choice. You may need to tweak a few settings to get the games running well, but once you do, you should get a great gaming experience without breaking the bank.
However, if you want to play the very latest games at high resolutions and frame rates, without compromising on graphical effects, then a premium, high-end laptop will be for you. Be warned though, as even with Black Friday deals, these can still prove very expensive.
Having said that, there's a few reasons why you'd want to buy a high-end gaming laptop on Black Friday. For a start, bigger price tags also get bigger price cuts, and in previous Black Fridays we've seen large cuts that have knocked of hundreds of pounds.
Also, high-end laptops with cutting edge components are much more future-proof than mid-range laptops, so if you spend a bit more on Black Friday, it means you won't have to worry about buying another gaming laptop any time soon.
Make sure you check out our list of the best games for laptops for an idea of what games play brilliantly on laptops.
Check the specs
After getting a good idea of what budget you have, and what sort of gaming experience you want, you can then keep in mind some specs to look out for.
When it comes to gaming PCs, the most important specifications are graphics card and CPU, and to a slightly lesser extent RAM and storage space.
With processors, you'll most likely be looking at gaming laptops that have an Intel processor. Ideally, you'll want a dual-core or quad-core processor from a recent generation of Intel Core processors.
Intel have just launched the 9th generation, but we don't expect to see any gaming laptops with those new processors getting big discounts on Black Friday.
So, we'd recommend a laptop with a 7th or 8th generation Core i5 or Core i7 processor for most mid-range and high-end gaming laptops. For budget laptops, a 6th generation Core i3 or i5 will give you an OK balance between power and low price.
The graphics card will also be a very important consideration. For pretty much any type of game, except very basic ones, you'll want a gaming laptop that comes with a discrete graphics card, rather than an integrated one that comes with some processors.
For budget laptops we'd recommend an Nvidia GTX MX150 or GTX 1050. You may see some cheap laptops with GTX 960M or GeForce 940MX graphics cards. These are showing their age these days, so while they will be able to play some games, be aware that they will struggle with modern games at medium or higher settings.
For mid-range laptops we'd recommend looking at gaming laptops with a GeForce GTX 1050 Ti as a minimum, or GTX 1060.
For high-end gaming laptops, a GTX 1070 will offer a great experience, or a GTX 1080 if you have the budget, or looking for a gaming laptop that supports high resolutions (like 4K) or high refresh rates above 60Hz.
When it comes to RAM, you'll want a minimum of 8GB, and for storage space you'll want something that offers you enough space to store your games, such as a 500GB or 1TB hard drive. If the gaming laptop also comes with a faster solid state drive to boot Windows from (which makes the overall experience much quicker and smoother), then that's even better.
To make things easier, check out our list of the best gaming laptops of 2018. Every laptop on that list is a worthy purchase, especially if you find a great deal on Black Friday.
Size matters
Another important consideration when looking to buy a gaming laptop on Black Friday (or any other time) is size. Most gaming laptops are big and bulky, and if you're looking for a powerful device crammed full of top-of-the-range components, expect to buy a large, heavy gaming laptop with very short battery life.
Of course, there are thin and light gaming laptops out there, mainly thanks to Nvidia's Max-Q design graphics cards, but these will be very pricey, even on Black Friday.
You'll also want to consider screen size. A 13-inch gaming laptop may be easier to carry around, but the screen is a little bit too small if you want to be fully immersed in your games. A 17-inch screen offers a more impressive experience – and can better make use of 4K resolution – but it also results in a much larger laptop overall.
Check the reviews
Finally, if you have time, read some reviews about the gaming laptop you're thinking of buying. Here at TechRadar, we have an extensive collection of gaming laptop reviews, giving you unbiased opinion that lets you know if a gaming laptop is worth buying, even when its price is cut for Black Friday.
It's also worth checking out any user reviews from people who have bought the gaming laptop, as this can give you a good idea of whether or not it's worth a purchase.