On the lookout for a new games console? With Black Friday around the corner, retailers are starting to dust off unsold units and shift them as quickly as they can - and you, the gamer, are set to reap rewards.
So whether you're upgrading to a new PlayStation 4, investing in a 4K-ready Xbox One X, or finally getting your mitts on the handheld-hybrid Nintendo Switch, there are sure to be a number of tempting discounts and bundle deals across the console market.
But the best way to do it is going to be with a console bundle on Black Friday. Why, you ask? Let us explain.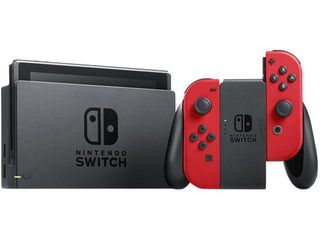 1. Consoles are expensive
Boy, do consoles cost a pretty penny. For current-gen consoles, you're looking at around £250 for a new PlayStation 4, Xbox One S, or Nintendo Switch.
That's before we get onto upgraded hardware like the the £350 PS4 Pro or £400 Xbox One X, both of which offer higher specs and better graphics but will need you to increase your budget in return.
That's not to say these consoles aren't worth buying full price - but if the cost is holding you back, there are considerable savings to be had.
2. Bundles will have the best savings
Even without the Black Friday sales kicking off, a bundle is generally the best way to get your hands on a new console.
It's very normal to get free games bundled in for the RRP of just the console - usually one AAA game or two smaller titles - and often additional peripherals like secondary controllers, which can come to another £40-50 apiece.
And all in the convenience of one box as well!
3. Unique designs and limited edition consoles
Of course, there's also the speciality factor. Console-makers often reskin hardware for specific, limited-run bundles. So if you want a good-looking console none of your friends will have, this is the way to do it.
One of the most striking we saw this year was Marvel's Spider-Man PS4 Pro bundle, which sported a super-sleek red-and-white spider logo.
Nintendo also loves limited edition designs, and is currently selling a brown-and-yellow Pokemon Let's Go bundle with Pikachu and Eevee cavorting across the Switch dock, while players can pre-order a Super Smash Bros Ultimate bundle with a monochrome Pro controller and steel case for the game.
4. Black Friday is a spending bonanza
It makes a lot of financial sense for retailers to discount their stock for Black Friday, as it tends to encourage more sales and therefore maintain the same profit margin as selling fewer units at RRP - while clearing out their warehouses.
But with so many deals tempting shoppers, the UK's big gaming retailers - Argos, Amazon, John Lewis, or Game - will be doing everything they can to entice you away from their competitors.
Black Friday is, quite simply, the biggest spending day of the year. And if you don't get the deal you want this year, you're unlikely to get a better one until Black Friday 2019.