The best budget printers of 2022 prove that you don't need to spend a small fortune if you're looking to do some printing out in your home office.
We're focussing on printers for home offices here, as many people are still working from home, so having a printer is extremely important, yet you probably don't want to spend a lot of money on one, while still needing something that's reliable and provides good results when printing.
Because home printers don't need to handle large amounts of print tasks like a printer in an office would, it means you can invest in a budget printer that can handle those kinds of requirements. For busy offices, we'd recommend spending a bit more, however.
So, read on to find the best budget printers available right now, and make sure to check out the included price comparison tool so you can find the best deals and save some money.
One important thing to keep in mind when buying a cheap printer is that some manufacturers lower the price of the printer to entice people to buy, but keep the price of its consumables (such as ink cartridges) high, making their money back that way. This means some apparently cheap printers end up being quite expensive over the course of their lifetimes. We've kept this in mind while compiling this list of the best cheap printers.
One other thing to note is that due to more people than ever working from home, some of these printers are out of stock, so check out our constantly-updated stock checker below for some great alternatives that you can buy today.

Canon has stripped all but the most essential functionality from this all-in-one, leaving a portable-sized printer that works surprisingly well. There's no Ethernet port or scanner bed, but its gridded flat top is perfect for scanning in documents using your smartphone and Canon's iOS/Android companion app. The inclusion of both Bluetooth and AirPrint makes it easy to connect wirelessly, so there's no need for the printer to have its own touchscreen. It prints on glossy photo paper or plain paper with room for sixty sheets of A4 in the main tray. Canon bundles the printer with two small inkjet cartridges, one black, one combined color. There's no auto-duplex mode, but that may not be a problem if your print jobs are small and infrequent.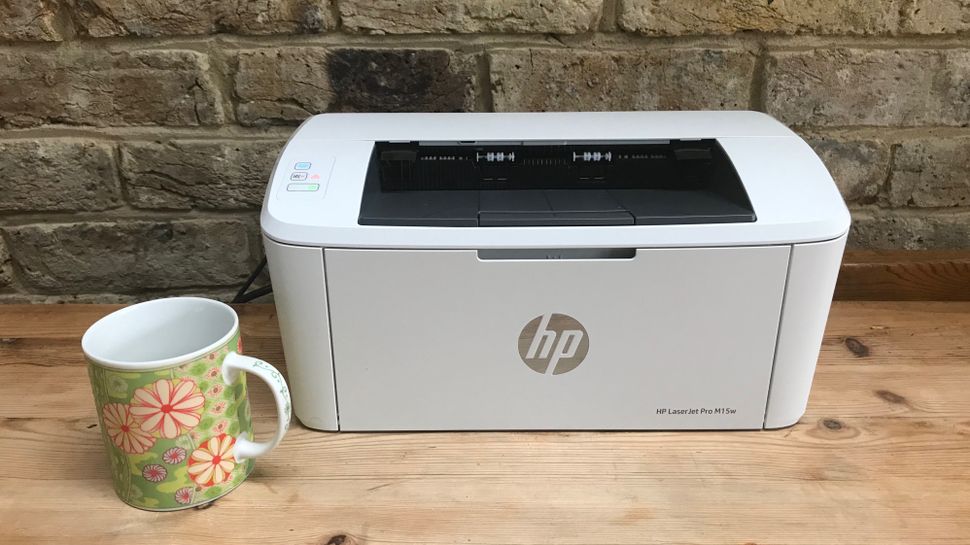 When we tested it, this was the smallest laser printer around and likely to remain so. Being as small and inexpensive as an inkjet, yet with all the speed, economy and consistency of a laser, the LaserJet Pro M15w is in many ways the ideal cheap printer. It manages to hold one hundred sheets of paper and print on them at the respectable rate of 19ppm. There's no duplex mode, sadly, and no display, but at this price it's hard to argue.
Read the full review: HP LaserJet Pro M15w
The HP Deskjet 2755 (known in the UK as the HP Deskjet 2710) is a smart-looking small-in-one with an even smaller price tag. It can print, copy and scan in color and accept any size media from envelopes up to A4. It cannot auto duplex, but it does have self-healing Wi-Fi built in and is compatible with AirPrint and Google Cloud Print. As with every cheap inkjet printer, the cost of the cartridges is the kicker, but this model is eligible for an HP Instant Ink subscription, which could bring your consumables bill down by around 70%. It also means your replacements will be sent to your letterbox before you run out.
The Pantum P2200W proves that laser printers don't have to be expensive. This very basic black and white print-only device costs less than a lot of inkjets, but prints much faster at 22 pages per minute and the bundled starter cartridge is good for 700 pages. A standard cartridge will yield 1,600 pages at a lower per page cost than any inkjet cartridge. It cannot auto duplex print unfortunately, but Wi-Fi with Wi-Fi Direct is built in for ready wireless connection. It's small enough to sit on your desk and big enough to hold 150 sheets in its input tray and 100 in the output tray.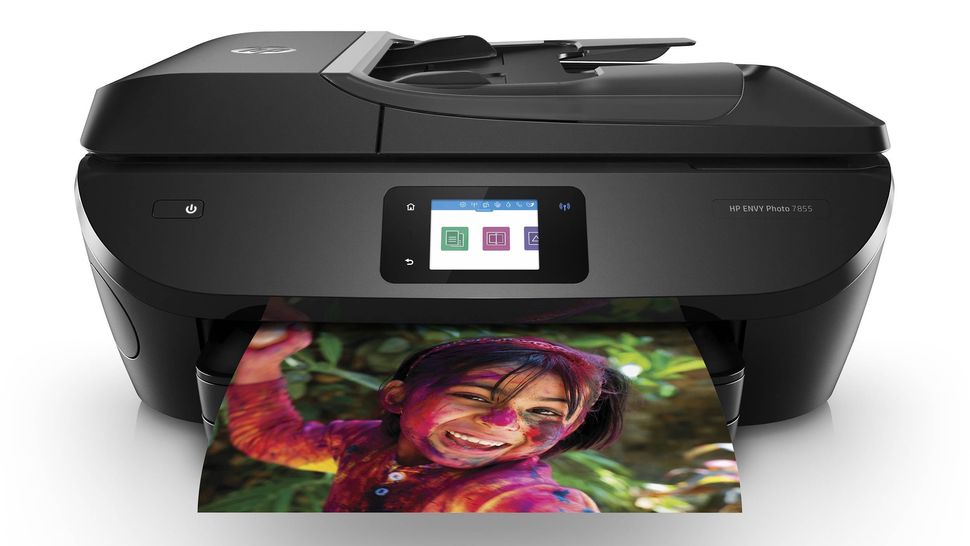 HP's oddly shaped all-in-one includes every feature from a fax facility, to an SD card slot, while giving you easy access to them via a colourful touchscreen interface. The coloured inks are combined in one cartridge and if you subscribe to HP's Instant Ink service, it will be automatically replaced just before you run out. It feels a little flimsy, but photos prints in particular, look vibrant.
The HP Deskjet 2130 All-in-One printer is another great example of a cheap all-in-one printer. It's cheaper than the HP Envy 5540 (above), but the lower price does mean you don't get quite as good a print quality as HP's other printer. It's also a bit slower, and feels a little cheap at times. However, if you only want a cheap printer for occasional use (rather than heavy-duty printing), and also need a scanner and photocopier, then the HP Deskjet 2130 All-in-One printer is probably the best cheap printer for you.
The competent Canon PIXMA TS705 is an all-in-one that won't break the bank. It can print, scan and copy in color despite lacking its own flatbed scanner. You use your smartphone instead, thereby keeping the cost of this simplified device down and making more room for paper. You can fit 250 sheets in the main tray and another 100 in the rear tray. It's very flexible in what it can print onto with blank CDs and even fingernail stickers featuring on the list of compatible blank media. It can auto duplex and achieve enhanced print quality by using five discrete ink cartridges instead of the usual four.
Brother has stripped this laser printer right back to basics in order to bring the price down to that of the average inkjet printer. It may have lost a few features, such as an auto duplex mode, a Wi-Fi module and a covered paper tray, but the Brother HL-1112 is conveniently compact and efficient. It can print at a speedy 20 pages per minute and there's room for 150 pages in the open paper tray. There's enough toner in the box for 700 pages and a new standard cartridge will give you 1,000 pages. For cheap and fast mono laser printing without the frills, this is the Brother you want by your side.
The Canon Pixma range has always been rated especially well for photo printing, and the Canon Pixma MG3650S doesn't let the team down. Even better is that it's the budget model in this range, so you won't have to break the bank to get high-quality photos and other images printed. Another big plus is that it's a wireless printer, so no having to mess about with leads and cords. With a print resolution of 4800 x 1200dpi, and color print speed of almost 10 pages a minute, this is a model that can surprise and impress, especially at this price range. IT also has a scanner and copier option to boot.
Epson's entry-level all-in-one looks as smart as the rest of its stylishly simple Expression Home printers and it shares almost all the same features. It can print in colour using individual ink cartridges, scan A4 pages at high resolution and photocopy. Wi-Fi is built in for a network connection, or a Wi-Fi Direct link with your smartphone. It can print envelopes, glossy photo paper and hold a hundred sheets of A4 in its main paper tray. The only feature missing is auto duplex, which is a pity, but with Epson's aggressive discounting, we think this model is well worth the money.
---
---